On Easter morning, women who intended to minister to Jesus' body met two angels. The angels said Jesus had risen. The women returned and told the eleven what the angels said. "And their words seemed to them as idle tales, and they believed them not."
Peter and John ran to the sepulcher. They saw the physical signs of the Resurrection. The tomb was open, the stone rolled away, the linen clothes folded. But, they did not see the angels or the risen Lord. They hadn't believed the women's witness.
Jesus appeared first to Mary Magdalene. "And she went and told them that had been with him, as they mourned and wept. And they, when they had heard that he was alive, and had been seen of her, believed not."
Cleopas and his friend heard the women's account that morning. They heard Peter and John's report. They talked about these unusual circumstances as they walked to Emmaus. Jesus appeared in a different form to Cleopas and his friend.  Their eyes were "holden" or restrained.
Since Cleopas and friend were discussing the matter, were they more open and receptive to truth even though they'd felt astonished by the news they hadn't believed? Was this why Jesus came to them and taught them? Were their eyes restrained until they finally believed?  So, basically, were they holding themselves back from divine manifestation?
Jesus asked what they were discussing. They told Him everything. Jesus said, "O fools, and slow of heart to believe all that the prophets have spoken," expounding the truth and opening their understanding. Their eyes were opened. They recognized Him as the Savior. "And they went and told it unto the residue; neither believed they them."
When Jesus appeared, His apostles still could not believe it was Him. They were "terrified and affrighted." Jesus asked them to touch His hands and feet. They ate together. He said the prophecies were fulfilled. How long did this experience evolve? Did it take hours for their hearts to be ready to believe, even though they were looking at Him?!  
"Then he opened their understanding, that they might understand the scriptures" and ultimately told them "ye are witnesses of these things."
Thomas did not witness the resurrected Master revealed. He refused to believe the witnesses until he personally saw Jesus. Jesus said "be not faithless, but believing."
I've thought a lot about these amazing people and this learning experience. Did their grief cloud their faith? Was their faith shaken altogether so they couldn't believe in a miracle regardless of how much they wanted it to be true? Did fear about their own safety outweigh hope? Did cultural tradition and expectation block their capacity to receive revelation?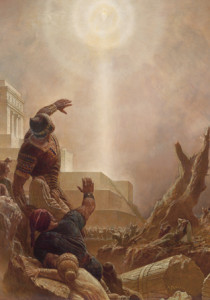 Mary Magdalene recognized Jesus with a word. Cleopas and friend felt their hearts burn within them, leading to their epiphany. The others touched, ate with, and heard before they were convinced.

Where am I on this scale? Do I miss the angels in plain sight at the tomb because of my preconceived notions and limiting beliefs? Do I walk past the Savior on the road because my eyes are holden? Do I believe the witnesses sent to strengthen my faith?
In contrast, the people in America reacted differently. In the midst of darkness, they heard a voice from heaven. The voice declared that He was Jesus Christ. He bemoaned the fallen and cried for the unrepentant.
"And now behold, it came to pass that all the people of the land did hear these sayings, and did witness of it. And after these sayings there was silence in the land for the space of many hours; For so great was the astonishment of the people that they did cease lamenting and howling for the loss of their kindred which had been slain; therefore there was silence in all the land for the space of many hours."

Without seeing Him, "the mourning, and the weeping, and the wailing of the people who were spared alive did cease; and their mourning was turned into joy, and their lamentations into the praise and thanksgiving unto the Lord Jesus Christ, their Redeemer."
At a later date, Jesus appeared to Nephites gathered at the temple. Initially, they heard a voice. They couldn't understand it. They heard the voice again. They still couldn't understand it. Finally, the third time, they opened their ears to hear and looked towards the voice. They understood the voice. It was the voice of the Father introducing His Beloved Son!!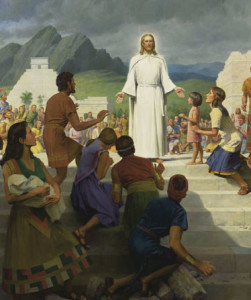 They tuned in and heard the most Glorious voice in the universe speaking to them! But it required an effort on their part, a commitment. They wanted to understand the voice. They strained and stretched to understand the voice. And everyone who made the effort, heard.
Then they were prepared to see Jesus descending from heaven. The whole multitude saw Him together.  All eyes fixed heavenward, no mouth dared to open. They thought He was an angel until He identified Himself. "And it came to pass that when Jesus had spoken these words the whole multitude fell to the earth for they remembered that it had been prophesied among them that Christ should show himself unto them after his ascension into heaven."
He ministered to them and they worshiped Him. He invited them to feel the marks in hands, feet, and side. All of them did "and did know of a surety and did bear record, that it was he, of whom it was written by the prophets, that should come."
He said He would return the following day. And the people went to work. "And it was noised abroad among the people immediately, before it was yet dark, that the multitude had seen Jesus, and that he ministered unto them, and that he would also show himself on the morrow unto the multitude. Yea, and even all the night it was noised abroad concerning Jesus; and insomuch did they send forth unto the people that there were many…did labor exceedingly all that night, that they might be on the morrow in the place where Jesus should show himself unto the multitude."
They spent the night inviting everyone to gather with them to meet the Savior. People believed them, and with great effort gathered in huge multitudes. Jesus came to them again and ministered unto them.  
He never chastised their lack of faith. He didn't have to. They believed Him.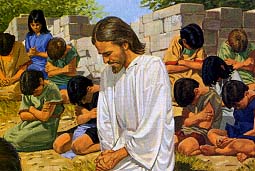 The effects of that faith overwhelm me as I read what Jesus says as He prays to the Father for them. Everything He prayed referenced the Nephites' belief in Him.
"Father, I thank thee that thou hast given the Holy Ghost unto these whom I have chosen; and it is because of their belief in me that I have chosen them out of the world. Father, I pray that thou wilt give the Holy Ghost unto all them that shall believe in their words. Father, thou hast given them the Holy Ghost because they believe in me; and thou seest that they believe in me because thou hearest them….

Father, I thank thee that thou has purified those whom I have chosen, because of their faith, and I pray for them, and also for them who shall believe on their words, that they may be purified in me, through faith on their words, even as they are purified in me."
They saw and heard unspeakable things! Jesus said "so great faith have I never seen among all the Jews; wherefore I could not show unto them so great miracles, because of their unbelief."
Others had the same possibilities. However, their eyes were holden. Their ears were stopped. Unbelief filled some part of their soul. They did not see or hear or know things Jesus would have willingly shown and told and taught them.
And what about us today?  Are we still living far below our privileges and revelatory opportunities?
In January 2016's YSA devotional, Sister Wendy Nelson shared a thought provoking challenge. "What if you learned that the Savior had already returned to this earth—that He, as part of His second coming, had already met with some of His true followers in several marvelous, large gatherings—gatherings about which the world, including CNN and the blogosphere, knew nothing.  If you found out that the Savior was already on the earth, what would you desperately want to do today, and what would you be willing and ready to do tomorrow?"
Believing is a choice. Believing also compels to action—to make whatever effort it takes to hear and see and know. Every day I have the opportunity to tune my heart to Him. He promises "draw near unto me and I will draw near unto you; seek me diligently and ye shall find me; ask, and ye shall receive; knock, and it shall be opened unto you."  Such a beautiful gift for simply believing.
About Delisa Hargrove
I am a member of The Church of Jesus Christ of Latter-day Saints. I have moved 64 times and have not tired of experiencing this beautiful earth! I love the people, languages, histories/anthropologies, & especially religious cultures of the world. My life long passion is the study & searching out of religious symbolism, specifically related to ancient & modern temples. My husband Anthony and I love our bulldog Stig, adventures, traveling, movies, motorcycling, and time with friends and family.