Spring is upon us, which for everyone else means flowers blooming and gardening! For me, it means snow. As I sit here and write it is pouring down snow and has been for the past 2 hours. Whether it be raining or snowing or gardening or shoveling, spring also means one other thing. General Conference. General Conference is a 2 day conference held in Utah where members of The Church of Jesus Christ of Latter-day Saints gather to listen to counsel given by church leaders.
I love conference time and I love that it doesn't have to be just for members of the church. The messages are very faith promoting and talk on a range of subjects from prayer, to faith, to family history. Anyone can benefit from listening to the messages. General Conference is every 6 months which is perfect for me because by the time I feel like life is getting me down, its conference time again and I can listen and feel rejuvenated.  
For the past 40 days I participated in a 40 day conference challenge where every day I read one talk from the last conference session in October in preparation for this session. Guys, it has been life changing for me. First of all because I cant remember the last time I started something and finished it all the way through. With kids these days, I am lucky I get ready every day! Can I get an amen?
Second, because it transformed me in ways I didn't know needed transformation. When I started this challenge I wasn't sure what would come out of it but I saw the idea and thought sure I'll give it a try. I created a Facebook page and invited my sisters in law to do it with me. Well as of yesterday I completed the 40 day challenge. I went into the challenge hoping it would help me get on the path to being a better mom, and wife and person.
What I didn't realize is that this challenge was never about that, but about me spiritually. Without even knowing it this challenge did things for me spiritually that has been enlightening and unexpected. In a talk given by our beloved President Thomas S. Monson he talks about being an example and a light. He says,
"Life is perfect for none of us, and at times the challenges and difficulties we face may become overwhelming, causing our light to dim. However, with help from our Heavenly Father, coupled with support from others, we can regain that light which will illuminate our own path once again and provide the light others may need." (President Monson, Be and Example and a Light, General Conference 2015)
Oh how true that has been in my life. Talk after talk, I realized how much I had let my light go dim. I thought I was living these truths and doing what I was supposed to. Yet, I was finding my prayers were going unanswered, and my situation unchanged and I didn't know why.  President Henry B. Eyring said in a BYU-Idaho devotional,
"Casual prayer won't be enough. Reading a few versus of the scriptures wont be enough. Doing what the minimum of what the Lord asks of us won't be enough. Hoping that we all have the Atonement work in our lives and that we will perhaps sometimes feel the influence of the Holy Ghost wont be enough. And one great burst of effort won't be enough. Only a steady, ever increasing effort will allow the Lord to take us to higher ground." (President Henry B. Eyring, Raise the Bar, Brigham Young University-Idaho Devotional, January 2005)
So that's why. That quote was all too familiar for me, and I realized somewhere along the way I had turned into a casual disciple. I realized after reading each talk and learning more in depth of the gospel principles that my preparations were insufficient for my trials. However as I read each talk day after day,  my faith began to grow, my testimony of the Atonement and so many other principles I read about were strengthened and reignited. How many of us are guilty of doing the bare minimum and expecting the maximum? It really is so important to listen to our prophet and apostles.
Everything they speak on is inspired and comes from our Heavenly Father. Its up to us to listen and take the counsel they give us. I cant tell you how many months I have spent trying to seek for answers, and heal my heart  in forms of books, friends advice, anything and everything you can think of, while forgetting the fundamentals of the gospel. The answers we are looking for are there, we need only see. So many times, I would read a talk and find myself feeling remorseful and guilty for straying away from my Heavenly Father when the answers were in front of me the whole time.
Conference doesn't have to last just for a weekend..When we choose to see it with open hearts and open minds, it really can change us. The impressions we receive can last for a lifetime. So what can we do to prepare ourselves to get the most out of this springs conference session? Here are some ideas we do in our home.
1.Conference Kits.  Since we have little ones, listening with no interruption is next to impossible so I make Conference Kits for the kiddos so they can feel involved but also be distracted so I can listen. Its really a win-win! The church just released new coloring books you can pick up at the distribution center for like $1! This is a great way to get conversation going about the gospel and they are doing something they enjoy.  In the past I have also included  puzzles, snacks, play-dough, art kits, any thing to keep their little hands busy.. For older kids I have seen conference bingo which I love, and I think Baby girl could do this year. There are a ton of fun ideas online for conference packets, or kits I highly recommend them!
2. Conference Journal. For me, I like getting a new journal to write down my thoughts and quotes I love about each talk. I get this one from Deseret Book. Its small, simple, and I can even carry it in my purse to reference if I need to.
You can also just use a journal, a spiral notebook, or whatever you have!! Side note tip! Sometimes I get flustered trying to hurry and write down a quote word for word, but the best thing I have found is to just write how I hear it, not necessarily what is being said word for word. We all our fighting our own personal battles, and the spirit will manifest the message to you in the way that is meant for you to hear it so don't stress! Write it down as you hear or interpret it. If you do miss the quote you can always go back online or wait for the conference edition of the Ensign.
3. Pray. Pray, pray, and pray again that your spirit will be open to receive the messages being given. Pray your hearts desires will be addressed and maybe even answered. I found this awesome printable at readyornot-theblog I used last year and loved. I found mine from last year and it was fun to see how I really had improved in some things, and some things I still needed to work on.
Those are just a few things I do in preparation. If you're like me though after conference, my notes go into a drawer and sadly I never look at them again. Remember earlier I said conference doesn't have to last 6 months? There are so many ways we can keep that spirit of conference every week. Don't let it sit in a drawer, or get lost in your brain with the other 100 thoughts running through it.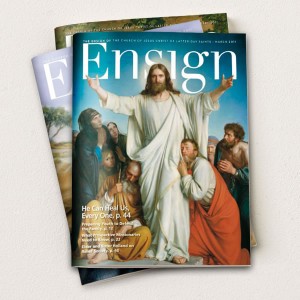 When the conference edition of the Ensign magazine (a church published magazine that contains spiritual messages for adults, youth and children) comes out I go and buy it and hi-light all the quotes I wrote down in my notebook. I also re read the talks and its so amazing to see things I may have missed the first time. After this session I am going to do the 40 day challenge again and read all the talks and journal about them.
Another thing we do as a family is use the talks as Family Home Evening topics and discussion. I also love to use them for scripture study. In most of the talks in the magazine, you will find little footnotes and they will reference a scripture the speaker may have used. I love going back and reading those scriptures to get a deeper understanding of the principle being talked about.
I have such a testimony of General Conference, and how if we are spiritually prepared, we give our spirits the opportunity to grow, and glow. If we use the knowledge and counsel of our faithful leaders every day, we can lead a life of joy, and happiness. When the trials come, we can endure them, and we can remember how to use the Atonement and rely on our Heavenly Father. We can keep our light from going dim.
My prayer for you this week is that you will go into General Conference with a prayer in your heart. Let yourself listen to the words and let them heal you. Our Heavenly Father's mission for us is our progress. Remember He is very mindful of you and because of that so are our church leaders. Take advantage of that and let yourself be healed with the words and talks that are given this weekend. I leave you with this quote by Elder David A. Bednar from the October General Conference.
"May we hear and heed the eternal truths taught by the Lords authorized representatives. As we do so, I promise our faith in Heavenly Father and Jesus Christ will be fortified, and we will receive spiritual guidance and protection for our specific circumstances and needs" (Elder David A Bednar, Chosen to Bear Testimony of his Name, General Conference Oct. 2015)
About Krystal Wilkerson
Krystal is a latter-day mom and Holy Homemaker to 3 beautiful kiddos who is striving to find joy in the everyday trenches of motherhood and life! Her passion is sharing her experience of decluttering with a purpose to help others create a Holy Home where the messes subside and the Spirit resides. She is a lover of books, nature, music, food, the gospel, and all things Texas! Follow her at her website, Latter-day Mom!
Twitter •