This past week our family had the amazing opportunity to go to Disneyland!! Baby Girl will be 5 years old in June and for us, turning 5 is a big thing to celebrate, so we celebrated in a special way. We decided going now would be a lot better than fighting the crowds in the middle of the summer, and we are so glad we did! We had an amazing time!!! Yes, there were lines, but not nearly as bad as we thought. It was the perfect time to go! We rode rides, watched shows, met Elsa, Anna, Mickey, Minnie, and watched the spectacular fireworks shooting behind the famous Sleeping Beauty castle. It was breathtaking.
The kids had a blast and as a Disney fan myself, it was a trip we all will never forget. I tried to take in every moment I could. The place really is pure magic. One day while walking down the main street I was looking around taking it all in. The stores were lined up with Disney movie window displays, the sun was warm on my face, and I could hear the laughter and excitement of kids and adults alike. I found myself thinking why can't every day be like going to Disneyland? Then out of the blue, Baby girl says to me "What makes you pretty is you're a mom". I asked her again what she said to make sure I heard correctly and she repeated "What makes you pretty is you're a mom".
My heart melted, and I was a bit surprised at the timing of her comment. We weren't talking, just walking along and she just blurted it out with such assurance as if she knew what I was thinking. The happiest place on earth wasn't Disneyland. It was she who was standing there in front of me. It was she who with one little innocent comment just made me feel like a real princess. My children, my home, and being a mother is my happiest place on earth.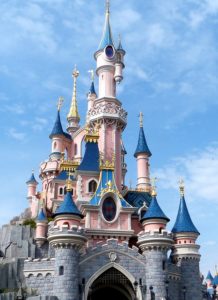 I loved that to my daughter, being a mother is what makes me beautiful to her. If only we could all see ourselves like this and recognize the value and impact we have as mothers to our children. It doesn't get any better than that does it? Will it always be happy? It can be with the right attitude. Won't there be struggles and opposition? Yes there will, but we don't have to become a victim to our struggles. We can face the hard times, embrace them, conquer them and we can know our worth.
Cinderella is a great example of this. She began as a servant to her step-mother and step-sisters, yet if you think about it she never complained. Did she like serving a step mother and step sisters that didn't thank her or appreciate her? Of course not! But she faced them, she had no other choice. She embraced them, and every day diligently made breakfast and did her chores. Lastly, she conquered them. She sang in one of my favorite Disney songs,
"Have faith in your dreams and someday, your rainbow will come shining through. No matter how your heart is grieving, if you keep on believing the dream that you wish will come true".
She conquered her struggles with faith.  That moment in her life was far from a fairy tale, but she had faith that there was something better out there for her because she knew who she was. She not only patiently waited and endured the bad to get to the good, but she also made the best of her situation as well making some mice friends a long the way. We have so much to learn from her! The struggles are inevitable. Even the most beautiful princesses with the best fairy tales have to face some kind of opposition before they reach their happily ever after. Like them, we can have faith. Faith in our Heavenly Father that our rainbow will come shining through. President Monson said,
" You do not find the happy in life… you make it"  (President Thomas S. Monson, 1977. Faces and Attitudes).
One thing I am learning is we cant sit and wait for good things to happen, or assume it will all work out. We have to work at it. We have to find a way to make our homes the happiest place on earth. So, how can we do this? I contemplated that a lot this past week as we got back to our normal routines. I did not want to leave California. I was dreading going back to all the responsibilities we had left behind.
That Disney magic feeling was gone and I found myself being grumpy, irritated and depressed. I even started to doubt if I was happy with my life, and then I felt ungrateful because I have a great life so why was I feeling this way? I did some reflecting and wrote down things that make me happy. My children, bright colors, flowers, my husband, and the gospel just to name a few, and I implemented these things in my home.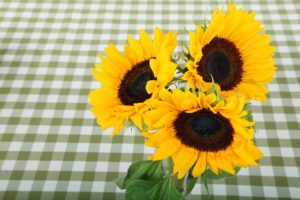 I redecorated the kids bathroom which was so gloomy before and now Disney themed and bursting with bright, fun colors. I bought fresh yellow flowers for my kitchen table, I printed our most recent family picture and updated our picture frames, and I put a picture of Christ as the center of my living room. It has made such a difference and my spirits are lifted every time I walk in my living room and see my picture of Christ, or when I go into the kids bathroom. They are small changes but make a big difference.
While those are all fun improvements, no home can be the happiest place on earth without the spirit in the home. Aside from the physical changes I made, I made some spiritual changes also. I have been working on a morning routine since I started my Conference Challenge in at the end of February. Every morning I say my prayers and pray for the spirit to fill my home, I read my scriptures or an uplifting article or talk, and I come down to make the kids breakfast and turn on my uplifting music.
Those are just some things we can do to invite the spirit in our homes. I have a testimony when the spirit resides in our home, we can live our happily ever after each and every day. I challenge you all this week to find what makes you happy and implement them into your routine, or your décor, or whatever it may be. Embrace your role as a mother. Love it and live it. Make your home the happiest place on earth.
Going on vacation is fun, but it doesn't have to end there. My new mantra I have recently adopted is
"My goal is to create a life I don't need a vacation from" (Rob Hill Sr.)
I loved that! That is so perfect and I hope and wish we all can create a life where every day feels like Disneyland, the happiest place on earth.
About Krystal Wilkerson
Krystal is a latter-day mom and Holy Homemaker to 3 beautiful kiddos who is striving to find joy in the everyday trenches of motherhood and life! Her passion is sharing her experience of decluttering with a purpose to help others create a Holy Home where the messes subside and the Spirit resides. She is a lover of books, nature, music, food, the gospel, and all things Texas! Follow her at her website, Latter-day Mom!
Twitter •