Motherhood is best done with a spouse but if that has not been an option then we do the best we can as a single mother. Single mothers face more challenges than sometimes we can bear but one that is particularly difficult is keeping a positive self-esteem. Many times when we are alone, our self-esteem suffers because we are so hard on ourselves.
We are our own worst enemies.  When we live without another adult to help us, there is no one at home to give us emotional strokes telling us that we are wonderful. It is amazing how one person can affect our whole outlook on life and how we feel about ourselves.  Children do help at times but compliments and positive feedback come in spurts. It is not guaranteed as it is with an eternal companion.
 As a single mother, I had to work at telling myself I was okay. One evening I attended a Relief Society activity (women's auxiliary meeting of The Church of Jesus Christ of Latter-day Saints) and I realized that I needed to include feeling the love of the Lord myself as I went through the day to help me in my struggle with a positive self-esteem.
In a perfect world, we would all know we are loved by our parents, our siblings and extended family and by the Lord. By knowing we are loved, we would act accordingly to others but this is not a perfect world and we are being tested on a planet that is so wicked, the destruction of the ungodly is eminent.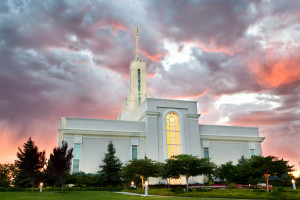 The topic for this meeting seemed ordinary at first; we were to talk about meaningful family home evenings lessons, (our Monday night family gatherings) as these are very important to us but, at times can be monotonous. There were only seven sisters present, but we had an interesting discussion which proved to be a very spiritual, life changing experience.
After the sample lesson of how we can teach our children the gospel of Jesus Christ, another discussion was started about the importance of physically and spiritually preparing to attend the temple. (A sacred building where we worship the Lord)  Our Bishop poked his head in and joined the conversation.  He expressed concern for our ward (congregation) and how the sisters may not be spiritually preparing to attend the temple.  He wanted to know if we knew we were loved of the Lord.
There were several of us who spoke to affirm our knowledge of the Lord's love, but the question was asked: How do you motivate other people to know that they are loved?   We all come from different life experiences, family backgrounds, and have different temperaments and emotions.  We should all know that we are loved of the Lord, but not everyone understands this principle.
We are told by our church leaders that we are loved of the Lord, but do we really know it as individuals?   Realizing you are loved of the Lord is a spiritual conversion. After you know, it changes your whole perspective in life and you are never the same. You think and react differently.  This experience has fed my positive self-esteem immensely.
There are many different ways to know you are loved of the Lord.  At times, it is a slow process, line upon line, precept upon precept, until one day you realize that the Lord loves you and that you are His special child and He really does care for you.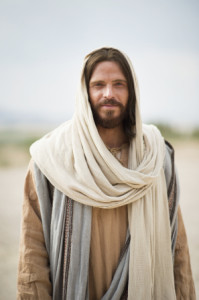 Another way you may know you are loved of the Lord is through certain principals of the gospel such as the Atonement.  If you have not repented of sins from the past, which are more draining to your soul, then your self esteem suffers. The first thought is that we might have is that we are not worthy of the love of the Lord, but that is not true.  Everyone can feel the love of the Lord whether they have repented or not.  
Everyone can feel the love of the Lord for themselves if they have sinned and are making their way back to the gospel.  It is much better for us to go through the process of repentance to clear our conscience and purify our hearts than to continue our sins. Regardless of whether we repent or not, we can still feel the love of the Lord.  The Savior loves us and it is vital in our life time to know this.
I did not know I was loved by the Lord until I was forty years old.  I was a member for thirty years and had attended college, married in the temple, given birth to children, held callings, and still didn't know.  I knew my parents and grandparents loved me. I knew friends and family loved me but I did not know for myself that the Lord loved me personally. 
It's not as if I didn't hear it so many times from talks over the years, I just didn't believe that the Lord knew me and loved me individually. I just didn't believe that I was a part of that love.  I felt that the love from our Supreme Being didn't pertain to me and I never really understood that principle.
In a special blessing from my Bishop years ago, I was told that the Lord knew me by name. That surprised me, and from then on I had impressions from the Spirit that I was loved of the Lord.  It was through the still small voice that I learned I was loved.  This experience sustained me during the time I was a single mother.
Another way to know that you are loved by the Lord is to ask Him for confirmation.  If you ask with a sincere heart and contrite Spirit you will know the answer.  I feel that those who don't know are afraid to ask, fearing rejection. Your answer might not come right away but you will get a positive answer.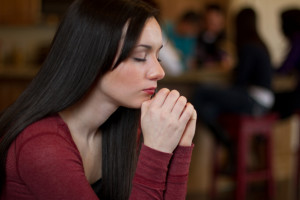 What Father would say "no" to a son or daughter who is trying to live a better life?  What Father would reject His own son or daughter whom He created when they are trying to live the best life that they can? I say to them, of course He loves you and wants the best for you.
Satan has launched a great campaign against us so we will not feel worthy to do God's will, or we will feel unworthy to return to our Father in Heaven.  Satan does not want us to know we are loved; that we are of godly worth.  The more negative we feel about ourselves, the more the adversary will gain for his side.
This worldly idea of not being good enough for the Lord, or for our families, or even for the gospel of Jesus Christ is total nonsense.  We are all born into privilege because we are from a royal heritage.  We each had the opportunity to come to earth to gain a body and live our life.  Our "obligation" is to learn that God loves us. 
From our Relief Society declaration we read:
"We are beloved spirit daughters of God, and our lives have meaning, purpose, and direction. As a worldwide sisterhood, we are united in our devotion to Jesus Christ, our Savior and Exemplar. We are women of faith, virtue, vision, and charity who:

Increase our testimonies of Jesus Christ through prayer and scripture study.
Seek spiritual strength by following the promptings of the Holy Ghost.
Dedicate ourselves to strengthening marriages, families, and homes.
Find nobility in motherhood and joy in womanhood.
Delight in service and good works.
Love life and learning.
Stand for truth and righteousness.
Sustain the priesthood as the authority of God on earth.
Rejoice in the blessings of the temple, understand our divine destiny, and strive for exaltation."           
According to Sister Mary Ellen Smoot, the General Relief Society General President at the time said this declaration was written "…to remind ourselves of the grand blessing of womanhood. This declaration reminds us that we are beloved spirit daughters of God.  We are loved by our Heavenly Father."
My mother's day challenge to all mothers, (especially the single ones) is to ask the Lord to tell you He loves you.  Ask the Lord to know that He loves you with all of your thoughts, words and deeds.  If you do, you will feel a great return from above so wonderful you will never forget it.  It will stay with you for the rest of your life and your whole life perspective and self-esteem will change for the better. Have a happy mother's day!
About Valerie Steimle
Valerie Steimle has been writing as a family advocate for over 25 years. As a convert to The Church of Jesus Christ of Latter-day Saints, she promotes Christian living in her writings and is the mother of nine children and grandmother to twelve. Mrs. Steimle authored six books and is a contributing writer to several online websites. To her, time is the most precious commodity we have and knows we should spend it wisely. To read more of Valerie's work, visit her at her website, The Blessings of Family Life.