I have written before about my upbringing. In many ways, it was difficult work on the farm, but loving parents disrupted their lives so that we children could have a life-changing experience. And we did. And the challenges facing our youth today have a purpose in strengthening them.
Elder Rasband talks about the distinction of the youth of our day:
Our purpose was to introduce the Mutual theme for 2016, "Press Forward with a Steadfastness in Christ," from 2 Nephi, which reads: "Wherefore, ye must press forward with a steadfastness in Christ, having a perfect brightness of hope, and a love of God and of all men. Wherefore, if ye shall press forward, feasting upon the word of Christ, and endure to the end, behold, thus saith the Father: Ye shall have eternal life."

By reading many hundreds of our youth's questions, what did we learn? We learned that our youth love the Lord, sustain their leaders, and desire to have their questions answered! Questions are an indication of a further desire to learn, to add to those truths already in place in our testimonies, and to be better prepared to "press forward with a steadfastness in Christ."
He goes on to share a story about Christ when in Capernaum that is familiar to us all but perhaps hasn't been applied directly to our own individual situations:
"Most of all, we need our Savior, our Lord, Jesus Christ. One of the accounts from scripture that has always spiritually moved me is when Jesus Christ walked out on the water to meet His disciples who were traveling in a ship on the Sea of Galilee. These were leaders newly called, like many of us in our roles today. The account is recorded in Matthew:

"But the ship was now in the midst of the sea, tossed with [the] waves: for the wind was contrary.

"And in the fourth watch of the night Jesus went unto them, walking on the sea.

"And when the disciples saw him walking on the sea, they were troubled, … and they cried out for fear.

"But straightway Jesus spake unto them, saying, Be of good cheer; it is I; be not afraid."

Peter heard that wonderful call of encouragement from the Lord.

"And Peter answered him and said, Lord, if it be thou, bid me come unto thee on the water.

"And [Jesus] said, Come."

"Pretty bold. Peter was a fisherman, and he knew about the hazards of the sea. However, he was committed to following Jesus—night or day, on a ship or on dry land.

"I can imagine that Peter leaped over the side of the boat, not waiting for a second invitation, and began to walk on the water. Indeed, the scripture says, "He walked on the water, to go to Jesus." As the wind increased in strength and force and as the waves swirled about his feet, Peter became "afraid; and beginning to sink, he cried [out], saying, Lord, save me.

"And immediately Jesus stretched forth his hand, and caught him.

"Such a powerful lesson. The Lord was there for him, just as He is there for you and for me. He reached out His hand and drew Peter to Him and to safety. "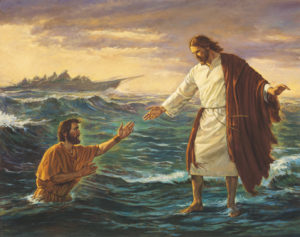 That sentiment seems to connect with me, because each of us face storms that rage in the midst of our lives and despite our best intentions, difficult circumstances often cause us to cry out in fear regarding our own desperate circumstances. But the rescue from our difficult situation now is the same today as it was then. He is the Way, the Truth, and the Life today, right now in this present moment with the difficult circumstances we are facing. He can free us from our temporal challenges just as He will free us from our spiritual predicament.
Jesus said "I am the way, the truth, and the life: no man cometh unto the Father, but by me."
I love the scripture story where Jesus forgives sins and heals a man stricken with Palsy. This man was lowered into the dwelling through a hole in the roof to the room where Jesus was teaching. This situation tells us a lot about the circumstances at the time. For instance, FIRST why would they lower this man though the roof? No doubt to carry him to the roof top in the first place and gather ropes to complete the deed would be more difficult than going through the front door.
It seems there were crowds around Jesus at the time, which they could not easily penetrate. So their choice to attack the situation from the roof may have been their best option. SECOND We also can surmise that this man had a number of good friends. It would have taken a degree of dedication and commitment for a number of his helpers to make all these arrangements, gather the necessary equipment, carry him to the top of the building, and open a hole in the roof, so they could begin lowering him down.
THIRD I love the fact that when he had been lowered to the floor of the dwelling, his helpers drop the ropes to the ground at the feet of Jesus. Whether that actually happened or the film producers took artistic license to enhance the story, it teaches me that these people had great faith in what Jesus could do. FOURTH Yet when Jesus pardons this man's sins, certain scribes question his ability to forgive sins. Then, looking squarely in the eyes of the man afflicted with palsy, Christ gives this broken man hope. Let's read from scriptures in Matthew chapter 9 what happens next.
6 But that ye may know that the Son of man hath power on earth to forgive sins, (then saith he to the sick of the palsy,) Arise, take up thy bed, and go unto thine house.

7 And he arose, and departed to his house.

8 But when the multitudes saw it, they marveled, and glorified God, which had given such power unto men.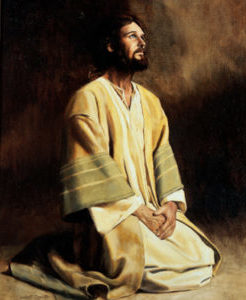 And so it is in our situations. Though we may sometimes question the obstacles that come into our lives and wonder why we are called to carry the burdens we do on our backs, we may learn from this scripture that the Lord is mindful of our circumstances and has power to heal physical, mental, and emotional ailments if we exercise faith in him. Jesus has prepared a way for us. Our friends can help us in our need. We must be that kind of friend, as well. We should have complete faith in the Savior and live his words, then we will have perfect hope in him.
By faith, we can do all things through Christ. But even Abraham had to prepare his son Isaac for sacrifice and raise his knife in the air before he was delivered. And so will we be rescued from our hardships in the Lord's time.
By reading the Lord's Prayer, I realize He is my Advocate with the Father:
"Our Father which art in heaven, Hallowed be thy name.

"Thy kingdom come. Thy will be done in earth, as it is in heaven.

"Give us this day our daily bread.

"And forgive us our debts, as we forgive our debtors.

"And lead us not into temptation, but deliver us from evil: For thine is the kingdom, and the power, and the glory, for ever. Amen."
I stand as a witness that Christ is divine, has risen from the dead, and out of His love for us has overcome every barrier to our return to Heavenly Father, enabling us to realize the joys of eternal life. I know that His teachings are the only way to happiness and peace in this life, for individuals and nations, and to joy in the life to come.
All I do and say is in the hope that I might help His cause and inspire others to come unto Him for the correct guidance in life, and the strength to do what's right.
I know that through Christ sins can be overcome and forgiven, and lives changed, and hope restored.
And knowing that gives us a perfect brightness of hope in all of life's situations.
And as Elder Holland reminds us "Until that hour when Christ's consummate gift is evident to us all, may we live by faith, hold fast to hope, and show compassion one of another.
Some videos to inspire you:
https://youtu.be/QbGhD-FcCS8 Substance of faith
https://youtu.be/IrNqGqy5kbQ Like a Broken Vessel
About Walter Penning
In 1989, Walter Penning formed a consultancy based in Salt Lake City and empowered his clients by streamlining processes and building a loyal, lifetime customer base with great customer service. His true passion is found in his family. He says the best decision he ever made was to marry his sweetheart and have children. The wonderful family she has given him and her constant love, support, and patience amid life's challenges is his panacea.
Twitter •