Rest, relax, enjoy the Christmas season. Seem possible? Of course it is! Christmas is a celebration of the Savior's birth. Any stress involved with Christmas is of our own making. I love Christmas, but I had to learn as a child that expectations need to be realistic. You see, I was also born in December. I learned early that both occasions are important to celebrate, but that I had to be realistic about it.
Later, my husband and I were married in December—one more thing to celebrate in December. A few years ago, my stepson was tragically killed in December, so there is a time of remembering, sharing, and a trip to the cemetery. One would think this all would make me crazy, right? Not so. I truly love the Christmas season!
Let me share my secrets of a successful Christmas season.
Remember the reasons for celebration. Thanksgiving is for being grateful to Heavenly Father for all our blessings. Christmas is about the birth of our Savior. They go hand in hand, don't they? Don't obliterate that throwing money around willy nilly.
Teach your children the meaning of the celebrations. You don't have to stop the whole Santa thing; just keep it real. Santa is a fun part of every child's life—but Santa should never overshadow the birth of Christ.
Make it fun. When something ceases to be fun, stop it. If decorating is fun, go for it; if not, forget it. If you like to bake, make that your thing. If not, leave it alone.

Teach your children to have realistic expectations. My mantra, "Santa doesn't always bring you exactly what you ask for, but he always gives you something neat." Teach them to appreciate the little things—something neat isn't the most expensive thing on their list. It may not be on their list at all. Their list consists of "suggestions" for Santa.
Repeat after me: "I don't have to make everyone's dreams come true." Each one of us has the responsibility for our own happiness. Stress multiplies and rubs off on others—but so does happiness. Be happy.
Learn to say no. Contrary to popular belief, you don't have to go to every party—not even the office party. You can't be fired for not attending the office Christmas party. I attended very few office parties over the years. Your personal time is just that—YOUR PERSONAL TIME. Family is more important than any party, whether it be a friend's party, or an office celebration.
Don't try to compete with others for the perfect Thanksgiving or Christmas—and stay off of the Pinterest website until January. Be yourself, and allow your family the same privilege. As my mom would have said, "Use the KISS method. Keep It Simple Stupid."
Start family traditions because they are important, but be flexible as the family expands and changes. As new people join your family, be open to accepting some of their traditions, and to releasing some of your own. The purpose of traditions is to bring people together, not to cause contention and hard feelings.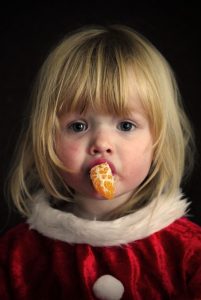 Many years ago, my mom gave me a book of Christmas traditions. The authors gave a piece of advice that I loved and have never forgotten. Under the chapter heading "Staying Sane," the authors suggest that when tensions begin to rise, simply drop to the floor in a heap, slide your arms forward, and say, "Ah-h-h-h." (Making Your Own Traditions Christmas, Hunter, Dette and Shipley, Jocelyn, Traditions Press, Nemarket, Ontario, Canada (1984), p. 98.) I tried it. The kids were so shocked there was dead silence. Then we moved on with whatever we were doing in a much calmer manner. It turned out to be a pretty peaceful evening.
One more tip I can give to you. I don't wrap presents. Years ago I hit an after-Christmas fabric sale. I bought several different pretty Christmas fabrics and made fabric bags. Then I made some ribbon bows, and bought some more bows. I stuff the gifts in the bag, and close it by folding it over and pinning the bow and tag on with a single safety pin. They are beautiful under the tree, we reuse them every year so it is good for the environment, they are much less flammable than paper, and my wrapping is all done in less than an hour.
When January rolls around, you may want to think about things you can do throughout the year to make the holidays easier. For instance, any handmade gifts can be made throughout the year. I do these silly advent calendars for my grandchildren and my grandnieces and grandnephew that are just calendars drawn on poster boards. I give the kids Hershey kisses and the poster board calendars.
They decorate the top of their own calendars and glue the candy on the calendar. I've learned that if I draw those calendars in January, then all I have to do in November is buy the Hershey kisses and distribute the calendars. Some years I crochet or do embroidery work for Christmas. If I decide to do that, it is all done months in advance.
Be thankful for every blessing received, and concentrate on the Savior. If you always remember those two things, peace will fill your heart and you will have a joyful and meaningful holiday season. Remember: Rest, relax, and enjoy.
About Tudie Rose
Tudie Rose is a mother of four and grandmother of ten in Sacramento, California. You can find her on Twitter as @TudieRose. She blogs as Tudie Rose at http://potrackrose.wordpress.com. She has written articles for Familius. You will find a Tudie Rose essay in Lessons from My Parents, Michele Robbins, Familius 2013, at http://www.familius.com/lessons-from-my-parents.
Twitter •