I come from a long line of strong (and opinionated) women. We are not marshmallows. On the contrary, we might be described as prickly cacti. While the prickly pear cactus has warts of deadly thorns, it also produces gorgeous blossoms and contains luscious liquid that can save a life in a hot desert. It can be eaten as a vegetable.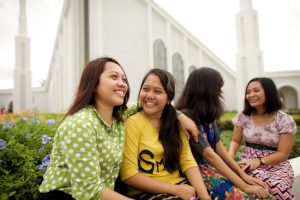 Its properties are also known to lower bad cholesterol while maintaining good cholesterol, as well as stabilizing blood sugar and lowering a diabetic's need for insulin. It's just those awful thorns that keep us from appreciating its beauty, nutritional value, and medicinal use. Strong women are also often highly undervalued.

Prophets and apostles have extolled the value of women since the very beginning of the Church. Joseph Smith organized Relief Society after the manner of the priesthood because he knew the great asset of the women of the Church. Sometimes, however, this doesn't filter down into the individual wards and branches. I need to say that I have never felt undervalued by priesthood leaders.
However, I often hear complaints from women who have felt like their opinions don't count and that priesthood leaders don't listen. To those women I would say to stand your ground. Be respectful; but firm. Don't stay silent in ward councils and other forums because you think they won't listen. Speak up. If they don't listen, the sin is on their heads, but if you don't participate in the process of governing the kingdom, the sin is on your head.
The first order of business is to get rid of the prickly warts of thorns. Remember the old English proverb, "You can catch more flies with honey than with vinegar." Stay respectful, positive, and cheerful.
Never underestimate yourself. If you act stupid, you will be treated as such. On the other hand, if you do your research, know your topic, and communicate with love, you will be treated as an equal partner in building Zion.
A council in the Church is never about winning or losing; it's about building the kingdom. However, when leaders make decisions that are contrary to something you have a strong opinion about, it can sometimes feel like a loss. Understand that you will not always win, and that it is acceptable to lose. Learn to be a good winner and a good loser. A winner who flaunts her winnings today will most likely be tomorrow's loser, and today's gracious loser may be tomorrow's winner.
I grew up at a dinner table surrounded by excitable people with a gauntlet of differing opinions. I learned to sink or swim when thrown into the water. I was a legal secretary for more than 35 years, so standing up to a room full of men is not foreign for me. It may not come as easily to women who have not come from a similar background. We take to the table our past experience. Let there be no doubt that no matter what your past experience has been, with practice any woman can be strong in a room full of men.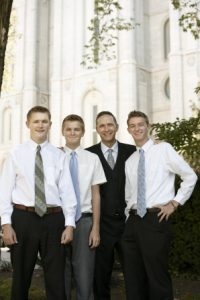 I've talked about women, so let's talk about men—particularly the priesthood. Priesthood holders have a responsibility to their counterparts. Let's be clear about this—we are on equal footing in the eyes of our Heavenly Father—so the priesthood needs to step up to the plate and let us be true partners.
We are different, holding different responsibilities, but we get to our mansion in heaven together as a team. There is no room in the celestial kingdom for those who are not team players. The quarterback doesn't win the football game without his teammates.
Our leaders have been guiding us, both men and women, to work together to build Zion, and to work together with our spouses to build eternal families. Are we listening?
Sisters, we, your brethren, cannot do what you were divinely designated to do from before the foundation of the world. We may try, but we cannot ever hope to replicate your unique gifts. There is nothing in this world as personal, as nurturing, or as life changing as the influence of a righteous woman (M. Russell Ballard, Of the Quorum of the Twelve Apostles, "Mothers and Daughters," Apr. 2010 General Conference).

Dear sisters, we rely on the moral force you bring to the world, to marriage, to family, to the Church. We rely on blessings you bring down from heaven by your prayers and faith. We pray for your security, welfare, and happiness and for your influence to be sustained (By Elder D. Todd Christofferson, Of the Quorum of the Twelve Apostles, "The Moral Force of Women," Oct. 2013 General Conference).
Women's role in the Church in the last days is the same as it was in the Garden of Eden. We are to be an help-meet to our eternal partner. We are to walk beside him to guide our families.
Women and men are to walk together on the earth in partnership, each sustaining the other in our respective responsibilities. Women are partners with the priesthood in everything. We do have unique gifts to bring to the table, as Elder Ballard said, and we can and must be that moral force of which Elder Christofferson spoke.
About Tudie Rose
Tudie Rose is a mother of four and grandmother of ten in Sacramento, California. You can find her on Twitter as @TudieRose. She blogs as Tudie Rose at http://potrackrose.wordpress.com. She has written articles for Familius. You will find a Tudie Rose essay in Lessons from My Parents, Michele Robbins, Familius 2013, at http://www.familius.com/lessons-from-my-parents.
Twitter •