Dear Family,
We struggled selecting each of you children's names. How could we not? Having all of you and raising a family was the most significant undertaking of our lives. But the amazement doesn't stop there. I knew rearing family would be my premiere commission in life, because it involves everything I hold dear both in this world and the realm to come.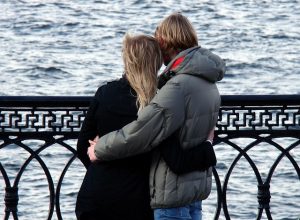 Hence you wouldn't think it so surprising to find our happiness comes from helping those we love most. But then it makes sense. I honestly never realized that I would glean this much joy from my family, my wife, and my children. They don't even know it. I tell them often, but it's never enough. I remember my mother explaining to me that I would not understand how much I was loved until I became a parent myself.
I didn't know then that she was spot on. Through my life I have learned that being true to the things I was taught as a child has brought me tremendous joy in this life, and I know it will be magnified in the eternal worlds. And like with all good things, we must be patient and receive them in due time. Immediate gratification is not joy.
Nephi and Lehi devoted themselves to God's work, and their parents considered carefully when choosing their names, which invited these young men to pattern their lives after their forebears. Their father Helaman counseled them that when they remembered their names, they will also remember the works and the good things their namesakes have done. Well.
Let's not miss the point here; when we selected your names, we carefully considered people who we revered and admired, because we wanted you to follow their examples and be that kind of people! So with that in mind, we are blown away because each one of you have excelled in so many ways we are truly honored to be your parents.
I think when we were in heaven organizing our family, somehow your mother and I were appointed to be your parents, and you all promised that you would help us make it work. I must have been terribly worried, but you were right. You all helped, and it is working out now wonderfully. In my mind's eye, Emily was right there comforting and encouraging us and promising to stick with us to the end.
And on this very happy occasion when our precious little baby is turning 17-years-old and sticking with us through the thick and thin, she is keeping that promise. Remember the Source of your good fortune and all your blessings. We remember ours of which you are a significant part. Doctrine and Covenants 82:3
Happy Birthday Sweetheart. We are so lucky to have you in our family.
In Helaman 5:6 we read: Behold, my sons, I desire that ye should remember to keep the commandments of God; and I would that ye should declare unto the people these words. Behold, I have given unto you the names of our first parents who came out of the land of Jerusalem; and this I have done that when you remember your names ye may remember them; and when ye remember them ye may remember their works; and when ye remember their works ye may know how that it is said, and also written, that they were good.
Listen to all of these songs. Somehow they express the sentiments of my heart today.
Before we came here, we all lived in heaven
with Heavenly Father and Jesus, His Son.
It's where they taught us to choose good from evil
to be prepared for the battle to come.
For Satan tried to destroy us forever;
To make us turn from the things we were taught.
But nothing could keep us from choosing Jesus,
for we loved the plan of God.
And we will choose Him again.
For He's our Savior and friend.
He'll help and guide us each day,
And He will show us the way
To be the best us we possibly can.
Oh we will choose Him.
We will choose Him again.
And now we're on earth to prove we'll be faithful,
Keep his commandments and follow His ways.
For we're still fighting for good over evil,
Not with a sword, but with courage and faith.
And we will rise up and stand with our Savior
Forever true to the things we've been taught.
And nothing can keep us from choosing Jesus,
for we love the plan of God.
And we will choose Him again.
For He's our Savior and friend.
He'll help and guide us each day,
And He will show us the way
To be the best us we possibly can.
Oh we will choose Him.
We will choose Him again.
###
About Walter Penning
In 1989, Walter Penning formed a consultancy based in Salt Lake City and empowered his clients by streamlining processes and building a loyal, lifetime customer base with great customer service. His true passion is found in his family. He says the best decision he ever made was to marry his sweetheart and have children. The wonderful family she has given him and her constant love, support, and patience amid life's challenges is his panacea.
Twitter •