At the conclusion of April 2017 General Conference of The Church of Jesus Christ of Latter-day Saints, I did what I always do at the end of General Conference—I sat down to think about the general theme that seemed to run through the whole conference.  It was clear to me that the common thread in this conference was discipleship.
Why? It's not hard to figure out. These are hard times. It is getting more difficult to maneuver through the evil in the world, and we don't want to get stuck in the mire. If we want to stay on course, we must learn the art of discipleship.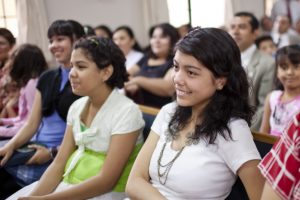 We've been encouraged over the last couple of years to keep the Sabbath day holy. That was the first step in stepping up our game. The stakes have never been higher. We are living in the very last days. The end goal is in sight. We want to be able to greet the Savior when He comes and say, "I'm certainly not perfect, but I did my very best." The way to do that is to be a true disciple of Jesus Christ.
So what did we learn from prophets and apostles and other leaders about discipleship at General Conference? I just reviewed my notes from the conference and was amazed to discover that every speaker in all six sessions spoke of ways to become better disciples of Jesus Christ. If I counted right, there were 36 different conference talks, and each one of them taught discipleship in some form or another. Apparently, it is important that we get this right—NOW.
Over and over again, we were told the importance of keeping the Sabbath day holy, prayer, scripture study, partaking of the sacrament, and keeping covenants. We were admonished to walk in obedience to the commandments and to let our light shine to the world.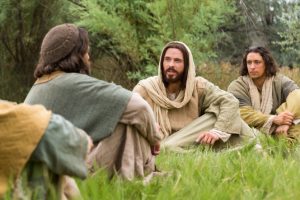 Elder L. Whitney Clayton, gave a marvelous example of discipleship. He recounted that when the angel Gabriel explained to Mary she would conceive, Mary was confused because she had not known a man.
Mary humbly responded that she would do what God asked, without demanding to know specifics and undoubtedly in spite of having countless questions about the implications for her life. She committed herself without exactly understanding why He was asking that of her or how things would work out.

She accepted God's word unconditionally and in advance, with little knowledge of what lay ahead. With simple trust in God, Mary said, "Behold the handmaid of the Lord; be it unto me according to thy word" (Luke 1: 26-38) (Elder L. Whitney Clayton, Whatsoever He Saith unto You, Do It, Apr. 2017 General Conference).

As a woman, I am more than a little fascinated by this. Mary didn't ask, "What will Joseph think?" She didn't say, "My parents won't understand," or "I'll be shunned by the community." She didn't give it a second thought. She simply did what was asked of her and trusted that God knew best.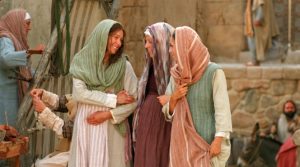 There were hundreds of questions she could have asked, but didn't. Her mind must have been swirling. Somehow, she had faith enough to squelch all doubt, and she simply aligned her will with God's plan.
Elder Robert D. Hales taught us this about discipleship.
Many people hear the word disciple and think it means only "follower." But genuine discipleship is a state of being. This suggests more than studying and applying a list of individual attributes. Disciples live so that the characteristics of Christ are woven into the fiber of their beings, as into a spiritual tapestry.

. . .

The attributes of the Savior, as we perceive them, are not a script to be followed or list to be checked off. They are interwoven characteristics, added one to another, which develop in us in interactive ways. In other words, we cannot obtain one Christlike characteristic without also obtaining and influencing others. As one characteristic becomes strong, so do many more.  (Elder Robert D. Hales, Quorum of the Twelve Apostles, Becoming a Disciple of Our Lord Jesus Christ, Apr. 2017 General Conference).
Elder Hales gave strong warning that we cannot be part-time disciples of Christ and told us that now is the time to recommit ourselves with all diligence.
There was an urgency about the April 2017 General Conference. Did you feel it? There was peacefulness about it, but it was urgent nonetheless. We've been told not to worry about what is happening around us; be at peace. Instead, look inward and upward.
I am to build a better me. You are to build a better you. We are to build better families. We are to stand up for the gospel in love and be strong. Instead of apologizing for our uniqueness, we are to let our light shine. We are to concentrate on being true disciples of Jesus Christ.
I will be writing about this more in future articles. If prophets and apostles of God feel it is important enough to devote an entire General Conference to it, then it is certainly something I want to reflect on and write about.
About Tudie Rose
Tudie Rose is a mother of four and grandmother of ten in Sacramento, California. You can find her on Twitter as @TudieRose. She blogs as Tudie Rose at http://potrackrose.wordpress.com. She has written articles for Familius. You will find a Tudie Rose essay in Lessons from My Parents, Michele Robbins, Familius 2013, at http://www.familius.com/lessons-from-my-parents.
Twitter •