The leaf bobbed on the sea, swirling, twirling, dunking with the waves.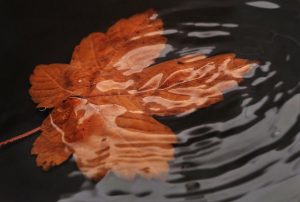 I watched from the side of a shark cage adventure boat three miles from the shore and wondered about the leaf's journey so far away from the shore. I'd loved my time in the cage looking Galapagos sharks eye to eye, but while others took their turn in the cage, I enjoyed sitting on the boat watching the shark fins breach the surface.
Each shark nosed the leaf at the surface to see what it was, and then, probably disappointed it wasn't something yummy, left it alone without a second glance.
The leaf was out of place, totally unwanted, unneeded, and only provided a flicker of interest for the few creatures that even noticed it.
In their intended place, leaves are critical to a tree. Leaves coordinate the tree's transpiration system—its breathing functions. Water vapors breathed out, carbon dioxide breathed in. Through transpiration and photosynthesis, leaves convert sunlight, gases, and water to the chlorophyll that nourishes the tree.
Each little leaf contributes to the tree's sustaining process. During its growth cycle, the leaf also needs the tree to survive. When fed and nourished, the tree creates fruit—a seed, enabling its propagation.
Another Leaf that Left Its Tree
While sitting on the boat, I imagined myself as that leaf and my mind flitted to other leaves plucked or removed from trees.
An olive leaf plucked from its tree became an omen of impending deliverance and hope to Noah in the ark.
Adam and Eve sewed fig leaves together to cover their nakedness.
Leaves in Ezekiel and Revelation are for medicine and the healing of nations.
Sometimes leaves don't even die! "Blessed is the man that walketh not in the counsel of the ungodly, nor standeth in the way of sinners, nor sitteth in the seat of the scornful. But his delight is in the law of the Lord; and in his law doth he meditate day and night. And he shall be like a tree planted by the rivers of water, that bringeth forth his fruit in his season; his leaf also shall not wither; and whatsoever he doeth shall prosper."
These leaves' metaphorical roles are beautiful.
I watched the swirling leaf again as another shark nudged it and swam away.
Separated, the Leaf Dies
While the tree can survive without one leaf, the leaf cannot survive without the tree. After a few days, a separated leaf crinkles up and dies.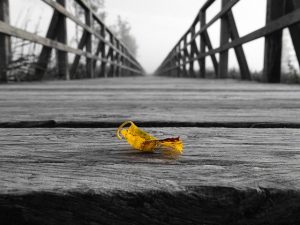 What would take me so away from my tree? Pride? Anger? Discontent? Not finding my sense of purpose at the tree? Wanting to be different? Apathy? Giving up? Frustration at other leaves not pulling their full weight—like that leaf half chewed by the caterpillar?
If I left the tree, I'd be like the leaf was out of place, totally unwanted, unneeded, and only providing a flicker of interest for the few creatures that even noticed me. But attached to the tree, I have vision and purpose.
Abide in The True Vine
Jesus's discourse on Himself as the vine gives me hope, motivation, a reason to cling to the vine, the tree, to Him.
I am the true vine, and my Father is the husbandman. Every branch in me that beareth not fruit he taketh away: and every branch that beareth fruit, he purgeth it, that it may bring forth more fruit.

Now ye are clean through the word which I have spoken unto you. Abide in me, and I in you. As the branch cannot bear fruit of itself, except it abide in the vine; no more can ye, except ye abide in me.

I am the vine, ye are the branches: He that abideth in me, and I in him, the same bringeth forth much fruit: for without me ye can do nothing. If a man abide not in me, he is cast forth as a branch, and is withered; and men gather them, and cast them into the fire, and they are burned.

If ye abide in me, and my words abide in you, ye shall ask what ye will, and it shall be done unto you. Herein is my Father glorified, that ye bear much fruit; so shall ye be my disciples. As the Father hath loved me, so have I loved you: continue ye in my love.

If ye keep my commandments, ye shall abide in my love; even as I have kept my Father's commandments, and abide in his love. These things have I spoken unto you, that my joy might remain in you, and that your joy might be full.
Suddenly, the boat engine revved and we sped off leaving the leaf churning in the wake, leaving the leaf that had left its tree, leaving the leaf to its fate, but not leaving the leaf's lesson.
And now…I desire that ye shall plant this word in your hearts, and as it beginneth to swell even so nourish it by your faith. And behold, it will become a tree, springing up in you unto everlasting life. And then may God grant unto you that your burdens may be light, through the joy of his Son. And even all this can ye do if ye will.
About Delisa Hargrove
I am a member of The Church of Jesus Christ of Latter-day Saints. I have moved 64 times and have not tired of experiencing this beautiful earth! I love the people, languages, histories/anthropologies, & especially religious cultures of the world. My life long passion is the study & searching out of religious symbolism, specifically related to ancient & modern temples. My husband Anthony and I love our bulldog Stig, adventures, traveling, movies, motorcycling, and time with friends and family.