The test and my answer
An interesting phenomenon is occurring in my family right now. My children are becoming spouses and parents as they are beginning their post-high school lives. The experience is not surprising or unexpected, but the emotions and memories of this period in our lives are acute and striking.
Grand parenting has plenty of surprising realizations of its own to be sure. When we were going through the phase of life raising our young children, my wife and I were still in college largely, including all the pressures that are part of that experience—like college testing.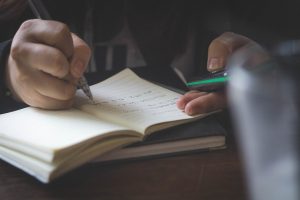 Today I found out why we used to require #2 pencils when filling out scan-tron forms during testing.
Now, you might be saying, "Used to? Don't you still have to?"  It turns out, despite what pretty much all teachers will tell you, not really.  Modern scan-tron systems are quite high-tech, using image sensors and sophisticated image processing algorithms.  
These algorithms can even pick out which oval has the strongest mark.  So if your test is being processed by one of these newer scan-tron systems, you could fill out every bubble on the scan-tron and it would simply pick the darkest shaded bubble in each row and assign that as your answer.
Though my shadow hasn't graced the doorway of a college testing center for thirty-years or more, the emotions of that experience are still significant and memorable. There remains both similarities and differences in college testing between my days and that of today, no doubt.
When I was in college pretty much all of the examinations were completed at the testing center, which may be similar to processes of universities today. But what I am sure is much different from testing centers today, our test results printed out on a dot matrix printer. Looking back, it was possibly either an invigorating or a humiliating experience. Let me explain.
So computers were relatively new back in those days. And this technology advancement made a significant impact in the rapidity of getting one's test results back. We answered the questions on scan-tron forms which included filling out the circles on the tests to note the correct answer, and of course we occasionally used college writing pads.
Upon completion of the examination we would line up at the testing center office to collect our results. We handed our scan-tron testing form to the assistant who placed it in a machine, which read and interpreted the form. A dot matrix printer was used at the time to supply the graded manuscript.
So when it became our turn to get the results, we were hoping for a quick printer response like zzz z  zzz  zzzzz, which meant name and subject and great results with hardly any activity at the printer. The alternative was a symphonic medley of tapping by the printer head, which meant that the significant print out of test results on the dot matrix printer was not a good sign:
The correct answer to number 37 was such-and-such. Your answer was so forth…
Then it went to the next question. The longer it printed, the more errors the test had, so we were all hoping for the brief critical information, short print job. Unfortunately, that's not always what I got. When the printer had to pause during its printing session to refill the buffer in the middle of printing of my test results, I knew that I was struggling.
Added to the recognition that I had just failed an important test in my goal toward graduation, I was also embarrassed by the others that witnessed the significant printout and secretly hoped that particular job was not their test results being tapped out by the printer.
Though this anecdote may sound ancient to some of you, it is not just on printers where we feel the pangs of struggling through our tests. We may feel that life's test is more than we can handle on our own. Gratefully, we don't have to overcome the test of life all by ourselves.
The Lord promised he would be in our midst if we follow and witness of him, though that is not always revealed in our circumstances, professional attainments, and belongings. Perhaps when our children or spouse go astray we feel much the same as I did in the testing center when I learned my test results was the day's biggest print job.
But there is at least one big difference that changes everything. Someone took the test with both you and me and scored perfectly. And because of him, our test results can perfectly enable us to live with strength and confidence every day. The beauty of our relationship with him enables us to thrive and succeed and reach our potential despite pain, negativity in our midst, and hardships of extraordinary intensity. With him, we can make a difference in our own lives and help others.
Jesus Christ is our perfect example, but he doesn't require exclusivity to the title of example. Instead, he wants us to be examples to others and follow him and pay forward all that he has given us, be positive illustrations of righteous living to our colleagues, and instill in others the good we have received because of him, especially in the face of difficulty and hardship.
Gratefully, because of the Lord Jesus Christ, we can have the true desires of our heart. Our tests are necessary, but our scores when added to his may achieve all our hopes and are beyond our fondest dreams. I once heard President Henry B. Eyring teach this principle in the following way:
A prophet of God once offered me counsel that gives me peace. I was worried that the choices of others might make it impossible for our family to be together forever. He said, "You are worrying about the wrong problem. You just live worthy of the celestial kingdom, and the family arrangements will be more wonderful than you can imagine."
The family arrangements will be more wonderful than you can imagine.
Happiness is the reward for the obedient. Despite the challenges of this life, the results of the test are known for those that follow him and let his gift change their lives both on this earth and in the world to come. When we open the door to the blessings he has already attained for us, we can receive that priceless reward for following and having faith in Him. And the reward he offers us and is waiting for us to accept is a perfect score.
Similarly, in the test of life, we hope that our performance will result in the score that we really want. But the difference between this test and that I mentioned in college, is that our score is perfect when added to that of the Savior, and because of him through the blessing of repentance, we receive do overs until we get it right.
Today I found out how we can use the gospel of Jesus Christ to get us through life's test.
Now, you might be asking, "Today?"  I have known this principle for myself my entire life. Making my mark in life has always been an important objective for me. But I learned again today from many others that following the gospel of Jesus Christ can help us through all of life's tests. It turns out, that there are many who have applied the principles of the gospel and make this claim.
Their stories are miraculous and inspiring and give us strength by making a difference and seeking to leave their mark. So if your test seems to be overwhelming you, remember you are not alone. Embracing our challenges and sharing the effects of our faith in life and the influence of the gospel of Jesus Christ with others helps us and them enjoy the opportunities that it provides.
Listen to their stories. There a dozens, possibly hundreds or thousands of digital testimonies that can teach you something valuable and give you hope and strength and the vitality to move forward.
As such, you can use pencils, pens, and even printer toner or ink to capture your history, but I think you will also find that the digital anecdotes provide a great resource that helps you share and provide answers.  Pens and pencils are obviously a worthy vehicle as well, but you may decide to evoke digital memories for impact, giving you the ability to elaborate on your history.  Also, generally speaking, digital reproductions may help you to preserve your history and personal experiences in perpetuity, so that you and others can read or listen or watch them perfectly.
Although, anecdotal evidence has shown that online vendors can effortlessly make photo books from your digital images, your involvement will help you and your family love and share it with others.  Online social media and phone apps make designing, securing, saving, and sharing your history fun and easy.  Further, if you pick the right tools, it happens for you automatically with the experiences you are already publishing.
On the flip-side, you can also celebrate and share others' stories of their lives and capture their experiences recorded in videos and audio footage that are sometimes significantly more sophisticated.  They sing beautiful songs, capture interesting footage, and shine light and verbiage on subjects that are just as important to you and me. Their talents lift and edify us all.
Even with antiquated sources and systems, we can find new, creative ways to share our histories, answer our posterity' looming questions, and celebrate, perpetuate, and impart our own histories and experiences, bringing happiness to us and light to others. Families must be focused on celebrating the Source of everything that is good and correct in our lives, receiving joy in the process.
They have a word for that—it is Hallelujah.
When I was a boy, I grew up with Spencer W Kimball as prophet. Somehow I connected with him when I was a young man. He was the prophet for twelve years. President Kimball was the prophet when I received the priesthood. He interviewed my father for a mission, and he called me on mine. When I was still a teenager, I picked up his biography and read it in a few days.
I hadn't read a book of that size from cover-to-cover in my entire life up to that point. But I related to him and his life stories. His experiences strengthened me. It changed my life really. You have certainly had examples like that in your life. I have so much to be thankful for that it would be ungrateful to God if I wasn't happy.
Times are good, and times are tough. We go through life with high expectations and faith in Jesus Christ, but this test is challenging. We don't always know what to expect and though our focus is set on achieving success, we face obstacles and challenges that may be above our capacity to fully understand or accomplish. But that is what tests are designed to do—stretch us to our limit to see what we are made of and how far we can go.
When we don't reach the level of success that we are shooting for or attain the ultimate goal for which we aimed, our efforts are acknowledgement of sincerity and determination. Even when we don't score the way we had hoped, we must remember that life is not perfect and neither are we. But because of the love and sacrifice of the Savior Jesus Christ, we get second chances as long as we are willing to try, until we hear his voice.  
"Well Done, Thou Good and Faithful Servant"
One of the ways you can tell whether your efforts are producing the kind of result you want is to ask yourself whether your goals are helping you enjoy the most important things in life like your spouse, children, and family. If not, you are not alone. We are all trying to achieve those goals when life throws us a curve.
It helps knowing others face similar challenges and witnessing what they do to extract themselves from circumstances they don't want. We are all in this together. We learn from each other's example. I think that's what the I'm a Mormon campaign is all about in every language and everywhere you can imagine.
When we study in college for our examinations, we listen to the professors' lectures, review the curriculum, take notes, attend study groups, hire outside-of-class tutors, and possibly employ other means to help us.
Why then when we go through life's test is an occasional lesson at church on weekends sufficient?
It's not.
That's what the I'm a Mormon campaign is all about.
Better uses for dot matrix printers and a little fun
————————————-
Rocky's Printer – Eye of the tiger on a dot matrix printer [HD]
What if Mozart had a printer – PRINTING Nachtmusik [HD]
Toccata and Fugue in DOT minor – Bach on a DOT MATRIX PRINTER
Stand up, speak out, and be different.
About Walter Penning
In 1989, Walter Penning formed a consultancy based in Salt Lake City and empowered his clients by streamlining processes and building a loyal, lifetime customer base with great customer service. His true passion is found in his family. He says the best decision he ever made was to marry his sweetheart and have children. The wonderful family she has given him and her constant love, support, and patience amid life's challenges is his panacea.
Twitter •