I love going to the beach. One of my earliest memories is of my father holding both of my hands as I toddled into the waves for the first time. Even now, the salty taste of the ocean reminds me of this memory when fear mixed with excitement as I experienced the power of the ocean for the first time while my father held me safely in his hands.
However, my experiences with the ocean have not always been peaceful and fun. Just as in life, there have been times when I didn't think I would make it through.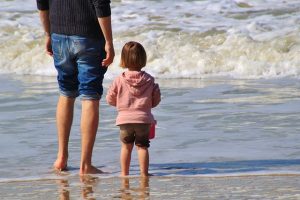 When I was around 10 years old, my family visited nearby Virginia Beach almost daily during the summer. One visit, my mother and I decided to swim out to the buoy that marked the outermost distance swimmers were allowed to go. We chattered together as the waves swept by us, slowly getting closer to the red and white buoy.
At some point in this journey to the buoy, either on our way out to the buoy or on our way back, the tide changed. This caused something called a rip current, when the ocean's undertow pulls back, even as the tide is sweeping in. I was caught in this undercurrent. I remember the frightening pull of the ocean and watching my mother desperately wave to shore with one arm, as she tried to hold onto me as I went under. My next memories are of lying on a surfboard, guided safely into shore by a lifeguard.
I don't remember if we even touched that buoy.
Doesn't life sometimes do the same with us? Sometimes we're just over our heads with responsibilities and expectations that are perhaps not realistic. We need others to see our struggle, hold onto us, and to signal for help, as did my mother, when she desperately waved to get the lifeguard's attention.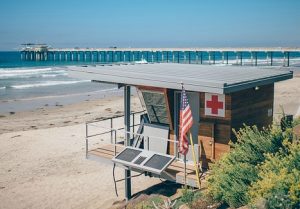 The lifeguard would not let me off the surfboard until he had pulled me all the way into shore. As a tween, I was completely mortified to have my head in a giant rubberized cuff, holding me onto a surfboard where everyone could see me getting dragged onto the beach.
But you know what? Deep inside, I was so very, very grateful to be safely on shore. Although I acted as though I was more embarrassed than anything, really, I was more grateful than words can say for the safety of the sand.
Many times in the course of my life, I have felt that same deep gratitude for the Lord's guidance. I know that He is always there for me, like the sand beneath the feet of the swimmers of life, my Heavenly Father is always there to hold me up and to move me forward on this journey of life.
O Lord, I have trusted in thee, and I will trust in thee forever. I will not put my trust in the arm of flesh; for I know that cursed in he that putteth his trust in the arm of flesh. Yea, cursed is he that putteth his trust in man or maketh flesh his arm.
Why does the Lord counsel us in such very strong terms to trust in Him and to put that trust even above the trust we put in the people around us? … because people are imperfect. Sometimes they make mistakes and they stumble, as do we all, on this journey of life. Only by depending completely upon the Lord can we make it back to live with Him.
During my early teen years, my parents asked me to meet privately with them following church one Sunday. We met in their room and they sat on the edge of their bed explaining to me that they would no longer be attending Church. I was twelve. I knew in my heart that Church was where I felt complete and that the gospel held truth; yet, I did not want to upset my parents by disagreeing. However, my heart burned within me and I could not ignore the words burning in my heart.
I told my parents that I knew the Church was where I should be and that if they would not take me, I would ask someone else to give me a ride each week. I could not depend on my parents to be my strength, I had to know how the Lord spoke to my heart at only twelve years old so that I could listen to and obey Heavenly Father.
Later, my home ceased to be a place of safety and peace for me as a teen, instead of becoming a turbulent place of pain and loneliness. I often knelt in prayer, pleading for strength to continue moving forward.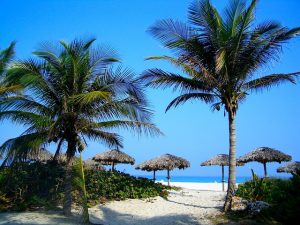 I felt Heavenly Father's peaceful assurance that He knew me, that He loved me and that He would guide me safely through. This knowledge and trust in Heavenly Father allowed me to bear crushing waves of abuse and loneliness. I could stand firm on the foundation of this trust when experiences in life during this time beat down my spirit again and again.
Remember my earliest memories of the ocean, when I trusted in my earthly father to protect me when life frightened me? Later in life, he lost his own way and that support was no longer in my life. I had to lean on the support of a perfect Heavenly Father.
People are imperfect and will let us down, not because they don't want to be there for us, but simply because we can't help ourselves—we're only human. So we must trust in our perfect Father in Heaven to be our strength and our protection when the arms of flesh around us are letting us down.
Our missionary son is a great reminder of this lesson as he has had to literally leave all of his support systems, save the Lord, and go serve a mission.
Well, missionary work really is the epitome of relying on God! In a lesson, honestly, I can't teach anything. For real, by myself, I'm pretty helpless, but I've had several experiences in lessons that testifies that if we lean on God, He'll always help.

Just last Friday, we had a lesson with a less active member and she asked a really deep and personal question … I honestly didn't know what to say … but I felt like I should say something, so I went for it. I don't even remember what was said, but the Spirit was so strong there. She started crying … God truly helps us if we trust and rely on Him. 

Some of my favorite verses about that are in Proverbs 3:5-6

Trust in the Lord with all thine heart; and lean not unto thy own understanding. In all thy ways acknowledge him, and he shall direct thy paths.
A couple weeks ago, I went to the beach with my girls. As we were body surfing, I was caught in a series of waves that tumbled me over and over, until I didn't know which way was up. I patiently held my breath, knowing the fury of waves would subside and I'd find my footing eventually.
After a short period of time, the waves did calm. As I planted my feet firmly on the sand beneath me and came up for a much-needed breath of air, I was smacked in the face by my boogie board. Hard.
Sometimes in life, we have periods of intense spiritual stretching, when we are hit with the waves of a trial, over and over again. Just when we think we are through the worst of it, we are smacked in the face with an unexpected trial.
We learn to trust Heavenly Father by looking around us and recognizing His hand in our lives. I learned to see Heavenly Father's love for me and His hand in my life, even during severe trials.
If your life is tossing you one wave after another, please seek for Heavenly Father's help through prayer and scripture study. And then step back and see the miracles He works in your life. After that, the trust comes. I know this because I have lived it.
About Emlee Taylor
Growing up all over the world gave Emlee Taylor an opportunity to see the incredible differences the Lord created in humanity; and even better, the passions we all share as members of the human race: love for family, faith, & a desire to make a difference. Emlee lives life with passion—focusing her time now on raising four children and teaching them to recognize truth and to live true to that truth, regardless of others' expectations. Emlee is passionately in love with her bestest friend and husband of more than 20 years. 
Twitter •