I inherited something from my grandfather– a love of good quotes.  When I was a teenager, I had big dreams and high hopes. I collected and saved motivational and thoughtful quotes and put them everywhere.  When teachers, badly chosen boyfriends, or my sister laid their "negative energy" on me as I called it – there was always something to keep me going.  I had forgotten about this until I opened a plastic bin of keepsakes recently.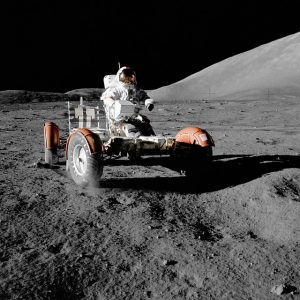 One of my favorite quotes was on a wooden plaque with a picture of the night sky, "Shoot for the moon. Even if you miss, you'll land among the stars." ― Norman Vincent Peale
At that time in my life, I was literally shooting for the moon.  My goal was to be an astronaut.  This motivated me to go into engineering, but by the time I completed my Masters in Aeronautics and Astronautics, the astronaut hiring program was on hold.  And I'm still in denial that pediatric surgery and a "bionic" appendage would have held me back. ☺
Seeing the stars
A few years later (post-maternity leave #1), I got an interesting assignment at work because no one else was available.  I spent the next few years looking at lots and lots of star data.  Those beautiful little twinkles in the night sky are actually quite complicated.
With our naked eye, we only see a small portion of the light they provide.  Celestial objects send light in infrared, X-ray, radio wave, and other wavelengths.  And they can be constant and stable at one wavelength, and completely erratic in the next. Beautiful stars in our favorite constellations can be completely useless for some scientific purposes.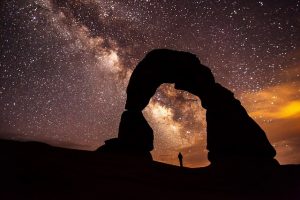 We had to be careful about which stars we used in our calibration.  Many had to be tracked, measured and evaluated over "many moons" (many months).  Some stars were quickly seen as variable, and others had much longer trends and were thrown out after long observation.
Some days my charts looked like a mass of randomly thrown "Pick-up-Sticks" (a game we used to play where you throw a bunch of brightly colored sticks on the table, and you can only retrieve one stick at a time), and a random pile of lines is not useful for trending.  We needed dim, medium, and bright stars that were strong and steady all the time in our desired wavelengths.
Applying it to my life
By aiming for the moon and making some responsible choices – like still getting a job where I could use my degree – I ended up spending a lot of time looking at the stars.  The stars taught me that you have to be careful about how you calibrate your life.  You have to do a good initial calibration to a nationally recognized standard, and as you launch into the rest of your life you need to choose your secondary calibration standards carefully.  You need to know what your ultimate goals are, watch your personal trends and the trends of your mentors, and you need to prove the worth of both standards and people.
1 Thessalonians 5:21, "Prove all things; hold fast that which is good."
Abraham 3:25, "And we will prove them herewith, to see if they will do all things whatsoever the Lord their God shall command them;"
Malachi 3:10 "…. prove me now herewith, saith the Lord of hosts, if I will not open you the windows of heaven, and pour you out a blessing, that there shall not be room enough to receive it."
As I have followed the Lord's standard in my life, it has proved to be beneficial and peaceful.  As He has proved me, I have become better for it and the windows of Heaven have been opened.
About Molly A. Kerr
Molly is on a life long quest to figure herself out. Born to be and educated as an aerospace engineer she is also blessed to be a wife and a mom of two in the present, previously served as a full-time missionary, is consistently called to teach the youth in her ward, is eagerly though slowly doing home improvement as money and time allow, all while gradually learning how to be herself and find peace and balance somewhere in between. Despite her attempts to make "the right" decisions in her life, she has learned to deal with some unexpected challenges over the last two decades. Total tornadoes, really. What she has discovered is that her career has taught her a lot about the Gospel and being a better mother, and the Gospel, when applied to challenges at the office, has made her a better professional. She has also learned that it is okay to be herself, and God still loves (and forgives) her for it.
Twitter •