We have plenty of worthwhile experiences in our families. I enjoy writing and sharing pleasant, happy thoughts and joyful, remarkable memories. This, however, is not one of those times.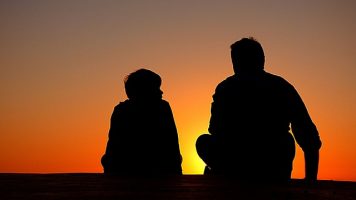 There was an occasion when I was a young man, probably just a boy, really, when my father said to me in effect "I can't imagine living my youth during the times as they are currently. There are so many temptations, problems, and forbidden paths in today's world, different from when I was a boy." I used to marvel at those comments because I thought "What is he talking about that is really so bad?" 
What is surprising to me now is that conversation took place back in the 1960-70s. It sounds funny reflecting on those words in this day and age because I am thinking the very same thing about today's world where our children and grandchildren are growing up and the onslaught of depravities every which way we turn.
Television is essentially worthless. Normal programming is generally out-of-line with our standards and many programs are blatantly wrong and offensive. Just because it is accepted by the world doesn't mean it is ok for us. We have all felt the pointing finger of scorn from those that ridicule us for our lifestyle. When I was young, I heard about the evils of the last days, but it was always some time way-off in the future, so I forgot about it.
During this period of my life, I had good experiences in church meetings that greatly inspired me. We had a good ward choir and some excellent singers that would deliver moving duets and such from time-to-time. I was also touched by the talks, especially once when a returned missionary told in a very effective way, the story of Joseph Smith's first vision. I gained a testimony that it was true as I sat there and listened to him.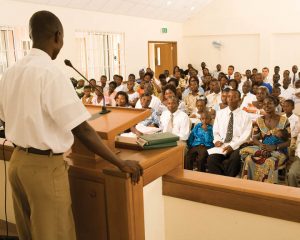 Then the next time I heard the experience told, I was moved in the same way. I had very little knowledge then, and I could hardly tell you how I knew it was true. As the years went by and I gained more knowledge, I found that the witness of the Holy Ghost could be trusted.
Many people join the Church simply because of the wonderful testimony that comes through the Holy Ghost when being taught the gospel. Now, in what some would call the autumn of my life, it is easy to see the impact of righteous living with my family and those around me. The influence of the Spirit confirms this truth.
Blessed and Happy Are Those Who Keep the Commandments of God
So I don't want to sound like a spoiler. All of you have full, rich lives with the opportunity to rear beautiful families and live with peace and happiness. Because of Jesus Christ, you can all have your fondest dreams. We can live in peace despite the turmoil that surrounds us and engulfs the world all around us. But a watchman is placed on the tower to protect and warn. We all have significant challenges and many concerns that are difficult. The watchman alerts us to forthcoming danger.
And today prophets and apostles and others who speak the words of Christ have our best interest in mind. They are protecting us from harm that could afflict us. To ignore the watchman's warnings is dangerous.
The words of the prophets are nearly everywhere today: iPods, phones, streaming devices, the Internet, books, manuals, videos, television, movies, and every other possible media fills the world with the words of Christ. These exhortations and experiences through his servants are meant to lead and guide us as we navigate the challenges of life.
Christ's message of 2,000 years ago has not changed today. He still beckons to us "Come follow me." As we turn away from evil and worldly temptations toward Christ by keeping his commandments, we can find real joy.
Listen to and heed the prophets. They speak the words of Christ.
Wherefore, I said unto you, feast upon the words of Christ; for behold, the words of Christ tell you all things what ye should do. 2 Nephi 32:3
About Walter Penning
In 1989, Walter Penning formed a consultancy based in Salt Lake City and empowered his clients by streamlining processes and building a loyal, lifetime customer base with great customer service. His true passion is found in his family. He says the best decision he ever made was to marry his sweetheart and have children. The wonderful family she has given him and her constant love, support, and patience amid life's challenges is his panacea.
Twitter •