I had the privilege of attending Missouri University of Science & Technology in Rolla, Missouri.  One of the cool things about Missouri, that I didn't initially know, is that there are lots of underground caves to explore.  For a short period, I was involved with a spelunking and repelling group at the school.  And I had opportunities with both my church single adult group and the students in the residence hall to go adventuring through those caves.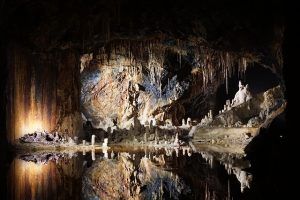 I like to be appropriately ready for a planned activity.  I'm not very spontaneous.  If I'm dressed for work at the office, I don't want to be mopping the floor.  If I'm camping, I am prepared for camping – dirt, leaves, bugs, etc are totally cool if camping is the thing we are planning to do today. 
If you are going cave exploring, be prepared for mud.  Be prepared that your clothes with be slightly dyed by the earth's clay, and never look the same again.  
Be prepared to be in the dark, slightly chilly, and on your hands and knees crawling through mud.  If you can wrap your mind around that and have clothes that you can say "goodbye" to, cave exploring is a lot of fun.  It is a fun opportunity to scare yourself a little that you will get lost, get stuck, or never get the mud out of your toes.  And it was good to see my friends in less than pristine conditions, and know we could still have fun together.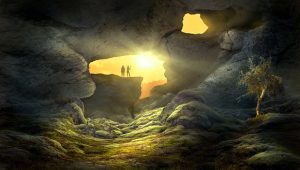 One of my college friends had some pretty thick prescription glasses and was a little unsure as he crawled into the dark cave.  For a residence hall leadership activity, we were put in teams of two to get ourselves all the way through the cave.  Each pair was given one flashlight.  
My friend and I decided I would go first with the flashlight in hand (or was it a headlamp?), and he would follow.  I was using the flashlight to see where we were going, and then I pointed it away from my path either out or up so he could see.  
He eventually told me to just hold the flashlight in front of me and keep it there.  If I had the light in front of me, there was enough glow cast around the cave that he could see where he was going.  Every time I pointed the light at him or his path, he was blinded for a few moments and his eyes would have to readjust.  When we figured this out, things went much better and we had a good time in the cave.
As I write this, I still remember feeling odd, uncomfortable, and selfish for holding the light and being in the lead.  I wanted to be able to crawl behind someone else.  However, what I learned that day about leadership, service, and following the light has stayed with me.  
Sometimes we must lead because others can't, and we should view it as an opportunity/obligation to serve no matter how uncomfortable it may feel.
Other times, we are the ones wobbly on our knees with the thick glasses and we need to follow someone.  We need to communicate what we need from our leaders for the team to be successful.  
More importantly, sometimes we can't handle the full direct light of our Guide.  We need to see the glow and adjust our eyes to utilize the light we are given.  We need to trust that He has the flashlight and knows the path and the pitfalls ahead of us, and we need to utilize His glow in our crawl through the mud of this life.
About Molly A. Kerr
Molly is on a life long quest to figure herself out. Born to be and educated as an aerospace engineer she is also blessed to be a wife and a mom of two in the present, previously served as a full-time missionary, is consistently called to teach the youth in her ward, is eagerly though slowly doing home improvement as money and time allow, all while gradually learning how to be herself and find peace and balance somewhere in between. Despite her attempts to make "the right" decisions in her life, she has learned to deal with some unexpected challenges over the last two decades. Total tornadoes, really. What she has discovered is that her career has taught her a lot about the Gospel and being a better mother, and the Gospel, when applied to challenges at the office, has made her a better professional. She has also learned that it is okay to be herself, and God still loves (and forgives) her for it.
Twitter •