The Ward Easter Party of April 2016 had the kids out on the church lawn playing relay games. I wandered over to check out the action.  The game leader told everyone to pair off for a three-legged race.  One four-year-old girl named Rachel Kauihou looked around for a partner. Her dad had to leave for a moment. I walked over and asked her if she'd be my partner.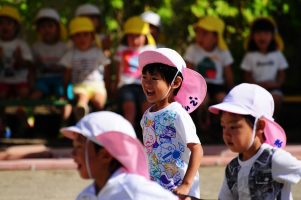 Rachel didn't really know me, but her dad, Joel, told her it would be OK.  She really, really wanted to do the relay so she agreed.  "Partners!!" she shouted.
Unfortunately, we didn't win the three-legged race, but we remained partners during the rest of the games.  We had lots of fun together.
To be honest, I just expected her to go on her merry way and not ever think of me again.  But the following Sunday when I saw her in the chapel, Rachel exclaimed, "Partner!"  And we've been "Partners" ever since. She always makes my day when she acknowledges me at church.  I love our sweet bond.
A Valentine's from Partner
Fast forward 10 months to Valentine's Day. These days Anthony and I tend to be holiday hermits and Valentine's 2017 was no different.
While comfortably hanging out at home that evening, I received a phone call from Partner's mom, Yvonne. She asked if they could stop by the house to drop something off. Surprised and delighted, I said, "Of course!" I met them outside as they drove up.
Partner's mom said Partner had something to give me. Rachel handed me a beautiful Valentine's card she made. Her mom had written a note dictated by my 5-year-old friend.  Yvonne explained how Partner insisted they go shopping and she bought me specific Valentine's treats with her own money and then insisted it wasn't too late to drop them by my house to wish me a Happy Valentine's Day.
Partner beamed under the streetlight, her beautiful face so angelic knowing she had accomplished what she felt compelled to do.
Seriously touched, I hugged them all goodbye and took the sweet gift into the house to inspect it more closely. While I devoured the chocolate, I thanked Heavenly Father for my little friend!
Partner Brought the Lord's Peace
Partner had no way of knowing that I was in the midst of a stressful pregnancy that I'd lose two weeks later. Her innocent thoughtfulness became a strengthening touchstone to me during that sad time.
I knew God was aware of me and my sorrows because He inspired Rachel, my five-year-old friend, to show me love. She showed love then and continues to show love now without reservation or hesitation.
At the same time came the disciples unto Jesus, saying, Who is the greatest in the kingdom of heaven?

And Jesus called a little child unto him, and set him in the midst of them, And said, Verily I say unto you, Except ye be converted, and become as little children, ye shall not enter into the kingdom of heaven.

Whosoever therefore shall humble himself as this little child, the same is greatest in the kingdom of heaven. And whoso shall receive one such little child in my name receiveth me.
About Delisa Hargrove
I am a member of The Church of Jesus Christ of Latter-day Saints. I have moved 64 times and have not tired of experiencing this beautiful earth! I love the people, languages, histories/anthropologies, & especially religious cultures of the world. My life long passion is the study & searching out of religious symbolism, specifically related to ancient & modern temples. My husband Anthony and I love our bulldog Stig, adventures, traveling, movies, motorcycling, and time with friends and family.