$32.33.  That was the total at the drive-up window.
"Dad, thanks so much for getting us a bite-to-eat. Do you want us to Venmo you the money for dinner?"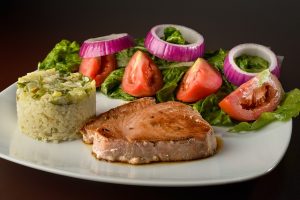 First of all, my son and his family had picked me up from work, and we were driving up to see the lights at Temple Square. My pregnant daughter-in-law had given up her front seat for me and was sitting in back with my grandson. The least I could do was buy dinner for the lot of us to do my part. We were on our way to meet the others in the family for an evening of fun with grandma, my wife, children, and grandsons.
I did it because I wanted to help.
It was a delightful evening. Parking was typically packed for this time of year in downtown Salt Lake City, Utah but soon we were bustling along with the last-minute shoppers across the South Temple to see the lights. Holiday fun and cheer were evident everywhere. Surrounded by friends with our entire immediate family basking in the shining lights on the temple grounds, we made our way to the visitor's center, the tabernacle, and across the entire block. 
The night air was brisk, and our gloves, hats, scarves, and coats kept us snug and cozy, but the warmth and happiness that filled our hearts exceeded the cold that nipped at our noses. The warmth of the Joseph Smith building was a welcome haven. Dozens of people stood together and celebrated the season. Lines of shoppers waited to donate to the impoverished with the Get/Give vending machines just to one side of the main welcoming area. Excitement and anticipation filled the air. Even then, a feeling of reverence and gratitude permeated the area as these folks came together to Light the World.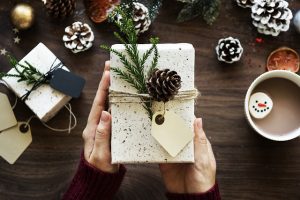 My favorite Christmas gifts given are those great memories that make us happy when you get to this point in your life. Do you believe that? If you are a parent you know what I mean. Instead of Christmas morning being about what lays wait for us under the Christmas tree, over the years I have come to realize the real heartwarming gifts are the people who surround the brilliantly-lit tree on Christmas morning.
Parents await screams of joy and wide-eyed rapture from children who receive and open their much-anticipated presents. Starry-eyed lovers await the special gifts they exchange with their loved one. Yet gifts are simply a token of the love and appreciation we have for each other. And our gratitude and happiness, their result.
If we who are imperfect, forgetful, and selfish know how to give good gifts, then our Father in Heaven who is perfect certainly knows how to and will give good gifts to them that love and follow him.
This time of year in particular we remember and reflect on the gifts we have been given and the blessed opportunity to share those gifts with our family and loved ones. Because of the first Christmas story, we have many reasons to praise God and celebrate the victory of this glorious day.
We do it because we want to. This of all days gives us reason to rejoice.
Yet the bounty of blessings given us, our happiness, families, abundance, and joy is but a glimpse of what is in store for us when we love and serve the Lord Jesus Christ.
9 But as it is written, Eye hath not seen, nor ear heard, neither have entered into the heart of man, the things which God hath prepared for them that love him.
2 In my Father's house are many mansions: if it were not so, I would have told you. I go to prepare a place for you.

3 And if I go and prepare a place for you, I will come again, and receive you unto myself; that where I am, there ye may be also.
How do you feel about this?
Does it change the way you respond to life events?
Ordinances and covenants are the building blocks we use to construct our lives on the foundation of Christ and his atonement.
Remember, remember that it shall be on the rock of Christ … if men build they cannot fall.
About Walter Penning
In 1989, Walter Penning formed a consultancy based in Salt Lake City and empowered his clients by streamlining processes and building a loyal, lifetime customer base with great customer service. His true passion is found in his family. He says the best decision he ever made was to marry his sweetheart and have children. The wonderful family she has given him and her constant love, support, and patience amid life's challenges is his panacea.
Twitter •