"At some point in our lives, it should become less about our personal accomplishments and accolades, and more about the legacy we leave behind us." I said this to a dear friend of mine a couple of years ago.
My friend considered her legacy as the legacy her generation left — she considered her great legacy as abortion rights. She knew I had two adoptive children. I'm not sure whether my jaw dropped physically when she told me this, but my jaw definitely hit the floor in my mind. However, I am grateful for her honesty. Honest, eloquent friends are not easy to come by.
Violence against a woman or the impending death of a pregnant woman negates any debate or judgment from me or anyone else. Those are the two categories where reasonable people can all agree that we should all stay out of – those are decisions to be made by the woman, her doctor, and, if needed, her family.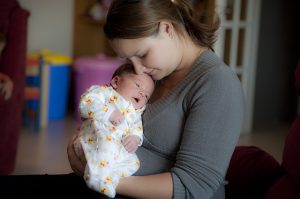 However, being an adult is about making choices and receiving the consequences. Being a woman is about sacrificing for everyone around you. Women are the heart and soul of the planet. If we can't sacrifice for the planet's children, no one else will.
I know that I lived with God as a female spirit before I was born into this body. I know that He knows me individually, and that I was excited to come to Earth. I fought to come to Earth. I wanted to be here. I know that because I was a sick baby who could barely breathe when I was born. I showed my family and the world just how stubborn I was; that I, against any odds, was going to live. I had and still have great things to do here.
I know the great spirits that are inside my children. I am trying to teach them all the tools they need in order for those great spirits to control and manage the temptations and desires of their physical bodies. I want their bodies to portray through their health, happiness, and glow how awesome they are on the inside.
My children have great birthmothers who have every right to be called their birthmothers. These two women made human choices, and when they discovered they were pregnant, they made better choices throughout their pregnancies. Then they loved their children enough to give them life and make sure they had a home where they would be loved and provided for. They exemplified what it means to be a mom – fighting and sacrificing for your child. They were moms before they ever looked into the faces of their children.
And there are many, many adoptive families looking for children. Adoption isn't just something anyone can do. I had no idea how hard it would be.
There are still many spirits in Heaven waiting to come to Earth to have awesome experiences. They want to have loving forever families, with a consistent set of rules and goals and bonding. They don't want to be bounced around between different relatives or between struggling parents and foster parents every six months. Every child wants to be someone's priority now, while they are young, not later after their parents finally grow up.
I am not asking for laws to change — I believe very little can be fixed by a bureaucracy.  I'm asking that our hearts, as women, change. I'm asking for us to advocate privately and publicly for the "other option"; an option that enables a better life for both the birthmother AND the child.
As a birthmother or birth relative, we need to look beyond our ownership in the gene pool of that child and look at what's best for the child. What situation gives that little one the best shot of living a full and happy life? Which family will provide the minimum set of challenges at least until the age of 6? Which situation is fair and good for the child vs. "they can get by" or "they can survive"? As best we can tell, which situation provides long-term stability?
Now that women finally have a voice and protection under the law, is it possible that this generation swings to neither extreme, and finally just does the selfless thing?
About Molly A. Kerr
Molly is on a life long quest to figure herself out. Born to be and educated as an aerospace engineer she is also blessed to be a wife and a mom of two in the present, previously served as a full-time missionary, is consistently called to teach the youth in her ward, is eagerly though slowly doing home improvement as money and time allow, all while gradually learning how to be herself and find peace and balance somewhere in between. Despite her attempts to make "the right" decisions in her life, she has learned to deal with some unexpected challenges over the last two decades. Total tornadoes, really. What she has discovered is that her career has taught her a lot about the Gospel and being a better mother, and the Gospel, when applied to challenges at the office, has made her a better professional. She has also learned that it is okay to be herself, and God still loves (and forgives) her for it.
Twitter •