Open your gospel library app; scroll down and open the 'Missionary' tab; then scroll down and open 'Safeguards for Using Technology.' You have now discovered incredible tools that are not just for missionaries, but for ALL members to use!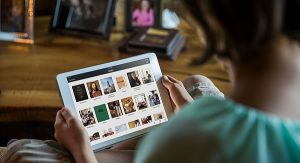 This last week, I trained a group of missionaries in social media best practices and in using these safeguards. As I prepared and immersed myself in studying these safeguards, I was struck by how important they are for our day. For anyone questioning if inspiration and revelation still guide the Church, I point to the many, many inspired programs and safeguards that the Church leaders teach us to help us maneuver through the quagmire of today's issues.
Social media is a wonderful tool in sharing the gospel; however, we need our youth to be even more grounded in gospel principles as they use their electronic devices. Too many parents aren't educating themselves about social media and in their ignorance, they leave their teens at the mercy of the world.
"More than anything else, we want our missionaries [and youth] to … have the doctrine of Christ engraved in their hearts—rooted deeply in the marrow of their bones. Through these mighty missionaries, more and more people will come to a knowledge of the Lord, and be baptized." – President Russell M. Nelson

We need to teach our youth and our missionaries to use their electronic devices to move the Lord's kingdom forward. Where to begin? The four missionary safeguards are a great place to start.
Be in Tune with Spiritual Promptings
"No member of this Church—and that means each of you—will ever make a serious mistake without first being warned by the promptings of the Holy Ghost." – President Boyd K. Packer
Mentally check yourself as you engage with social media: am I feeling the Spirit? Is this social media offensive to the Lord? Would I be looking at this if the Savior stood beside me? If you cannot stand before God with a clear conscience, then you need to step away from what you are doing until you are in control of yourself.
Be Focused on Your Missionary Purpose
"And if your eye be single to my glory, your whole bodies shall be filled with light, and there shall be no darkness in you; and that body which is filled with light comprehendeth all things." – D&C 88:67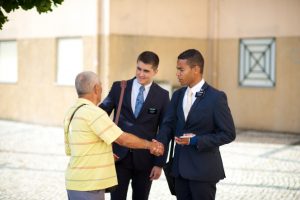 Missionary Purpose: Invite others to come unto Christ by helping them receive the restored gospel through faith in Jesus Christ and His Atonement, repentance, baptism, receiving the gift of the Holy Ghost, and enduring to the end.
For those of us who are not currently missionaries, may I suggest that we remember our baptismal/temple covenants, which are much in alignment with the missionary purpose? Remember your covenants when you are engaging in online activity.
Be Disciplined
"Handheld devices, such as smartphones, are a blessing, but they can also distract us from hearing the 'still, small voice.' They need to be our servants, not our masters."  – Elder M. Russell Ballard
"Our youth need to learn to be masters of technology and not to become slaves to it. They need to acquire sufficient safeguards to keep them from the evil. If we can immunize our youth by engraving the doctrine in their hearts, we can raise a strain of sin-resistant souls." – President Russell M. Nelson
I AM THE MASTER OF THIS TOOL, NOT THE OTHER WAY AROUND!
This safeguard struck me the strongest. Over the years, as I have worked in social media, I've had to be constantly alert to activity on the various accounts I oversee; however, this had, unbeknownst to me, created a situation where my smartphone had become the master and I the servant to its every alert.
After reading this safeguard, I went into my settings and I turned OFF almost every single notification. Now I check all of the accounts only three times a day: first thing in the morning, once in the afternoon, and once at night. It has been so freeing!
I am still taking care of my responsibilities and keeping in touch with my extended circle of family and friends. In fact, I have actually become better at doing so. I think it's because I mentally give myself a list of what my plan is BEFORE I go online. My list looks something like this:
Post thus-and-so on these various accounts.
Do a quick online check of family and friends' lives.
Reach out in love and concern for any needs.
Get off my device.
By mentally checking off each item and disciplining myself, I am remembering to actually DO what I went online to do and not aimlessly scrolling through endless social media feed. Because my mental focus is on accomplishing my task and serving, I find that I am DOING more service. I'm not just clicking 'Like', I'm sending a personal message or text to my friend when I see a life accomplishment or a need for extra TLC.
Think about it this way: when you grab a hammer to hang up a picture, you don't walk around the rest of the day carrying the hammer in your hand, randomly staring at it. Sounds silly, right? Yet we do exactly that with these electronic tools.
Be One
"And if any … among you be strong in the Spirit, let [them] take with [them those] that [are] weak, that [the weak] may be edified in all meekness, that [they] may become strong also." – D&C 84:106
For missionaries, they can turn to one another for help. Specifically, missionaries are counseled to ask each other for help when they are feeling vulnerable or tempted to do something they ought not to do online.
My husband and I have always been extremely transparent with one another with our social media accounts—each of us knows all passwords and has open access to the other's accounts. This has been helpful over our more than twenty years of marriage!
More than once, an ex has reached out to reconnect and rekindle an old relationship. Having each other's backs, we are able to head off any potential problems before they even begin.
All of our children's accounts are open to our perusal and we DO peruse. This has helped in MANY situations when our children haven't known how best to handle sticky online situations—from bullying to inappropriate messaging.
By having someone you trust have open access to your accounts, it helps you to stay true to the promises you have made to the Lord. It also helps your relationship to be stronger!
These safeguards are designed with missionaries in mind. Let's use them for our children, for our families, for ourselves. Social media is a wonderful, wonderful TOOL. Let's remember to use it in the Lord's way.
(45)
About Emlee Taylor
Growing up all over the world gave Emlee Taylor an opportunity to see the incredible differences the Lord created in humanity; and even better, the passions we all share as members of the human race: love for family, faith, & a desire to make a difference. Emlee lives life with passion—focusing her time now on raising four children and teaching them to recognize truth and to live true to that truth, regardless of others' expectations. Emlee is passionately in love with her bestest friend and husband of more than 20 years. 
Twitter •