Last week, I shared how a teacher appeared to help me along my journey. "When the student is ready, the teacher appears."
The concept dances before my eyes and challenges me to find examples of other significant teachers appearing for students.  I feel like it's a chance to be even more aware when additional teachers come into my life.
The Savior
The most awesome teacher to appear when a student is ready is Jesus Christ. He pleads for us to prepare ourselves and to receive Him as a Second Comforter.  The offer is open to all.  Some people received this penultimate teacher.
The Nephites prayed collectively for knowledge and direction when Jesus appeared to them after His resurrection.  He healed everyone, organized the church structure, taught them doctrine, and blessed them in every possible way.
When Joseph Smith sought light and truth, he prayed for an answer. God answered Joseph's humble prayer in the most miraculous way—a vision of God the Father and His Beloved Son, Jesus Christ.
John the Baptist taught that one would come who was greater in every sense than he. John rejoiced the day Jesus approached him for baptism.
Jesus appeared in a different form on the road to Emmaus when disciples struggled to understand Christ's death, burial, and resurrection.
Every blind, lame, dumb, possessed, disabled, spiritually struggling soul the Savior met.  How many thousands must have yearned for His merciful healing?  Yet some were ready.
Visions
After hearing Lehi's dream of the Tree of Life, Nephi prepared his heart and mind and requested the same vision, which he received. Being commanded to sail across a sea when you don't have a boat or know how to make one would be daunting.  At the appropriate time, the Lord instructed Nephi how to build the ship.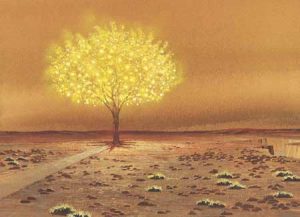 Abish's father received a Gospel vision years before the time Aaron and his brother preached in the land.  He was a ready student ahead of his time.
Though his father and brothers weren't ready to receive prophetic visions, Joseph received and shared his dreams and visions with his family. In his case, sharing didn't produce ideal results.
Because of his strict adherence to the word of wisdom, the Lord gave ready student Daniel visions and wisdom and the gift of interpreting others' dreams.
New Locations
As Abraham walked the covenant path, the Lord prompted his move to new locations—Canaan, Egypt, and back to Canaan. With each progressive move, his faithfulness and knowledge increased.
The Lord also prompted the move of the Brother of Jared and his clan.  In one of the most vivid the student was ready, the teacher appeared, but then the student slacked and the teacher called him out on it, the Lord chastised the Brother of Jared for neglecting his spiritual relationship. The Brother of Jared repented and recovered so fully that when praying to ask the Lord to light his rocks, he saw the finger of the Lord in action.
Lehi's prophetic call came with a subsequent call to move. He experienced visions and dreams and even an extremely specific GPS device that worked whenever Lehi's family was ready to respond to it.
When the children of Israel were ready, the Lord called Moses to lead them out of Egypt.  When they were a little more ready, Joshua led them into the promised land.
People
Oliver Cowdery moved to upstate New York as a teacher. He heard of Joseph's vision and the golden plates from community members and then from the Smith family. Oliver traveled to Harmony, Pennsylvania to meet Joseph and Emma Smith. One revelation reminded Oliver about his secret prayer and the peace he felt. He was a ready student.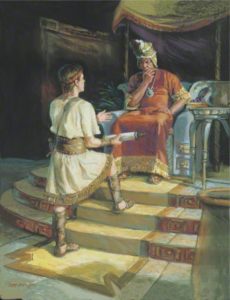 Abraham is an awesome example of a ready student.  When he and Sarah were ready, three men appeared at their home in the desert and prophesied many things, especially the birth of their son.
The Lord decreed destruction on the people of Ninevah because of their wickedness.  However, despite their wickedness, when Jonah appeared, they heeded his rebuke and repented.
King Lamoni, his father, and many of their people were unwittingly prepared for the message of their perceived Nephite enemies. Ammon, Aaron, and their brethren experienced extraordinary success because the hearts and minds of these Lamanites were ready.
The poor Zoramite's destitute condition prepared their hearts to receive the words of Alma.
Amulek's softening heart enabled him to hear the counsel of an angel, repent, and accept Alma into his home. Though rejected by family and friends for accepting the gospel, Amulek remained steadfast as he learned from and served wth Alma.
The Lord acknowledged the righteous, searching heart of Cornelius by sending Peter to his home, initiating preaching the Gospel to gentiles! This story interests me even more because the Lord sends Peter to Cornelius through a vision and messengers and not Cornelius to Peter.
Open His Eyes That He May See
So, the lesson to me is YES, when the student is ready, a teacher appears!
My favorite scripture story has this theme at it's core. The prophet Elisha acted as teacher for his servant, the king of Israel and his armies, the king of Syria, and the Syrian armies, and to me.
Then the king of Syria warred against Israel, and took counsel with his servants, saying, In such and such a place shall be my camp.

And the man of God sent unto the king of Israel, saying, Beware that thou pass not such a place; for thither the Syrians are come down. And the king of Israel sent to the place which the man of God told him and warned him of, and saved himself there, not once nor twice.

Therefore the heart of the king of Syria was sore troubled for this thing; and he called his servants, and said unto them, Will ye not shew me which of us is for the king of Israel?

And one of his servants said, None, my lord, O king: but Elisha, the prophet that is in Israel, telleth the king of Israel the words that thou speakest in thy bedchamber.

And he said, Go and spy where he is, that I may send and fetch him. And it was told him, saying, Behold, he is in Dothan. Therefore sent he thither horses, and chariots, and a great host: and they came by night, and compassed the city about.

And when the servant of the man of God was risen early, and gone forth, behold, an host compassed the city both with horses and chariots. And his servant said unto him, Alas, my master! how shall we do?

And he answered, Fear not: for they that be with us are more than they that be with them.

And Elisha prayed, and said, Lord, I pray thee, open his eyes, that he may see. And the Lord opened the eyes of the young man; and he saw: and, behold, the mountain was full of horses and chariots of fire round about Elisha.

And when they came down to him, Elisha prayed unto the Lord, and said, Smite this people, I pray thee, with blindness. And he smote them with blindness according to the word of Elisha.

And Elisha said unto them, This is not the way, neither is this the city: follow me, and I will bring you to the man whom ye seek. But he led them to Samaria.

And it came to pass, when they were come into Samaria, that Elisha said, Lord, open the eyes of these men, that they may see. And the Lord opened their eyes, and they saw; and, behold, they were in the midst of Samaria.

 And the king of Israel said unto Elisha, when he saw them, My father, shall I smite them? shall I smite them?

And he answered, Thou shalt not smite them: wouldest thou smite those whom thou hast taken captive with thy sword and with thy bow? set bread and water before them, that they may eat and drink, and go to their master.

And he prepared great provision for them: and when they had eaten and drunk, he sent them away, and they went to their master. So the bands of Syria came no more into the land of Israel.
So many ways to "see" in that story.  And that's what an able teacher does is help us see, in all its varieties.
About Delisa Hargrove
I am a member of The Church of Jesus Christ of Latter-day Saints. I have moved 64 times and have not tired of experiencing this beautiful earth! I love the people, languages, histories/anthropologies, & especially religious cultures of the world. My life long passion is the study & searching out of religious symbolism, specifically related to ancient & modern temples. My husband Anthony and I love our bulldog Stig, adventures, traveling, movies, motorcycling, and time with friends and family.