First, I should explain. Mormons celebrate Christmas, Easter, Halloween, Valentine's Day and many other holidays depending on national and local traditions. I've never met a Mormon family in the United States that didn't use Santa Claus, the Tooth Fairy, or the Easter Bunny to enhance the harmless fun in their household. For the most part, Mormons work hard and have fun both during and after the work is done.
My son is losing his molars. He lost two in one day this week. The Tooth Fairy visited, and found this note next to his teeth – quoted exactly, except where noted.
"Dear, toothfairy
Hi toothfairy I'm not writing to you because I'm mad or anything. It's because I have been getting $1.00 every tooth. I think you are going cheap on me. The last teeth I gave you were big teeth I still got one dollar. All my friends at school get $5.00 and I think that's just mean. I'm A very gaming boy and I'd like to get new things for my consoles so not to be mean back but I would really appreciate it if I could get a fair price as all the Other kids in the world. Thank you
Love,
    [my son's name]
P.S.: tell [a friend] that he should get a a life
X________________________
Tooth fairys name"
The Tooth Fairy left $2.25 and a note, "I will get back to you. – The Tooth Fairy"
The next evening, the Tooth Fairy left the following letter.
"I appreciate your negotiation skills and your self-confidence to negotiate a higher rate for your teeth. These characteristics will serve you well in years to come, and many adults could learn something from you.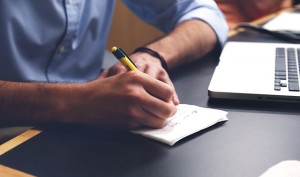 First, I need to explain something. I pay a standard rate in the United States for teeth, $1 per tooth. Some parents agree to a higher rate – but they provide the extra cash. Your parents have only allowed me to pay you and your sister the standard rate. Sometimes, I put a little extra in out of my own pocket – even though they don't like it.
However, I thought you made some good points, and I discussed it with your parents. You know them; of course there were lots of words – let me summarize:
They want you to work hard and earn your own money, so you can "be your own man" someday. They want you to be proud of your work and your accomplishments. They insisted that this would eventually make you happy.
They aren't entirely happy with how you spend your money. They said something about saving for something special, instead of burning every dollar on junk (their words, not mine).
They mentioned a free dog from the pound that actually cost them [a lot of money] in medical bills and new equipment. Do you know that dog? Should I be worried he'll bite me? Apparently, your parents think that dog makes you happier than any video game.
Your parents asked you to clean your room so they could replace the window. The new window will keep your room cooler in the hot summer months, warmer in the winter months, and will cost your parents more than [a lot of money]. However, they thought this window would be good for you.
Learning from your negotiating approach, I countered your parents' arguments. We settled on a one-time bonus for the stellar job you did cleaning your room without arguing with your parents and without anyone's help. Your mom especially was very appreciative. She hates cleaning your room. I appreciate not risking a broken wing tripping over your stuff as I walk through your room.
[His name], I know this isn't everything you asked for. However, I am on your side. Parents are tough sometimes, but I do believe they love you.
­­— The Tooth Fairy"
I sincerely hope that my children get everything they want out of this life. However, from an eternal perspective, I know it wouldn't be good for them.
It occurred to me late one evening that maybe the reason that I haven't been blessed with something I worked and prayed for, was because I would have sacrificed everything to get it. Like Sherman's March to the Sea, I was willing to destroy or sacrifice everything in my path to achieve what I thought was a Heaven-inspired outcome. It occurred to me, that quite possibly, that wasn't HOW God wanted me to do it. We may care about the outcomes, but God cares about the outcomes, the "how"s, and the "why"s.
So for now, this household is sticking to the standard pay rate for a tooth, and my son can work for his spending money.
About Molly A. Kerr
Molly is on a life long quest to figure herself out. Born to be and educated as an aerospace engineer she is also blessed to be a wife and a mom of two in the present, previously served as a full-time missionary, is consistently called to teach the youth in her ward, is eagerly though slowly doing home improvement as money and time allow, all while gradually learning how to be herself and find peace and balance somewhere in between. Despite her attempts to make "the right" decisions in her life, she has learned to deal with some unexpected challenges over the last two decades. Total tornadoes, really. What she has discovered is that her career has taught her a lot about the Gospel and being a better mother, and the Gospel, when applied to challenges at the office, has made her a better professional. She has also learned that it is okay to be herself, and God still loves (and forgives) her for it.
Twitter •