Think about the greatest challenge of your life.
At one point, for me, that time was my mission. It consisted of trying my hardest every day with no success, enduring loneliness, learning a foreign language, frequently coming up short, studying every moment possible, and trying to get past our shortcomings — and each of these was a daily occurrence.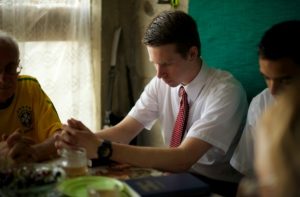 My recollection is that my companion and I came together on Sundays to plan for the coming week. We scheduled every 15 minutes of each day during the coming week. With the Lord's help, we got things done every 15 minutes. Imagine being that productive!
I learned something through that experience that has stayed with me all these many years later.
Could it be that there is a theme that runs through our lives connecting generations and families together forever? Absolutely. Every experience, including my mission — even the moments that were difficult or felt mundane — has purpose, and all our efforts have meaning, even when they feel pointless. Life is not supposed to be easy. Worthwhile things never are.
In fact, the seemingly disconnected events in this article are each brief examples of how the gospel answers the difficulties in life. Many people today and throughout history look for solutions to their problems, and the experiences of our lives have significance and meaning when cast in perspective of the gospel.
The inspiring story of John Rowe Moyle tells about a Mormon pioneer famous for walking the 22 miles from Alpine to Salt Lake City every week to help build the Salt Lake Temple. Now, a group of his descendants gather at Moyle Park in Alpine, Utah regularly to share in his legacy.
Temple dedications are really an opportunity for the saints to rededicate themselves to the work of the Lord and service in the temple.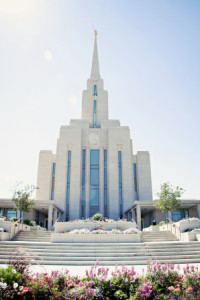 This also helps me recognize the benefits of following the commandments and heeding the Spirit's promptings, which affects the rest of our lives and that of our posterity. From my own life experience as a youth turned out and the lessons learned in my own hometown so long ago, I am reminded of God's ability to turn all things to the good of them that love and serve Him, as said in Romans 8:28.
Writing about experiences in our lives will strengthen, help, and bless us now and our families for ions to come. Is that hard to believe? I have no doubt, because I have seen and experienced this already.
We live in faith during this life, but we also come to know things through personal experience. For example, there was a time that perhaps living the Word of Wisdom took a great deal of trust, but I know of its many benefits now. I don't just believe this principle. I have experienced its promises in my life. The medical profession finally confirms what we have known for decades.
For behold, the Spirit of Christ is given to every man, that he may know good from evil; wherefore, I show unto you the way to judge; for everything which inviteth to do good, and to persuade to believe in Christ, is sent forth by the power and gift of Christ; wherefore ye may know with a perfect knowledge it is of God. (Moroni 7:15-17)
Furthermore, Alma discusses faith being like unto a seed. He suggests that just as we see a seed grow, in the same way we can nourish faith until it grows into knowledge. The whole chapter is fantastic.
33 And now, behold, because ye have tried the experiment, and planted the seed, and it swelleth and sprouteth, and beginneth to grow, ye must needs know that the seed is good.

34 And now, behold, is your knowledge perfect? Yea, your knowledge is perfect in that thing, and your faith is dormant; and this because you know, for ye know that the word hath swelled your souls, and ye also know that it hath sprouted up, that your understanding doth begin to be enlightened, and your mind doth begin to expand. (Alma 32:33-34)
That is the very reason temples are erected and countless serve within their walls to unite families on earth and in heaven for eternity. Seeds, if you will, are planted now so that we can see their growth and the full realization of blessings in a future day. No one questions that.
The Great Plan of Happiness instigated by the Savior Himself fulfills His work and glory to bring to pass the immortality and eternal life of man. The temple is part of that plan.
President Monson shared three steps regarding taking full advantage of the blessings of the temple:
Love the temple and commune with God to receive instruction and come to know Him better
Appreciate the blessings that come to us and our families through the temple and feel its joy
Attend the temple to partake of these blessings and unite our families for eternity
When I need a lift to confront obstacles in my path or direction in life, I often find the balm of Gilead in the temple. In our day, dozens of temples bring happiness in fulfillment of the prophesied blessings.
Our Heavenly Father's works are endless. His magnanimous influence for good penetrates every realm and touches all his creations.
Today is a special day. I am writing these lines on the occasion that we celebrate the life of Thomas S Monson. 30,000+ will attend his funeral services in the Conference Center. Thousands more will watch and listen to the proceedings through mass media. Dozens have honored him with books, articles, video programs, and shared memories of his life and example. Millions have been influenced for good.
Once again, the prophet has led the way and prepared the route for us to follow to return to our heavenly home. He does not take honor unto himself but always directs the praise to the Savior, for whom President Monson was a special witness. We know the nature of God the Father because of His Son.
I was getting a haircut a few years ago when I had an experience that I have never forgotten. As I was sitting in the waiting room prior to my appointment, I noticed a number of periodicals on a nearby table that were provided for the clients. But what caught my eye was the Life magazine, which showed a picture of Christ with the caption "Who was he?"
That topic spurred my interest, so I began to read the article. The author had asked representatives from many different religions around the world to provide their opinions of Jesus Christ. They were all good. As I remember, the point of view gleaned from The Church of Jesus Christ of Latter-day Saints came from a BYU professor. It was only a few years later that the Church released The Living Christ, so no one would question our true understanding and perspective of the Savior Jesus Christ.
Let's just say that I love the gospel of Jesus Christ. Some might ask "Why?" Without sugar-coating it, the teachings and plan provided to us include the full range of blessings available in one's life. Like all the keys on a piano, every chord, stanza, and concert or performance lies within the scope of our lives.
Though the extent of my possibilities may not be initially realized in me alone or in my life at this very moment, I can see my ultimate potential in the gospel of Jesus Christ. I know if I follow Him, it is only a matter of time until the full range of joy he has promised is a part of my life. If your life's melody is not yet the piece you had hoped for and the scope of blessings has not been realized, chin up; it is coming. The symphony of eternal happiness has been reserved for the hereafter.
Maybe that is one of the reasons we like listening to piano recitals so much: because we enjoy experiencing the accomplishments of others, and in the back of our minds, we acknowledge that over time and with God's help, we too can attain that level of competence. But for the time being, we can just enjoy the skills and talents of others, knowing we have an eternity to develop ourselves.
That goes for being a better son or daughter, a better father or mother, and a better husband or wife as well. In fact, we have the full range of keys available to us to achieve our fondest dreams and realize the piece we are destined to become. And to the piano are added strings and woodwinds and still that is only the beginning until the melody of our lives is a symphony, because we have an eternity to rehearse. The sky is the limit actually sounds too reticent. For with divine help, our real potential has no limit.
That is the Jesus Christ we believe in. Hallelujah!
About Walter Penning
In 1989, Walter Penning formed a consultancy based in Salt Lake City and empowered his clients by streamlining processes and building a loyal, lifetime customer base with great customer service. His true passion is found in his family. He says the best decision he ever made was to marry his sweetheart and have children. The wonderful family she has given him and her constant love, support, and patience amid life's challenges is his panacea.
Twitter •