In February, my husband and I attended an extraordinary stake conference. The Spirit was incredibly strong in both sessions. I've been thinking about it off and on ever since, so it obviously made an impression on me. I don't have exact quotes, but I did take notes. These are my notes from a talk given by our stake president, President John Cassinat.
Put on the whole armor of God. We fight against wickedness not only from individuals, but from principalities. Satan sets up his kingdom in the manner of the kingdom of God. Satan is being allowed to gain power. We are seeing the fulfillment of the parable of the wheat and the tares. We are losing the youth from the Church. We cannot ignore the numbers. Instruct the youth about the power of Satan. Satan is a particularly "disturbed" spirit. In the last days, he is given increased power.

When the armor is described in the scriptures, there is a reason that they don't talk about covering our backs. It is because we are expected to be on the offensive and fight the adversary. Put your lives in order. Live your lives spiritually in a way that exemplifies Jesus Christ. Fathers use and honor your priesthood. The work of God will go forth. Don't let anything set you back.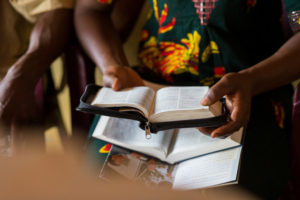 Gone are the days of passively living our lives while ignoring Satan's works outside the safe haven of our homes. None of us likes to admit it, but we are smack-dab in the middle of Satan's confusing maze every day of our lives. This is the time that has been prophesied about for centuries. We are now fighting for the very lives of our families. We are on the front lines of this war. We just have to decide whether to fight, or whether to turn and run—and remember, our backs have no armor.
We need to constantly be on the offensive and aggressively fight Satan. Prophets have told us to be active in our communities. We are to be actively engaged in good works. We are to be aware of public policy, aware of political issues, and we need to support causes that are in line with gospel principles.
Prophets have told us to monitor what comes into our homes by way of media, music, and internet. Over and over again, we've been admonished to put our houses in order, have family prayer, feast upon the scriptures, and keep the Sabbath day holy.
Yet, many of us are still only fighting defensively after Satan already has a stronghold on someone in our inner circle.
We can no longer afford the luxury of slacking off—even for a moment. When our family walks out the door in the morning, they need to know how to stand strong and firm until they return at night. Our homes need to be free of anything that can harm their minds and spirits. We must be actively engaged in doing good, and actively engaged in fighting evil.
It is imperative to set the example of righteousness, and also to teach our families the difference between good and evil. We don't have the luxury of "little" sins, as it promotes an attitude of selective obedience. We've been warned about selective obedience. I did a search on the Church website for selective obedience and immediately came up with five separate General Conference talks.
For those of us who are introverts, aggressively taking the offensive against Satan in the public forum seems like a daunting task, but it is one we can't afford to ignore. Do we love God, or fear the haters on social media? Do we love God, or close our eyes to those in the public who would squelch freedom of religion? Do we love God, or tolerate those who would put filth and pornography in the minds of our children? We must be vigilant in actively being on the offensive against Satan's attacks.
Way back in 1980, Elder Mark E. Peterson spoke powerfully about our need to be on the offensive. I will leave you with his words.
Some young people are in trouble these days. Hundreds of thousands are not, of course, and are faithful and clean. But those who are casualties need help, and their greatest help should and must come from their own home circles.

Then shall we not as families bend every effort to save our young ones? Shall we not fortify our homes to defend them? Shall not every parent rise to this emergency? Every father must awaken to the responsibility which is his. Every mother must put her priorities where they belong.

Is it too much to ask that parents deliberately and objectively teach their children the gospel truths which alone can save them from the carnage of Satan? Is it too much to ask all parents to live those truths themselves?

Is it too much to set a proper example by our own righteous living?

Is it too much to teach our children that it is better to die in defense of virtue than to lose it?

It is too much to live the Word of Wisdom ourselves and teach it to our little ones? Is it too much to teach them that violation of the Word of Wisdom can lead them into much worse sin?

Is it too much to be honest ourselves and to teach our children to be honest?

Is it too much to have daily family prayers?

Is it too much to go with our children to our Church meetings and observe a sacred Sabbath?

Is it too much to hold family gatherings in our homes either before or after our chapel services on Sunday and thus further insulate our little ones against the sins of the day?

Is it too much to hold a home evening each Monday and there teach our family the value of a clean life, doing so by recreation as well as by precept?

Is it too much to believe sufficiently in the Lord so that we will accept His word and really obey Him?

Is it too much to remember that God has said that if we are not valiant in the testimony of Jesus, we shall lose the crown over the kingdom (see D&C 76:78–79)?

Is it too much to keep in mind—and may we never forget—that if we receive the commandments with a doubtful heart and keep them with slothfulness, we shall be condemned (see D&C 58:26–29)?

There is no reward for halfhearted obedience. We must become vigorous and enthusiastic about living our religion, for God commands that we serve him with all our heart, with all our might, with all our strength, and with the very best of our intelligence.

With him there can be no halfway measures. We must be fully for him or we may be classed with those who are against him. (Elder Mark E. Petersen, "Where Do We Stand?" Apr. 1980 General Conference).
About Tudie Rose
Tudie Rose is a mother of four and grandmother of ten in Sacramento, California. You can find her on Twitter as @TudieRose. She blogs as Tudie Rose at http://potrackrose.wordpress.com. She has written articles for Familius. You will find a Tudie Rose essay in Lessons from My Parents, Michele Robbins, Familius 2013, at http://www.familius.com/lessons-from-my-parents.
Twitter •