My parents taught me that you can learn something from everyone you meet, and to be respectful of others. They taught me to be kind to others. Respect is a gift to be given freely and generously. We show respect by our actions, but also by our words, and tone of voice. It doesn't do much good to speak nice words if you do so with a grumpy voice. Sincerity is important.
Can you imagine what our relationships with others would be like if we all had mutual respect for each other? I wonder what the divorce rate would be? How many children would be saved from a life of drugs, alcohol, and pornography? Would we even need to talk about racial tensions? Might we avoid a few wars?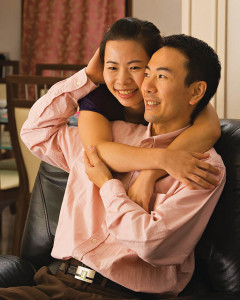 Respect between two married people will make the difference between a good marriage and a life of drudgery. Sometimes we take for granted those we love. We say terrible things to them because we know them so well and assume they will forgive us no matter what we say. Unfortunately, we forget that they are also human and have feelings. It has been said many times that we hurt most those we love. How I wish that wasn't true!
Being respectful to a spouse not only can save marriages, but also will teach children how to be respectful of others. Children model everything we do and everything we say. Even our body language needs to be kept in check. A hand on the hip, an eye roll, or a deep sigh shows a lack of respect. Even if done behind the spouse's back, there always seems to be a child in the room to take notice.
When someone is not treating you with respect, it hurts. It takes away a little piece of your self-esteem. If you are constantly around people who don't treat you with respect, it can seriously damage your happiness and wellbeing. Heavenly Father wants us to be happy. "Men are, that they might have joy" (2 Nephi 2:25). So, by treating people with a lack of respect, you are, in essence, destroying their happiness. I don't think blessings come from treating people disrespectfully. We are all children of God, and as such, we are of divine lineage.
Whether a family member, friend, neighbor, coworker, associate, church member, or stranger, the law is the same: "Love one another, as I have loved you" (John 13:34, 15:12). You can't love someone if you are not treating them with respect.
Let us as Latter-day Saints reach out to others not of our faith. Let us never act in a spirit of arrogance or with a holier-than-thou attitude. Rather, may we show love and respect and helpfulness toward them. We are greatly misunderstood, and I fear that much of it is of our own making. We can be more tolerant, more neighborly, more friendly, more of an example than we have been in the past. Let us teach our children to treat others with friendship, respect, love, and admiration. That will yield a far better result than will an attitude of egotism and arrogance (President Gordon B. Hinckley, "A Time of New Beginnings," (Apr. 2000 General Conference).
Egotism and arrogance are, indeed, the antithesis of respect. On the other hand, being humble fits perfectly with being respectful. Maybe how we learn to be respectful is to learn to be humble. To be humble is to realize that we are not the center of the universe. We are all brothers and sisters, and we are all children of God.
Respect is an expression of our sense of universal brotherhood or sisterhood—a testimony of our membership in the human family. It acknowledges our common humanity and shows our reverence for children of God. The gospel teaches us that we are to hold the same esteem for others that we hold for ourselves (see D&C 38:25; Matt. 7:12). Acting disrespectfully suggests we do not esteem the other person as ourselves.

. . .  Respect is an expression of Christlike living. It is closely linked to all other qualities we are counseled to cultivate: patience, long-suffering, brotherly kindness, and love unfeigned. It is a feature of selfless service and humble repentance. It is essential when healing or dissolving hostilities. Respect for others shows reverence for God and for His creations. Through showing respect, we truly feel more a part of the human family and recognize and honor our common divine parentage (Terrance D. Olson, "Cultivating Respect," Ensign, (Oct. 2001).
Living in this dispensation is exciting and wonderful, but it is also challenging as we maneuver the constant barrage of nastiness out in the world. If we remain humble and respectful, maybe we can come out on the other side of this life with our character still intact and ready to learn true celestial law at the feet of the Savior. Hopefully, we will treat our brothers and sisters with the respect they deserve as sons and daughters of our Heavenly Father.
About Tudie Rose
Tudie Rose is a mother of four and grandmother of ten in Sacramento, California. You can find her on Twitter as @TudieRose. She blogs as Tudie Rose at http://potrackrose.wordpress.com. She has written articles for Familius. You will find a Tudie Rose essay in Lessons from My Parents, Michele Robbins, Familius 2013, at http://www.familius.com/lessons-from-my-parents.
Twitter •