The prophet Alma was the high priest for the Church in his day. He delivered words of faith and courage to the people throughout the land.
And now behold, I ask of you, my brethren of the church, have ye spiritually been born of God? Have ye received his image in your countenances? Have ye experienced this mighty change in your hearts? (Alma 5:14)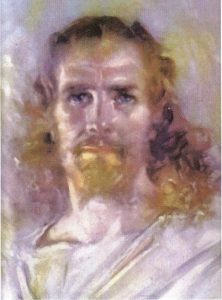 I have always wanted to write an article about a very special image of Jesus Christ. It comes from a picture that hung in my parents' home for years while I was growing up.
This was known to be my father's favorite picture of Jesus Christ. And it has easily become my favorite as well.
The significance of this to me is that because of the teachings and example of my father, I know and love Jesus Christ.
He was always careful to show us and teach us that any testimony, sermon, or church meeting was incomplete if it didn't focus on Jesus Christ. And I expect that he would say any life would be incomplete without this same emphasis. Certainly it was his focus.
The brethren have directed that every sacrament meeting should have as its focal point (in the talks as well as the sacrament) the Savior and His mission.
The underlying theme of my dad's life was to follow the Savior in word and deed and these sentiments are encapsulated in a letter to us children:
"There is a matter I have long been concerned about. The problem comes into perspective at a sacrament meeting: adults as well as children give tender loving praise for bishops, teachers, neighbors, and the prophet. But too few feel and express it for the Savior. We are not achieving our most important goal until we have established in the hearts of our children and the saints, an even greater love for Him.
"Friends may betray us, spouses may leave us, health may fail, and our possessions burn up. But Christ, His promises, understanding, and love will never fail us. With some trials and most tragedies, only this can get us through.
"When we can take a thankless, demanding calling; give up something we wanted greatly, so we can pay our tithing; or help out someone who has badly hurt us … and say 'I wouldn't do that for anyone, except I'll do it for Christ!' … then the power for good he can have in our lives is becoming a reality. He must be the foundation of our lives."
These words still ring true to me as though they were scripture; indeed, they are family scripture.
I have benefitted from my father's testimony of and love for the Savior. I read his sentiments often and am inspired by them still today just as they have guided me throughout my entire life. His words have become in a very real way my words. My testimony and witness of Jesus Christ was first founded in the witness of my father. Now, his sentiments have also become mine.
"I think about the great sacrifices my parents and forebearers made for me, and the great example they set of complete faithfulness to the Savior and His teachings in their lives. Now it's my turn. I would surely feel amiss to pass on to my posterity something less.
"As sweet to me and powerful in my life as the numerous blessings I have received, nothing brought more peace, and hope, and joy than has come from discovering the marvelous qualities of the Savior and all the gracious, loving and merciful things He has done for me and my loved ones. I cannot in any way repay Him, or properly thank Him. But this I can do, and seek with all my heart to do, and that is stand as a witness of the goodness of the Father in giving us such a leader and friend as the Savior."
"I will stand as a witness that Christ is divine, has risen from the dead, and out of his love for us has overcome every barrier to our return to Heavenly Father and enjoyment of the unspeakable joys of eternal life.
"I know that His teachings are the only way to happiness and peace in this life, for individuals and nations, and to joy in the life to come.
"All I do and say is in the hope that I might help His cause and help others come to Him for the right guidance in life, and the strength to do what's right.
"I know that through Christ, sins can be overcome and forgiven, and lives changed, and hope restored."
Through the Savior Jesus Christ, we have been given the ability to qualify for eternal life—the greatest of all the gifts of God. He wrought the Atonement in our behalf for this very purpose.
Alma's question still rings true today: "Have ye received his image in your countenances?" This mighty change in our hearts helps qualify us for the celestial kingdom and the greatest gift of all the gifts of God. That's what friends do—make life better and sweeter.
In many respects, I enjoy the blessings of this gift every day. I see this influence for good in my wife and children and their lives. I see numerous blessings coming to me and my posterity as a result of our decision to follow Christ. And I have hope in an eternal reward where I will once again be reunited with my father and loved ones for eternity.
Fortunately, I don't have to figure all this out for myself. We have a loving Heavenly Father who offered His Son so that we could have the things that will truly make us happy. Tough times happen and despite our hardships, we have a series of resources at our beck-and-call. He gives us hope, strength, and shelter in the storms of life. When there is no peace on earth, there is peace in Christ.
Because of Him, our fondest desires can all be fulfilled.
In many respects, my joy is full.
Why? Why you may ask? Why do you and your father feel this love and appreciation for someone that lived two millennia ago? How is it that is so significant in your life today? That's a fair question.
But instead of answering it directly myself, let me defer to others. So I don't give you the wrong impression that these sentiments are unique to me, I want to tell you about a regular tradition we have in our church once a month called fast and testimony meeting. This is a unique assembly in that all the members of the congregation come to it fasting—that is, foregoing eating 24 hours prior to the meeting.
There are lots of reasons for doing this beyond the scope of this article, but my motive for bringing this up now is that we invite all attendees to stand and witness of Jesus Christ. People tell of the significance of the Savior and His gospel in their lives and those of their friends and family. Instead of teaching principles or lessons, they offer personal testimonies and evidence of the blessings of the gospel of Jesus Christ in their lives.
In the aggregate, there are tens of thousands—possibly hundreds of thousands—of people witnessing personally of this important truth. It is unique. It is especially moving. But it isn't secret. We feel this time and opportunity is sacred and exceptional, but we invite all men, women, and children to join us and enjoy it with us. And if you can't come on Sunday, get online and listen to the testimonies of members all across the world. Or read them from our canon of scripture:
And we talk of Christ, we rejoice in Christ, we preach of Christ, we prophesy of Christ, and we write according to our prophecies, that our children may know to what source they may look for a remission of their sins. (2 Nephi 25:26)
Book of Mormon: Another Testament of Jesus Christ
These things I have spoken unto you, that in me ye might have peace. In the world ye shall have tribulation: but be of good cheer; I have overcome the world. (John 16:33)
This last scriptural reference is Christ Himself speaking as recorded in the New Testament in the book of John. And the 2018 Mutual Theme for our young men and women this year is Peace in Christ. You see our collective goal is to become people that emanate the image of Jesus Christ in our countenance.
The people I respect most in this world feel the same way I do about the divinity of Jesus Christ. We have seen His influence for good in life and throughout the world, and honestly, that is just the beginning.
https://jesuschrist.lds.org/SonOfGod
https://www.lds.org/bible-videos
Perhaps my favorite of these media –if a person can pick a favorite—is the parable of the Prodigal Son, taught by Jesus himself. I like it in particular because it is about you and me, really. It is about all of us and how we got ourselves into a situation wherein we could not escape without an advocate.
Jesus Christ is our Advocate with the Father and has our best interest at heart.
That's why He is our very Best Friend.
*The artist and painting title (for the work at the beginning of this post) are unknown. If you know who painted this or know its title, please contact us by comment or email.
About Walter Penning
In 1989, Walter Penning formed a consultancy based in Salt Lake City and empowered his clients by streamlining processes and building a loyal, lifetime customer base with great customer service. His true passion is found in his family. He says the best decision he ever made was to marry his sweetheart and have children. The wonderful family she has given him and her constant love, support, and patience amid life's challenges is his panacea.
Twitter •