Recently I stumbled into, and then out of, a conversation about the way a person served in a church calling. The instigator of the topic kept saying, "If [so and so] would just do this or that, then [so and so] would be great in the calling."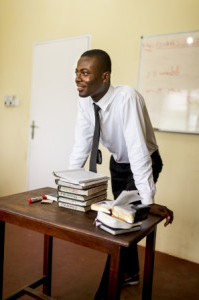 I knew the person being discussed. The person has amazing, God-given gifts that have deeply impacted my life. And, like everyone else, that person has weaknesses. I saw absolutely no disconnect between who the person is and how the person serves with the calling the person has. I tried to show ways I saw the person's gifts being magnified by the Lord in the calling.
But the instigator seemed to only see the calling being done in one way—the "usual" way, the "typical" way.
Is There Only One "Typical" Way to Fulfill a Calling?
I moved on and away from the conversation. But the conversation didn't move on from me.
Is there really only one way to fulfill a calling? To me, our varying personalities, and life experiences, and talents, and current time constraints, and strengths, and weaknesses preclude sameness in callings. And that is such a glorious thing to me!!
I appreciated the reminder to check my heart. Where did I stand? I tend to mentally peruse scripture stories when I want perspective as to where my mind and heart are.
Where was "sameness" in the scriptures? The only absolute sameness I could think of involved the Pharisees/Sanhedrin that the Lord condemned.
Noah built a boat when it had never rained before. Abraham wandered and conquered kings. Joseph interpreted dreams in dungeons. Elijah challenged Baal priests to an altar duel. Samuel anointed kings. They all served in the same calling, but none of them served in the same way. The Lord called them with their strengths and weaknesses at specific times to fulfill His purposes.
Other stories immediately came to mind.
Fulfilling the Assignment Differently Than Everyone Else
King Nebuchadnezzar's servants handpicked Daniel, his three friends, and other Hebrew children to live and be taught in the king's court. Everyone else submitted to the dietary restrictions, just like later everyone else bowed to Nebuchadnezzar's golden image. Everyone else, including the other Hebrews, did things the same way. But Daniel and friends chose a different way. They refused to eat the king's meat. God blessed them significantly for fulfilling the assignment differently than everyone else.
And the king communed with them; and among them all was found none like Daniel, Hananiah, Mishael, and Azariah: therefore stood they before the king.

And in all matters of wisdom and understanding, that the king inquired of them, he found them ten times better than all the magicians and astrologers that were in all his realm.
The Lord honored their differentness in multiple ways.
I Would Not Stretch Forth Mine Hand Against the Lord's Anointed
King Saul lost the Spirit of the Lord. Samuel had already anointed David to assume the throne at some future date. But Saul, despite his weakened mind and bad decisions, was still serving in the calling God appointed to him. So with all of his flaws (and strengths), he still was king over God's people.
David fled to the wilderness of Ziph. Saul sought David there. Saul camped at Hachilah. David's spies reported that Saul really was in the camp. David and Abishai approached a sleeping Saul surrounded by his sleeping men.
Then said Abishai to David, God hath delivered thine enemy into thine hand this day: now therefore let me smite him, I pray thee, with the spear even to the earth at once, and I will not smite him the second time.

And David said to Abishai, Destroy him not: for who can stretch forth his hand against the Lord's anointed, and be guiltless?
Abishai knew Saul's weaknesses and faults and wanted Saul removed. If only Saul served in such and such way, then he would be a great leader.
David believed in the sacredness of the anointing, the calling, the Lord's will. And regardless of Saul's impact on him, David never acted against the Lord's will.
The next morning, Saul realized that David had several of his belongings. David shouted for Saul to send someone over to collect the belongings. David said his only purpose in taking the objects was for Saul to know that David could have done something if he wanted to. David didn't want to.
He shouted to Saul,
The Lord render to every man his righteousness and his faithfulness: for the Lord delivered thee into my hand to day, but I would not stretch forth mine hand against the Lord's anointed.
Your Name Is Safe in Our Home
While David resisted killing Saul, Elder Cree-L Kofford warned against other kinds of assaults. He gave a conference talk entitled "Your Name Is Safe in Our Home" in 1999 and it made such an impression on me that I still think of it often.
There are those among us who would recoil in horror at the thought of stealing another person's money or property but who don't give a second thought to stealing another person's good name or reputation….

What a blessing it would be if all of us could follow that counsel, if each of our names truly could be safe in the home of others. Have you noticed how easy it is to cross over the line and find fault with other people? All too often we seek to be excused from the very behavior we condemn in others. Mercy for me, justice for everyone else is a much too common addiction. When we deal with the name and reputation of another, we deal with something sacred in the sight of the Lord….

Someone once said,

There is so much good in the worst of us,

And so much bad in the best of us,

That it ill behooves any of us

To find fault with the rest of us.

The principle is not new, nor is it unique to our day and time. The book of Psalms from the Old Testament contains this urgent warning from the Lord: "Whoso privily slandereth his neighbour, him will I cut off" (Ps. 101:5).

James, a servant of the Lord in the meridian of time, repeated this eternal truth when he said: "Speak not evil one of another, brethren. He that speaketh evil of his brother, and judgeth his brother, speaketh evil of the law, and judgeth the law. …

"… Who art thou that judgest another?" (James 4:11–12).

And in this latter day, the Lord renewed His long-taught command in a revelation given through the prophet Brigham Young: "Cease to speak evil one of another" (D&C 136:23).
I Will Do as Seemeth Me Good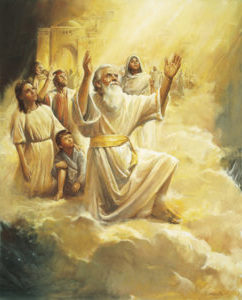 Enoch is one of my heroes. I've pondered his story often when called to callings that I've never done before or I know I have some impediment to serving as "awesomely" as the person before me.
The Lord called Enoch and, like other scriptural heroes, Enoch felt shocked by the calling.
And when Enoch had heard these words, he bowed himself to the earth, before the Lord, and spake before the Lord, saying: Why is it that I have found favor in thy sight, and am but a lad, and all the people hate me; for I am slow of speech; wherefore am I thy servant?
WHY did You call me?
And the Lord said unto Enoch: Go forth and do as I have commanded thee, and no man shall pierce thee. Open thy mouth, and it shall be filled, and I will give thee utterance, for all flesh is in my hands, and I will do as seemeth me good.

Say unto this people: Choose ye this day, to serve the Lord God who made you.

Behold my Spirit is upon you, wherefore all thy words will I justify; and the mountains shall flee before you, and the rivers shall turn from their course; and thou shalt abide in me, and I in you; therefore walk with me.
Enoch trusted in the Lord and, because of his differentness, he helped an entire people turn to the Lord. Not only did Enoch walk with God, the people he served walked with God, too.
Courage to Be Different
I feel so grateful for the chance to ponder this subject. I'd been hyper-conscious of glaring weakness in my own calling. But after considering the different talents and weaknesses of those in the scriptures, and how the Lord used them for good, I felt a renewed hope that my differentness was just what the Lord expects for my calling at this time. And at some point in the future, someone else's differentness will be just what the Lord needs and expects in the calling at that time.
I've been the recipient of many non-cookie cutter calling holders whose uniqueness was exactly what I needed. Usually, the folks who do things most differently in their callings are the ones who actually influence me the most.
Why?
Because they live authentically to their talents, gifts, and weaknesses. They are real. They give me new perspectives. And because they serve as God's anointed at that specific time in that specific calling, in their own unique way, they invite me to walk with God, too.
About Delisa Hargrove
I am a member of The Church of Jesus Christ of Latter-day Saints. I have moved 64 times and have not tired of experiencing this beautiful earth! I love the people, languages, histories/anthropologies, & especially religious cultures of the world. My life long passion is the study & searching out of religious symbolism, specifically related to ancient & modern temples. My husband Anthony and I love our bulldog Stig, adventures, traveling, movies, motorcycling, and time with friends and family.