At some point in the next few days, the excitement of conference will wear off and will be replaced with questions — primarily, how are we going to implement the Church's focus on the home and family as a unified source of gospel learning? As we do this, our minds might focus on the challenges we may face. I hope as you face whatever walls may come, you consider a few things…



1. Together, You and the Lord are Enough
Maybe you feel like you are not knowledgeable enough, organized enough, a good enough teacher… Fill in your own insecurities. You feel with Moses that your task is too great and that you are not "something" enough: 
"And Moses said unto the Lord, O my Lord, I am not eloquent, neither heretofore, nor since thou hast spoken unto thy servant: but I am slow of speech, and of a slow tongue. And the Lord said unto him, Who hath made man's mouth? or who maketh the dumb, or deaf, or the seeing, or the blind? have not I the Lord? Now therefore go, and I will be with thy mouth, and teach thee what thou shalt say" (Exodus 4:10-12).
God made YOU! He knows your unique gifts and abilities. He didn't make a mistake. He wants you to serve Him as you are. Nothing is too big for Him to handle. Your weaknesses may be exactly what He needs in your situation!
God did not choose Moses because he was naturally good at parting seas OR public speaking. He didn't choose Noah because he was great with animals or boat building. He didn't chose Esther because of her fabulous debate and leadership skills. He chose each of them because they were willing and faithful. They loved the Lord and His children enough to try. The question is not and has not ever been if we are "something" enough; the question is, do we love the Lord? Let that motivate you to try. And try again and again.


We are not meant to do this alone. Come to the Lord. Offer your five loaves and two fishes. Offer your last drops of oil and your handful of flour. See what God can make of your offering.


"God does not begin by asking our ability, only our availability, and if we prove our dependability, He will increase our capability" (Neal A. Maxwell, "It's Service, Not Status, That Counts," July 1975 Ensign). 



2. Start with Yourself! 
We have been given this gift of time in the next few months to prepare ourselves. The prophet has suggested a few things women can do to prepare: read the Book of Mormon, engage in a 10-day social media fast, attend the temple, and participate in Relief Society. Let each of the commitments strengthen your faith and help prepare you.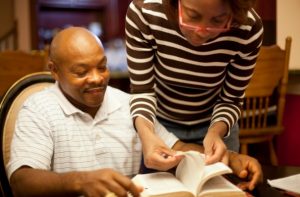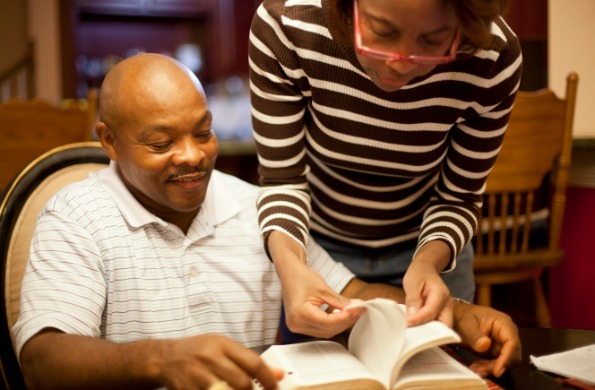 Read. Study — and do so as if you were going to teach! Read and study enough that the gospel starts seeping out of you. Have you ever met someone who is so passionate about something that they can't help themselves; it will just overflow out of them them? Read and study the gospel enough that you can't wait to talk about what you are learning. Keep reading! Keep studying! Keep trying! The Spirit will help you. I marvel at the great faith of the Holy Ghost that His power overflows into each of us! 


As the gospel pours out of you, who will it bless?
Start where you are. We can't start anywhere else! If you have never finished a single book of scripture, notice that even one line is a start.
"I will give unto the children of men line upon line, precept upon precept, here a little and there a little; and blessed are those who hearken unto my precepts, and lend an ear unto my counsel, for they shall learn wisdom; for unto him that receiveth I will give more" (2 Nephi 28:30).
If you feel your faith is barely the size of a mustard seed, God can move mountains. "Help thou mine unbelief" (Mark 9:24) is a legitimate plea upon which God can work miracles. 
"Ask and ye shall receive, seek and ye shall find, knock and it shall be opened to you" (Matthew 7:7).




3. Be Patient with Yourself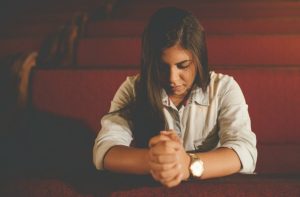 Remember how learning and change works. Remember the toddler learning to walk! When they stumble and fall, we never say, "Stupid baby, you'll never walk! I KNEW you couldn't do it! So-and-so walks so much better than you!" We would never do that! We have every bit of confidence that they will walk! We encourage, as we help them back up. Likewise, let's treat ourselves lovingly as we learn.
Repentance is God's ever-accessible gift that allows and enables us to go from failure to failure without any loss of enthusiasm. Remember:
"No one is more on our side than the Savior. He allows us to take and keep retaking His exams. To become like Him will require countless second chances in our day-to-day struggles with the natural man, such as controlling appetites, learning patience and forgiveness, overcoming slothfulness, and avoiding sins of omission, just to name a few. If to err is human nature, how many failures will it take us until our nature is no longer human but divine? Thousands? More likely a million.

. . . Repentance isn't His backup plan in the event we might fail. Repentance is His plan, knowing that we will" (Elder Lynn G. Robbins, "Until Seventy Times Seven," April 2018).



4. This Challenge is Meant for You
This challenge to have a gospel learning home is not only for the fictional ideal family. Whatever your situation, this is for you. The Lord has a plan for you! This new focus is ultimately to inspire each and every individual to increase their faith in Christ. He has a way for you to learn and to focus more on the Savior.
The Lord does not expect you to instantly somehow conjure up a perfect family any more than He expects me to. It may not be in your power to change the environment in which you live yet. Jonah recommitted himself inside a great fish. The Jaredites had their center of gospel learning under the sea as well, though in far more comfortable circumstances than Jonah. Great men and women in the scriptures have found places for themselves in caves or mountains, or forests, prisons, or closets! They have been surrounded by faithful family, people wanting to kill them, and frequently they are all by themselves. In the scriptures we have seen many individuals rise above their situations and families and cling to their faith.
Abish lived away from her family. As a servant to the queen (the wife of King Lamoni), she was not in control of her time, her environment, or her own life. Her environment was extremely hostile to her faith… She would likely have been killed had she been discovered. Yet she kept her faith alive, in private prayers, perhaps in closets and whenever she could. Her faith was vibrant and powerful. She was ready when the time came to testify of Christ and serve Him.
Search the scriptures. Get to know the many men and women and their unique circumstances. Find how they increased their faith. Remember the many times God has helped you throughout your life. He will help you now. Where you are. How you are.
"My grace is sufficient for thee: for my strength is made perfect in weakness. Most gladly therefore will I rather glory in my infirmities, that the power of Christ may rest upon me." (2 Corinthians 12:9)
About Britt Kelly
Britt grew up in a family of six brothers and one sister and gained a bonus sister later. She camped in the High Sierras, canoed down the Colorado, and played volleyball at Brigham Young University. She then served a mission to South Africa. With all of her time in the gym and the mountains and South Africa, she was totally prepared to become the mother of 2 sons and soon to be 9 daughters. By totally prepared she means willing to love them and muddle through everything else in a partially sleepless state. She is mostly successful at figuring out how to keep the baby clothed, or at least diapered, though her current toddler is challenging this skill. She feels children naturally love to learn and didn't want to disrupt childhood curiosity with worksheets and school bells. She loves to play in the dirt, read books, go on adventures, watch her children discover new things, and mentor her children. Her oldest child is currently at a community college and her oldest son is going to high school at a public school. She loves to follow her children in their unique paths and interests. She loves to write because, unlike the laundry and the dishes, writing stays done. Whenever someone asks her how she does it all she wonders what in the world they think she's doing.
Twitter •