Millions of people stream favorite tunes in our day. iPods, iPhones, and playlists are common and ubiquitous. While previously our daily ritual often included fastening a watch to our wrist—or, in days long gone by, placing the piece in a vest pocket—today it seems that our regular tasks almost always include earbuds and music.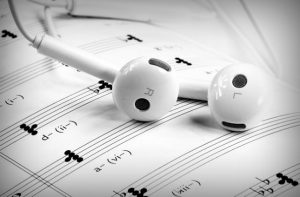 When my grown children jump in the car, Bluetooth connects to their playlists, which quickly begins serenading us with their favorite songs. (If you don't know what I am talking about, ask your kids!)
In many ways, the discoveries today have surpassed even our fondest imaginations, and tomorrow's cutting-edge innovations are still in the works. The events of our day have been described as a marvelous work and a wonder. I have been hearing that reference my entire life. When I was preparing to serve a mission, I was, in addition to gaining a personal testimony of the Book of Mormon, encouraged to read A Marvelous Work and a Wonder. This classic book was written by Legrand Richards and was vital in the preparation for my upcoming service. It became a foundation not just for my mission, but for my life.
That is not at all surprising as I look back to the earlier years of mission preparation. This volume and testimony is life changing. The author also happened to be one of my favorite speakers.
And that book was only the beginning! President Spencer W Kimball's The Miracle of Forgiveness has been a powerful force for good to change many people's lives as well. Its pages and message are compelling.
Add to these Bruce R. McKonkie's Mormon Doctrine, Stephen E. Robinson's Believing Christ, and the guide to missionary work Preach My Gospel, and still we are just skimming the surface.
Water striders have no idea of the depth of the river below them and barely skim the top of a pond. These insects are totally oblivious to the quantity of the water beneath them. Similarly, the wealth of resources at our disposal in this battle between good and evil is far beyond our mortal comprehension. Yet, like the 2000 Stripling Warriors in the Book of Mormon, when we join the ranks of God's army, we suit up with those like Helaman, Moroni, Nephi, Teancum, Joseph and Brigham. We link arms with the most powerful men and women that I can even imagine, including Jesus Christ.
When life doesn't go the direction that we hoped or our goals don't materialize the way we planned, we can lean on our brothers and sisters a little (or maybe even a lot). And when necessary, we can use the strength of our bishop. He has the power to help us overcome every adversarial struggle, addiction, or challenge. None of us would attempt to win a war by running into battle singularly by ourselves when we have the option to join forces with legions of strong and faithful battalions protected with weapons and armor. My testimony is that this metaphor is exactly our very circumstance today. We are not alone when we choose right. Though we may feel isolated or excluded when we stand up to evil, we are actually joining legions of faithful warriors protected with the armor of God.
Those words are not of my own making. That promise is not just my perspective. Prophets throughout history have declared that truth repeatedly, and one does not have to look very far to find those sentiments in our time as well. Hundreds of books, thousands of videos, and millions of men and women testify of the truth every day. Thousands of missionaries join ranks with other faithful followers of Christ. I am inspired by these faithful warriors today and in times past.
The experience of the prophet Elisha captures the sentiment I am describing. More than 2000 years ago, he faced a difficult situation in a war with Syria. Though the soldiers tried to prepare well for the imminent battle, when Elisha's servant rose in the morning, he finds the enormous Syrian army in their battle gear, already positioned all around them. So naturally, the lad rushes to Elisha and cries "Alas, my master! how shall we do?" In today's jargon, he was basically asking, "What in the world are we going to do now?"
Do you ever feel that emotion when challenges come your way? Hang in there. This is where the story gets really good.
Elisha hears his cries and wants to console him, so then he does something that is the very purpose of my sharing this experience. He comforts the boy and then he prays to God, which is the same thing we do when facing challenges that, at the time, seem overwhelming. Let's read what happens next:
16 And he answered, Fear not: for they that be with us are more than they that be with them.

17 And Elisha prayed, and said, Lord, I pray thee, open his eyes, that he may see. And the Lord opened the eyes of the young man; and he saw: and, behold, the mountain was full of horses and chariots of fire round about Elisha.
I love that part. Horses and chariots of fire protecting Elisha and the armies of Israel, but the story doesn't stop there. As good as that is, it is not the end. The next verse continues powerfully.
18 And when they came down to him, Elisha prayed unto the Lord, and said, Smite this people, I pray thee, with blindness. And he smote them with blindness according to the word of Elisha.
So not only did the Lord protect Elisha and the Israelite armies with a mountain of horses and chariots of fire, but he struck the Syrian army with blindness, totally debilitating them. And that is the same God who has the power to help us overcome and obliterate our own obstacles. Do you believe that?
Well, if you are saying to yourself that it is awfully hard to believe, don't feel bad. I think that is just how the servant felt and is the reason why Elisha asked the Lord to open the lad's eyes.
I myself have seen this power manifest in the experiences of my own life and that of my family. I am not ashamed of the gospel of Jesus Christ. It is the power of God unto salvation.
We needn't be timid when declaring that truth.
Whether the battle you are facing is getting control over finances, boosting meager Christmas donations, or helping faithful youth overcoming the plague of pornography and moral filth that is positioned all about us, believe in God's power to eradicate the hardships that we face. As we are faithful and apply the gospel of Jesus Christ in our lives, we too can witness His power in our lives.
Before continuing, I have to bring up one more characteristic of Elisha. When he prayed, he asked the Lord to open the lad's eyes that he might see. That means the Elisha also saw the mountain full of horses and chariots of fire—no wonder he had faith and courage and knowledge that things would be alright.
One more story: I was sitting in Gospel Doctrine when the teacher announced that she was going to share her favorite story from the Old Testament. Naturally, that caught my attention and I wondered what incredible story she was going to share. There are so many great encounters within that volume. She related the experience when Elijah challenges the prophets of Baal to call down fire from heaven. Do you remember this?
23 Let them therefore give us two bullocks; and let them choose one bullock for themselves, and cut it in pieces, and lay it on wood, and put no fire under: and I will dress the other bullock, and lay it on wood, and put no fire under:

24 And call ye on the name of your gods, and I will call on the name of the Lord: and the God that answereth by fire, let him be God.
The people agreed and said, "It is well spoken."
There were 450 prophets of Baal. They took a bullock and cut it in pieces and lay it on wood, "but put no fire under it." Then they called on Baal from morning till noon to come with fire to consume it—but nothing happened. Elijah mocked them and said they better speak louder because their god was sleeping. Then, their antics got even more extreme. They leaped on the alter calling Baal's name and they thrashed and cut themselves, "till the blood gushed out upon them"—pretty graphic, I know—but still, nothing happened.
Elijah dressed the other bullock and lay it on the wood with no fire under it. Then, he commanded the people to fill four barrels with water and pour it on the sacrifice and on the wood, which they did. Then he charged them to do it a second time and a third time, until water filled the trench around the altar and the sacrifice.
38 Then the fire of the Lord fell, and consumed the burnt sacrifice, and the wood, and the stones, and the dust, and licked up the water that was in the trench.
When did Elijah know that God would manifest this miracle? My answer: Elijah always knew because God was with him always, so the faith, courage, and knowledge that things would be alright were part of his everyday life. And that is the way the power of God can work in us.
I love seeing that power manifest. We read about it, and then we see it in our own lives. We do the best we can, and then we have faith. But we can't control others, and they have the agency to make decisions that sometimes go against our beliefs or what we feel is so very important. We can't control everybody else's life.
"But what you do have control over is your life. And if you can be that disciple and you can be that exemplary Latter-day Saint, that is powerful. It is more powerful than anything. It's why a third of the people that meet the missionaries know the Church is true before they ever heard them open their mouths. They don't even know who they are yet, but we are the first sermon that a lot of people are going to hear," according to Elder Holland.
We must keep loving our brothers and sisters, particularly those that do not respond. Then, together with our brothers and sisters, we will march on to victory, singing praises to Jesus Christ our Master.
Haste to the battle, quick to the field;

Truth is our helmet, buckler, and shield.

Stand by our colors; proudly they wave!

We're joyfully, joyfully marching to our home.

("We Are All Enlisted," Latter-day Saint Hymnal)
When we sign on to the battalion of God and stay true to the covenants we make, our destiny is assured and the help we need is not only on its way, but in full force in our lives today.
We just need to allow Him to fulfill His work and glory in us.
About Walter Penning
In 1989, Walter Penning formed a consultancy based in Salt Lake City and empowered his clients by streamlining processes and building a loyal, lifetime customer base with great customer service. His true passion is found in his family. He says the best decision he ever made was to marry his sweetheart and have children. The wonderful family she has given him and her constant love, support, and patience amid life's challenges is his panacea.
Twitter •