This is part three in Lauren's conversion story. See parts one and two by clicking on their respective links. The featured image for this post is an original painting by the post's author, Lauren McKinnon, and all rights for its use belong to her.
At this point, I knew Christ existed. There was no doubt about that. He was the one who answered my prayer.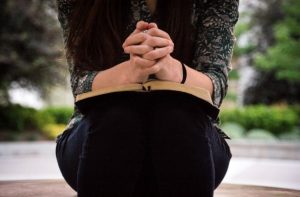 I also felt a craving to get to know Him more. As I feasted on the Bible, I found promises of an everlasting companion; someone who would understand and love me completely for who I was. He helped the sinners, the outcasts, the lame, and the sick. There was no one too far gone in their despair that His love could not reach and heal. His hands would hold and heal anyone who was in need.
These words sang to my broken heart. For so long, I walked in hurt and misunderstanding. The idea that I belonged somewhere, that I was loved and understood was more than enough for me to investigate.
But I did not belong to a church yet. I mostly worshipped in the privacy of my room, praying and reading the Bible. My prayers where completely unconventional and without structure. I dipped my toes into the waters of faith slowly and talked to God the way you would talk with an old friend. I told Him of my hurting heart. I asked for help. I would lay on my bed and pray for hours. After the beautiful connection I had received with my first prayer, I was hungry for more.
With diligent prayer and thought, I decided I needed to take a semester off from school and move back home in order to work on my mental health. This was an incredibly hard decision. My roommates were hurt that I would leave and put them in a compromising situation where they had to find a new roommate. I felt horribly guilty and even uncertain that this was the correct choice. Moving back into my parents' house and leaving school felt like taking steps backward.
Despite everything, I kept praying for help now that I was sure someone was listening.
And I was blessed. I was blessed with understanding, loving parents who encouraged me to come home. I told them I was struggling and they drove six hours just to help me move out of my apartment.
Everything was not okay yet. I still had the big bad man (depression) following me. But for the first time in forever, because of Christ, I had hope.
Once home, I was recommended a small, Christian church in town by the same friend who had encouraged me to pray. I was nervous and my mouth stung with the sour taste left by the many churches I had tried before. I decided I was going to go anyway.
I was terrified.
I still remember standing outside the church building, my legs glued to the ground, unsure if I truly wanted to go in. I felt alone and awkward and hadn't the slightest idea what I was doing.
I remember my stomach twisting into knots as I finally mustered the courage to march through the church doors. It was not even a chapel, just a small room with a stage in the front. There was open space for people to stand and dance, with surrounding chairs lined in rows. I ducked my way into the back of the room and sat down hoping no one would notice me.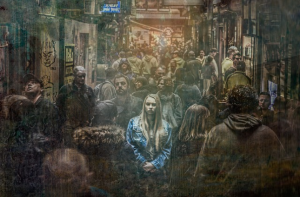 You don't belong here, a familiar voice hissed in my ear. I sank into my seat and looked around. I couldn't help but notice everyone sitting with their friends and families.
I'm all alone.
There was a band up front on the stage and everyone was singing. The words to the song were projected on a giant screen above the band. I did not know the song, I did not know the words, and I barely had a clue what everyone was singing about.
This was a mistake.
The creeping feeling of not belonging began to take hold. A lump in my throat rose as I watched everyone around me praise something I did not yet understand. I pushed my arms into my sides, willing myself to be smaller. To disappear.
Everyone will see you and know you are alone.
Although I am sure no one was looking, I felt creeping stares crawl under my skin. I stared blankly at the projector screen and ignored the flashing red neon sign draped around my neck screaming: "I am alone! I do not belong here!" I anxiously chewed on my lip and my eyes stung with tears. Who was I to come to church and praise Jesus when I barely knew who He was? I had no right to pretend I was a part of this faith when I barely knew anything about it. I felt like my lifestyle was written all over my skin and everyone could smell the fact that I had no idea what I was doing.
Everyone will see you and know. You are a fake. They will see you and know you are not Christian and that you do not belong here. This is not who you are. This is not who you will ever be. You should leave. This was a mistake. You don't know Christ. You need to leave.
The thoughts frantically raced through my head. I could not do it. I broke under the pressure of my own insecurities. I shifted in my seat, ready to stand up and leave. I had tried, God. I gave it my best shot. But I just did not belong.
And then a miracle happened.
There is no other way to describe it.
On the screen, where the words to the songs had been once been projected, appeared a picture of a lion.
I know this may not seem significant. But Heavenly Father speaks to us in the languages we understand best. As Nephi phrases it in the Book of Mormon, "For the Lord God giveth light unto the understanding; for he speaketh unto man according to their own language, unto their understanding" (2 Nephi 31:2). I believe this why I receive so much of my revelation visually—I am an artist. In my spare time, I paint and draw. Heavenly Father knows visual descriptions are a way I connect with Him.
And that lion meant everything to me. After starting college, I had taken up drawing lions. At first it was just little sketches and paintings, which eventually led to an enormous three-piece acrylic lion. Its rainbow mane stretches onto three different canvases. This serves as a symbol for myself—or at least, the person I am striving to become. I want to be strong. Brave. Loyal towards the ones I love. And honest. I wanted to face all I was drowning in with the courage of a lion. This painting is one of the pieces I am the most proud of.
The lion had become mine. I drew and painted lions constantly. It was just a little reminder to have the strength and courage to go on.
The lion that appeared on the screen was the same photo I had referenced to draw my first lion.
I froze. I starred in complete awe, not quite able to comprehend what I was seeing. Why would this image appear in the middle of a worship?
My heart stopped, and then completely melted.
He was there. God was there. He cared about me. He loved me. He wanted me to be brave and strong and He KNEW me. I did not understand how yet, or even why. But this was my sign. This was my sign that He was here for me and wanted me to stay.
This was my sign that I belonged. My fears and doubts did not matter because I belonged with Christ.
About Lauren Mckinnon
As a homegrown Portlandian feminist, Lauren Mckinnon sometimes wondered how she fit in as a new member of The Church of Jesus Christ of Latter-day Saints — but through her testimony and everyday experience, she realized that no matter how different we may feel, we all belong in Jesus' flock.
Twitter •