It's the beginning of a new year. The beginning of a new church schedule; the beginning of a new opportunity to strengthen my testimony.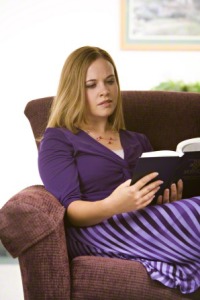 My thoughts go to a question I have to often ask myself: "Shawna, are you going to be self-motivated enough to do your studying at home?" I want to tell myself yes—because for me, this change was not so surprising. With the Pathway program I've been participating in the past year and a half, I feel like I was being prepared.
Even still, I do have a self-check with myself often. Here's why:
I had a returned missionary (one of my former students) express his frustration about the fact that he no longer felt the Church was true. He was so frustrated that he no longer felt the Spirit in his life; that he didn't seem to get answers to his prayers anymore… And wondered if he ever really had. As he was telling me this, I was looking at him and imagining what really happened and how I could explain it best to him. So an analogy popped into my head that I would like to share with you now.
There was a young man who loved his car. He loved that it took him where he wanted to go and the way the wind felt on his face when the windows were down. He loved the music it sang to him through its radio. He loved the way the engine purred. It was his most prized position—so at first, he made sure he kept his tank full, and washed all the dirt and scum away weekly. Daily, he admired its glow.
However, life got busy; there was so much to do. Soon the weekly washings only happened twice a month and the tank seemed to be good at half full… That way, he could fit in all the things he wanted to do and it would be well. But life just kept getting busier… A little dirt wouldn't hurt; after all, if he cut back on the washings, he'd have time for some other things. The tank wasn't empty, he reasoned. He knew exactly how many miles it could go! A few more, he was sure.
So when his car ran out of gas and left him stranded on the side of the road, he got out, kicked the tires, and yelled, "Why?! Why won't my car take me where I need to go? I can no longer feel the wind on my face. The music stopped 30 miles ago. This car no longer shines; there's nothing left to admire." He walked away from the car angry and frustrated…. Oh, that car is a pile of junk; it never was any good. And that's all he could remember. Is it any wonder his frustration seemed to stay?
Both scenarios—the returned missionary and the car owner—are very much alike. I told my dear friend that his frustration came from the same place the car owner's did: both, given a priceless gift, took it for granted and walked away when it didn't shine anymore. They took no responsibility for losing that gift.
Let us not be like either of these men. Let us not take for granted what the Lord has so lovingly given to us. If our testimony begins to fade, remember that anything can be fixed—even you. Let us hold that priceless gift so close that all those around us can see and feel its glow emanating from within us.
About Shawna Smart
Shawna Smart is dedicated to raising and uplifting others by sharing the message of the gospel of Jesus Christ. A survivor of neglect and abuse, Shawna's story of overcoming trials and trauma is an inspiration to all who hear it. She is grateful for the opportunity to share her experiences via LDS Blogs as well as on her own site, Strength in Adversity.
Twitter •