The best way I can explain my feelings right now is this: I'm looking up for direction on an isolated dirt road. I know deep in my heart that I'm on the right course. I have traveled this road before. I encountered different bumps and a pothole or two, and the dust that blows in my face has tempted me before, saying, "Just sit down and be quiet — this is not worth the trip."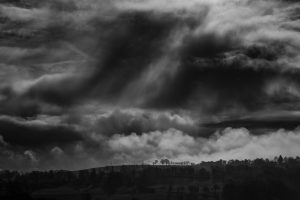 The word that comes to my mind as I look to the horizon, unable to see past the dark clouds, is faith. I know the sun is shining on the other side. The storm will undoubtedly come, but from experience, I know that it will help settle the dust and smooth out this rocky road.
I'm looking forward with joy at what lies in wait. The clouds part ever so slightly, and the light from the sun just on the other side pierces the darkness, lighting the earth down below. "Angel rays." That's what we call them, my daughter and I. It's a sign to us, proof of the beauty that lies a short distance away.
As I sit and hold my scriptures tight to my chest and pray for relief from my broken heart, I go over the blessing I received when I was young—promises of children that would stay close to the Lord. The sadness that overcomes me is like those dark clouds, and the storm beats like thunder at the sound of my son's heavy words. He no longer believes that the Church is true, and actually questions if his prayers were ever heard.
As I crack my book open, letting it fall where it may, rays of light seem to shine upon it as I read these words:
"Behold, I have manifested unto you, by my spirit in many instances, that the things which you have written are true; wherefore you know that they are true" (D&C 18:2).
At that moment, my mind flips back through the pages of time—times when I've written things down in my own personal book. I wrote of blessings received and promises told. These simple words pierce my mind, lighting the dark road of one of God's daughter's here on earth. It is a sign to me; proof of what lies a short distance away.
It reminds me that the promises told have always been kept, from our Father's first child and down to the last. So, I'll look up for direction from my isolated dirt road—and I pray that you too will follow the angel rays that light our dark roads.
About Shawna Smart
Shawna Smart is dedicated to raising and uplifting others by sharing the message of the gospel of Jesus Christ. A survivor of neglect and abuse, Shawna's story of overcoming trials and trauma is an inspiration to all who hear it. She is grateful for the opportunity to share her experiences via LDS Blogs as well as on her own site, Strength in Adversity.
Twitter •