Elder Ronald A. Rasband spoke to seminary and institute teachers recently. You can watch that awesome address here. He addressed the crisis of suicide among high school teens. He spoke at length of fear juxtaposed to good cheer.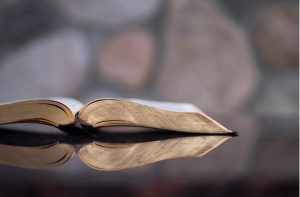 Then he reiterated that the Lord stands by all of God's children and challenged teachers to help students identify a "protection scripture." LDS.org summarized:
The Lord's sustaining promise to "stand by you" is not reserved for those "who are squeaky clean" or hold a seat on the seminary council.

"He will stand by each one of our youth, each one of us for that matter, in our darkest hour. That is the power of the Atonement, and we need to teach it with such force that it reaches those who are suffering."

Elder Rasband counseled seminary and institute teachers to help their students identify a "protection scripture" that they can call upon whenever they are in a perilous situation or in need of strength. "'Be of good cheer, and do not fear, for I the Lord am with you' is a good one."
I invited my students to find a protection scripture. Some of them chose not to search for one. I realized later, even though I tried to give examples and ideas of how to search for a protection scripture, it probably felt like a daunting task.
Here are some scriptures students did choose.
Doctrine and Covenants 6:36: "Look unto me in every thought; doubt not, fear not."
2 Nephi 2:27: "Wherefore, men are free according to the flesh; and all things are given them which are expedient unto man. And they are free to choose liberty and eternal life, through the great Mediator of all men, or to choose captivity and death, according to the captivity and power of the devil; for he seeketh that all men might be miserable like unto himself."
Ether 12:27: "And if men come unto me I will show unto them their weakness. I give unto men weakness that they may be humble; and my grace is sufficient for all men that humble themselves before me; for if they humble themselves before me, and have faith in me, then will I make weak things become strong unto them."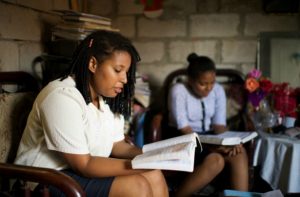 Though I've never called them protection scriptures, I have scriptures that aid me during specific crossroads or trials. One that I shared with my seminary students was a protection scripture given to Joshua as he became the prophet after Moses.
Deuteronomy 6:31: "Be strong and of a good courage, fear not, nor be afraid of them: for the Lord thy God, he it is that doth go with thee; he will not fail thee, nor forsake thee."
Jeremiah 29:11-14 protects me during tumultuous self-worth trials.
For I know the thoughts that I think toward you, saith the Lord, thoughts of peace, and not of evil, to give you an expected end. Then shall ye call upon me, and ye shall go and pray unto me, and I will hearken unto you. And ye shall seek me, and find me, when ye shall search for me with all your heart. And I will be found of you, saith the Lord….
When I feel buffeted, Doctrine and Covenants 84:88 always brings me peace.
[T]here I will be also, for I will go before your face. I will be on your right hand and on your left, and my Spirit shall be in your hearts, and mine angels round about you, to bear you up.
I've used the concept of protection scriptures throughout my life. I really love the term protection scriptures because that is exactly what those scriptures have done for me. They lift me up when I fall. They remind me of decisions I've previously made to keep my covenants. And mostly, they remind me of my need for my Savior Jesus Christ, to look to Him for guidance in a turbulent world, and to believe that He will do for me what He promises to do.
What are your protection scriptures?
If you don't have one, or haven't considered this concept, I challenge you to find a protection scripture that you can apply today for the crazy challenge you face now. Here are four ideas of how to find one:
*You can pick a scripture based on a topic like Fear, Courage, Protection, or Savior in the Topical Guide.
*You can think of a favorite scripture story and look up the reference for it.  While reading the story, look for a protection scripture that is meaningful to you.
*What's your favorite hymn? Look at the scripture references at the bottom of the hymn to see if one resonates as a protection scripture for you.
*Scripture potluck. This is the way I actually found several of my meaningful scriptures. After praying for help, I picked up my scriptures, stood them up on the binding, and then let the pages fall open. I searched for Heavenly Father's message to me on the page. I usually found one.
Whatever means you use, I hope you'll take a second to think of scriptures that provide the powerful reassurance and hope in your life that you are a beloved child of God and are aided by the Creator and Redeemer of the world. I'd love to read your old or newly found favorite protection scriptures in the comments!
[S]hall we not go on in so great a cause? Go forward and not backward. Courage . . . and on, on to the victory!
About Delisa Hargrove
I am a member of The Church of Jesus Christ of Latter-day Saints. I have moved 64 times and have not tired of experiencing this beautiful earth! I love the people, languages, histories/anthropologies, & especially religious cultures of the world. My life long passion is the study & searching out of religious symbolism, specifically related to ancient & modern temples. My husband Anthony and I love our bulldog Stig, adventures, traveling, movies, motorcycling, and time with friends and family.