You may have heard Mormons talk about FHE. FHE is short for "Family Home Evening." As Mormons (or members of The Church of Jesus Christ of Latter-day Saints), we believe in the sacred nature of family. We believe that families possible in Christ, and one of those ways is through Family Home Evening … FHE.
Just what is FHE? As defined at the Mormon church's website, Family Home Evening is:
"…a special time set aside each week that brings family members together and strengthens their love for each other, helps them draw closer to Heavenly Father, and encourages them to live righteously."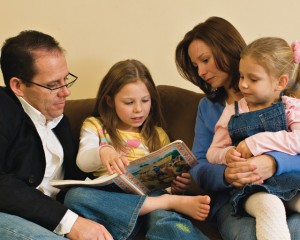 The Church recommends that families set aside Monday evenings regularly for this kind of family fun. And I have to tell you, FHEs are fun! Well, that is, they are fun when approached in the right kind of attitude. I suppose FHEs could be icky if each weekly Family Home Evening became a "rag-on-the-kids-for-all-the-things-they-did-wrong" night.
But if a family remembers that FHE's purpose is really to strengthen love for one another in a family and to draw closer to God, the approach becomes quite different.
Here are a couple of suggestions on how to start having a Family Home Evening that can strengthen your family's bonds with one another, strengthen your relationship with God, and create a home atmosphere that becomes an oasis in the midst of the frightening deserts of life.
First, remember the purpose.
In other words, always remember the purpose of FHE is to nurture each other. Always plan FHE with this in mind and you will be much more successful in your final outcome.
Second, remember the Lord.
In other words, in addition to strengthening family bonds, one of the most important purposes in holding FHE is to help your family draw closer to God. So start your little gathering each time singing a hymn and offering a prayer. Then after the actual FHE lesson or activity, remember to close by singing another hymn and offering a closing prayer. The spirit of God will permeate your FHE this way when humbly offered.
Three, remember joy.
In other words, plan an activity that can bring joy to the hearts of your family members. Whether your lesson is centered on a certain scripture verse, whether your lesson is actually one of service by taking cookies to a sorrowful neighbor, always remember that joy will last longer as a memory than practically any other experience.
Feel free to visit this link to learn more about Family Home Evenings and how they can strengthen your family, draw your family members closer together, and bring you all closer to God.