I once heard the quip that a missionary should go on a mission if for no other reason than the homecoming. This sentiment sounds a little trite perhaps, but I can tell you from experience, coming home from a mission is a memorable and moving experience for all involved.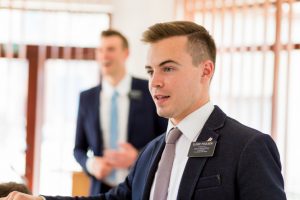 For this article, first I want to tell you about my son's homecoming. He spent two years in Argentina. This was back in the day when the internet was relatively new and, despite weekly letters, his absence was a significant loss for a time.
Perhaps I have written about this before, but I will never forget the night we went to the stake center so that he could be set apart as a full-time missionary. His little sisters were all in tow, and his mother was fighting back tears before we got out of the car. I was calm and very proud but not prepared for the sentiments I was about to feel. We sang a hymn. The stake president began discussing the plan moving ahead and soon set him apart for full-time service in the Lord's kingdom.
Flashbacks shot through my mind as I considered the amazing opportunity I had to go on a mission. I think most returned missionaries feel that way. I could have labored anywhere in the world and the experiences would have been equally as unique and life-changing. Delaying personal plans and goals following high school and engaging twenty-four hours a day in the Lord's work to serve as a full-time missionary is nothing short of incredible. Feeling the Spirit guide you every day and following its promptings; learning a language and memorizing discussions (although missionaries now teach lessons in their own words); studying the culture, its people, and gospel topics; managing the spiritual health of investigators, companions, and oneself was in many ways exhilarating and exhausting all at the same time. It was the best two years to that point in my life.
As a missionary, and especially as a parent of missionaries at that time, I thought, "I am giving my very best to the Lord." And it was true. Parents do it every day. They sacrifice greatly to send their sons and daughters on missions. I remember many instances of this in stakes, wards, and branches I attended. It was before the internet when I served, and there were two weeks between sending a letter and receiving the response—quite different from the missionary correspondence of today. Recent changes in Church policy now allow elders and sisters to engage the help and support of family members much more immediately and frequently by using today's technologies.
Nevertheless, arranging for my son's highly anticipated return was exceptional at the time. As we prepared for this day, his sisters created "Welcome Home" banners, which we placed on our house and across the garage doors. Streamers were fastened to the roof, as I remember, and helium balloons were strategically floating around the yard. We wanted him (and everyone else) to feel our love and excitement to finally have him back home.
The scene at the airport was classic. As we peered toward the breezeway for a glimpse of him, someone screamed, "There he is!" Soon he rushed into our waiting arms. Mom was swept up first and tears of joy tumbled out without reservation. We were celebrating a glorious event, grateful to have him in our presence and home once again. Then, each of his sisters took a turn welcoming Steven home.
I still think this was one of the choice memories of my life. Soon it was my turn to greet my son and welcome him back after a two-year separation. I told him of my admiration and the privilege it was  to be his dad. Soon we left the airport and were driving up to our neighborhood, and the anticipation was electric. Ushering him inside our home, we were all full of joy and laughter. Together again at last! Yet I remember well the situation as he first walked into our home. After two years in the mission field, he looked up amazed at the high ceiling and said, "I can't believe we live in a home like this." The bounty we are all blessed with in this country is amazing and stunning. He recognized that as a newly-returned missionary.
I said at the time, "Don't ever forget this feeling and the appreciation you have right now for your many blessings." And he hasn't. Neither have I. He saw it then—he had been living among good, stalwart people who had literally nothing comparatively, but they were kind, good, and beloved by the Savior and our Father in Heaven. That realization is life-changing for all of us.
It is funny how we often take things for granted until we lose them. Experiencing life without the things that matter most is difficult. I have come to realize that is especially true of the scriptures. Others' great efforts to create and retain records have been a significant blessing to millions of lives.
The role of the Holy Ghost is to testify of the Father and the Son. The impressions we receive enable us to draw closer to our Heavenly Father and Jesus Christ, and connect with them through the scriptures.
Wherefore, I said unto you, feast upon the words of Christ; for behold, the words of Christ will tell you all things what ye should do. (2 Nephi 32:3)
Likewise, all men must pray and gain knowledge for themselves from the Holy Ghost, "for where your treasure is, there will your heart be also" (3 Nephi 13:21).
The path we take to reach our destination is often fraught with obstacles we never anticipated. It happens to all of us, and as parents in particular, we struggle to see meaning in the tribulation of our children. But a greater parent, far wiser and all-knowing, is aware of our situation and that of our children. They are His children, too. His plan is designed to save mankind (and exalt those who follow His commandments) and accounts for our errant ways. Having faith in Him means knowing that despite our weakness, His plan is perfect and we can rejoice because it accounts for all circumstances.
These things I have spoken unto you, that in me ye might have peace. In the world ye shall have tribulation: but be of good cheer; I have overcome the world. (John 16:33)
The works, and the designs, and the purposes of God cannot be frustrated, neither can they come to naught. (D&C 3:1)
Scriptures, the Spirit, living apostles and prophets, temples, missionary service, and everything in the gospel of Jesus Christ is available for the express purpose of helping us build strong families that will stand the test of time and bring us home to our heavenly mansions.
And that really is good news!
About Walter Penning
In 1989, Walter Penning formed a consultancy based in Salt Lake City and empowered his clients by streamlining processes and building a loyal, lifetime customer base with great customer service. His true passion is found in his family. He says the best decision he ever made was to marry his sweetheart and have children. The wonderful family she has given him and her constant love, support, and patience amid life's challenges is his panacea.
Twitter •