Have you ever tried to match a paint color without a swatch or a nifty Home Depot attendant? I have, and I would like to attest that some mistakes can't be covered up ourselves by eyeballing a paint color! We are simply going to need more help.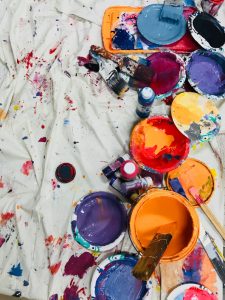 I recently put some new curtains in my house. I was proud of my skills because I put them in myself—I drilled the holes myself, hung the rod, and even added ornamental hooks to the side wall. It was looking good… Until I realized that now there were holes in my wall left from the old curtains—and that I had no paint to match it in order to cover them.
So with the help of a talented friend, I went about trying to "match" the paint color by eye. We combined color after color in an attempt to get the paint to match just right. We spent hours painstakingly adding a little more red, a little more brown, a little more white in an effort to try to match the burgundy color on my wall. It simply wasn't working.
In the end, I sadly discovered that it was necessary, with all my mess-ups, to repaint the whole wall an entirely new color. It was the only way to cover all of my little paint-matching experiments and mistakes.
Sometimes life is like this! The mistakes we make cannot be fixed on our own. We simply need help. We need a Savior, for His way is the only way to completely eliminate our sins. In the book of Isaiah, we read:
"Come now, and let us reason together, saith the Lord: though your sins be as scarlet, they shall be as white as snow; though they be red like crimson, they shall be as wool." (Isaiah 1:18)
In our most recent General Conference, Sister Eubank discussed this topic, saying:
The scarlet dye of the Old Testament was not only colorful but also colorfast, meaning that its vivid color stuck to the wool and would not fade no matter how many times it was washed. Satan wields this reasoning like a club: white wool stained scarlet can never go back to being white. But Jesus Christ declares, "My ways [are] higher than your ways," and the miracle of His grace is that when we repent of our sins, His scarlet blood returns us to purity. It isn't logical, but it is nevertheless true . . .

In essence [the Savior is saying]: Come, let us reason together. You made mistakes; all come short. Come unto me and repent. I will remember the sin no more. You can be whole again. I have a work for you to do. Christ makes wool white" (Sharon Eubank, "Christ: The Light That Shines in Darkness" April 2019).
Jesus Christ's healing capacity and bright perfection make it possible for us to not only become white and pure again, but enable us to look at our imperfect lives and forgive ourselves of our mistakes. The Lord tells us:
"Behold, he who has repented of his sins, the same is forgiven, and I, the Lord, remember them no more."
There is no precise way to describe how this process actually occurs and no mortal tongue can explain the miraculous occurrence of forgiveness, but it is real and it is sure. The Savior Himself promises:
"…I [will] not forget thee . . . Behold, I have engraven thee upon the palms of my hands." (1 Ne 21:15-16)
It is His hands that bear the mark of His payment for us. This payment erases all of our sins and gives us back the hope of eternal life. We don't need to try to repaint the holes we have made in our lives because He has already painted them with His blood and His infinite sacrifice on our behalf.
So don't give up and try to cover your sins with what may seem to be an easier route—repaint and create something breathtaking.
About Janette Beverley
Janette Beverley is a lover of life, family, music, and the gospel of Jesus Christ. She has a bachelor's degree in psychology with an emphasis in marriage and family therapy, and has five amazing children and one equally amazing husband. Janette is excited to be writing for LDS Blogs and sharing her love and passion for finding the miraculous among the mundane, the awe-inspiring among the obvious, and the uplifting among the underestimated. To read more of her work, you can visit Janette's personal blog here.
Twitter •