Airports are some of my favorite places to be. Not for traveling. Not at all. Now with all the awful security considerations, traveling has lost its zest for me.
But I do love airports. Why? Because there is no place on earth it would seem with as many hugs, tears and love – other than at funerals!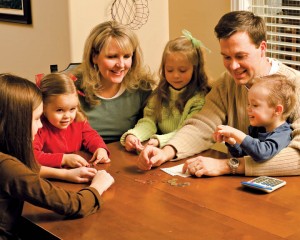 Think about it. If you've not been at an airport recently, you need to visit one. Take a quiet seat in the corner, open a magazine, and pretend to read it. Even treat yourself to a bagel and chocolate milk. Then just start watching.
Watch the new arrivals. Watch the departures. In the midst of them all there is one common theme. Families have suddenly discovered they love one another! Mothers hugging children, husbands hugging wives, grandparents hugging grandkids.
It's the most amazing thing. Whereas just yesterday these same people might have been spouting the ugliest of comments to each other, feeling tizzies and tirades near to overwhelm, today they suddenly have discovered the value of this person standing at their side.
Cameras flash; pictures are taken. All moments to be preserved for another time, a time when the family gathers around again (most likely at Christmas) and reminisces about all the "good times." The photo albums are turned, page by page, as fingers touch faded pictures and even tears are shared with a few good chuckles.
My question: What is it about being near the wings of a plane that squeezes the heart? Why does it take airports for some families to squeeze out a few gentle moments for loved ones standing near? In fact, why wait until the airport for your family to experience the same hugs of joy?
This blog seeks to serve you, to help you find those gentle moments – and to find them much more frequently. We'll be discussing anger management, children's needs, your own needs and those of your spouse. Other topics will touch on family fun, FHE (Family Home Evenings), and favorite family traditions.
We'll even give you travel and vacation ideas, in addition to tips on home management and keeping the gospel central to your family relationships! Marital intimacy, parenting skills, and words of the prophets will round out what we offer to you. Make sure to bookmark this page so you can easily come back daily for info to help you.
Just know, the Lord loves you. He knows the difficulty of the path you trod. You are not alone. We care about you and will be working to ensure the information we give you here will be about what matters most to you. We look forward to reading your comments on each post, so make sure to let us know your thoughts!
And do go visit an airport. You'll see what I mean! :0)