Was picking your seat in the car for a road trip as a kid important in your family? It definitely was in mine.
With the advent of minivans and car seats, jockeying for seats has minimized. However, I experienced the wonderfully reckless times of no seat belt laws and laying in the back window for more room.
As the oldest of eight kids, I usually sat where I wanted most of the time. I remember when I was younger, I preferred to sleep curled up on the floor behind the passenger seat rather than be mauled by arms and legs sprawling across the back seat. We experienced a lot of issues where people touched someone else or breathed their air.
At different ages, different children sat by the window to reduce carsickness. One of the few times we stopped on road trips was to fill up with gas or to clean up vomit. We learned quickly to make room for the sick ones.
When my family moved from Boise, Idaho, to Midland, Texas, I was 12 years old and extremely sick. I sat in the coveted front passenger seat the entire trip because it was the only non-driver seat with a window that rolled down and my dad didn't want to stop when I felt nauseous. So he instructed me to roll down the window and put my head at the back of the window to throw up. The whole side of the van was totally covered and so revolting when we pulled into Midland.
One of the exciting perks about getting my driver's license was actually being the driver on our family road trips. The driver's seat became my favorite seat and I learned to drive long distances without stopping so dad would let me keep driving. (We were a very destination-driven family, driving very long distances as directly as possible to visit family and wanting to reach the destination ASAP rather than meander along the way.)
Because positioning and shot-gunning and place-backing were such a huge part of my childhood traveling existence, I laughed when a simple statement made by Nephi finally connected to my consciousness.
Build A Ship to Cross the Waters AKA Really Long Road Trip
The Lord commanded Nephi and his family to build a ship. Initially, his older brothers refused to help. Ultimately, the Lord intervened to encourage their participation.
And it came to pass that they did worship the Lord, and did go forth with me; and we did work timbers of curious workmanship. And the Lord did show me from time to time after what manner I should work the timbers of the ship.
It seemed like the family came together and worked unitedly on the ship. But then Nephi recorded, "…after I had finished the ship…" so I've wondered if that united effort was short-lived or if Nephi was the skilled laborer to finish up the details of the ship.
And it came to pass that after I had finished the ship, according to the word of the Lord, my brethren beheld that it was good, and that the workmanship thereof was exceedingly fine; wherefore, they did humble themselves again before the Lord.
We Did Go Down Into the Ship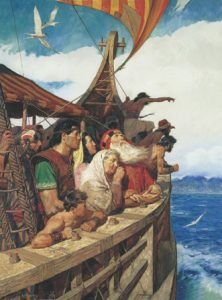 Ultimately, the ship was completed and it was time to sail to the promised land. And here are the verses that struck me with all my large family, road tripping memories:
And it came to pass that the voice of the Lord came unto my father, that we should arise and go down into the ship.

And it came to pass that on the morrow, after we had prepared all things, much fruits and meat from the wilderness, and honey in abundance, and provisions according to that which the Lord had commanded us, we did go down into the ship, with all our loading and our seeds, and whatsoever thing we had brought with us, every one according to his age; wherefore, we did all go down into the ship, with our wives and our children.
Everyone according to his age… with our wives and our children.
Would you call shotgun on the ship soon to become your home for an undetermined amount of time? Were some spots more desirable than others? Maybe every spot on the ship was equally awesome. However, that hasn't been my experience as I've ridden on ships.
Have you tried to calculate how many people were confined to this boat together dealing with incalculable unknowns? This takes "are we there yet" to infinity and beyond.
Were members of Lehi's family seasick? Did they fear crossing unknown waters in an untried craft? Did they have enough room to spread out and run around or were they all cramped in a small space?
While squishy, our family road trips are cherished memories. We laughed and played games. We belted out the words to every album that made it into the car. Songs like "Bohemian Rhapsody" and "One More Minute" became acapella road trip anthems, much to mom's chagrin. We got tired of people's limbs touching us, but for the most part, since dad strategized most of the drive to be during the night while kids slept, we all endured briefly and then arrived at grandparents' homes.
Most importantly, my family all liked each other. Because of that, small irritants were just annoyances. No one ever tied up a sibling or put everyone's lives in danger for vengeance.
As I've read this story, I've wondered about the circumstances that led Laman and Lemuel to bind Nephi and face the Lord's wrath in the form of near-death by storm.
I've wondered how they prepared food for so many people. Did they share the food they took? Did they fight over food when someone ran out? Someone had to have run out of the good stuff. I've wondered if they fished as they went along. I've wondered if they saw whales and dolphins and how the stars looked different from the skies at Jerusalem.
Claiming Space By Age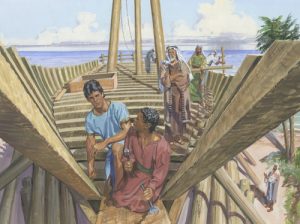 But I've never thought about boarding the ship and claiming space. Knowing my family dynamics and the importance of age order, I can imagine how that went down.
So Nephi, who followed the Lord's directions and found the ore and made the tools and faithfully built the ship, humbly acquiesced.
…we did go down into the ship, with all our loading and our seeds, and whatsoever thing we had brought with us, every one according to his age…
To me, this says that Nephi as the youngest brother with a family probably boarded with his wife, children, and provisions last. Nephi, who built the ship, was last to board and find a place for his family.
Covenant-Keeper Nephi
I immediately thought of King Benjamin's covenant dialogue. His description of a covenant person totally depicted Nephi to me:
And again I say unto you as I have said before, that as ye have come to the knowledge of the glory of God, or if ye have known of his goodness and have tasted of his love, and have received a remission of your sins, which causeth such exceedingly great joy in your souls, even so I would that ye should remember, and always retain in remembrance, the greatness of God, and your own nothingness, and his goodness and long-suffering towards you, unworthy creatures, and humble yourselves even in the depths of humility, calling on the name of the Lord daily, and standing steadfastly in the faith of that which is to come, which was spoken by the mouth of the angel.

And behold, I say unto you that if ye do this ye shall always rejoice, and be filled with the love of God, and always retain a remission of your sins; and ye shall grow in the knowledge of the glory of him that created you, or in the knowledge of that which is just and true.

And ye will not have a mind to injure one another, but to live peaceably, and to render to every man according to that which is his due. (Mosiah 4:11-13)
Nephi lived his covenant. He tasted of the Lord's goodness. He rejoiced… And this tiny little phrase of boarding according to age rather than involvement in building the ship witnesses to me that being a covenant keeper truly enables someone to grow in their relationship with God so that he "will not have a mind to injure one another, but to live peaceably." Even if he is bound hand and foot on the ship he built and left to die.
And so I thank Nephi for that tiny phrase in his ancient record that showed me what I needed to see today.
About Delisa Hargrove
I am a member of The Church of Jesus Christ of Latter-day Saints. I have moved 64 times and have not tired of experiencing this beautiful earth! I love the people, languages, histories/anthropologies, & especially religious cultures of the world. My life long passion is the study & searching out of religious symbolism, specifically related to ancient & modern temples. My husband Anthony and I love our bulldog Stig, adventures, traveling, movies, motorcycling, and time with friends and family.