How does the Lord teach you to be strong during trials?
I learned to snorkel on the West side of O'ahu. I kept drowning when I used a mask, so I took myself and my mask and fins to Ko'olina's lagoons. The lagoons are full of ocean water and protected from the full force of the ocean.
I practiced a couple of times and finally got the hang of it! I kept my hair out of the mask and stopped sucking in tons of water from the air vent on my snorkel. I discovered that swallowing saltwater really intensified my seasickness. Every time I go in the water, I lose my lunch and saltwater made it even worse.
So practicing in the lagoons really made a huge difference in not only my confidence levels, but also my comfort levels.
Trying Out New Snorkeling Skills at Electric Beach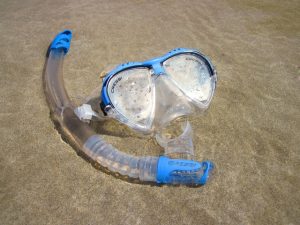 After figuring it out, my visiting teaching partner, Kim, and I invited one of our sisters to snorkel with us at Electric Beach. An electric plant sits on the mountain side of the beach. Tubes carry its hot water out into the ocean. From shore, you can see where the hot water meets ocean water because of the variations in the water. Marine life used the tubes to create a natural reef which houses so many fish varieties! It's magical to swim out there. But it's also a relatively long ways out.
To compensate for my overall not great physical fitness and never-really-had-any reason-to-be-a-swimmer lifestyle, I kicked out on a boogie board, using it as a buoy when I tired and letting it float behind me when I swam. I felt fine to tackle ocean swims with that plan.
Eventually, I got stronger and didn't need the boogie board — and a couple times after becoming acclimated to snorkeling and waves and stabilizing, I didn't even throw up!
Snorkeling Muscles Atrophy with Disuse
But then bits in my life changed. The friends I snorkeled with moved. I picked up different jobs and callings that required different dedication. My health caved.
When my health improved, I decided I'd get back in the water again. And while I was pretty much back to starting over again, I didn't have to quite start at square one because I remembered the foundations. As a bonus, my hair was much longer and stayed out of my face in bobby pins and a ponytail.
Getting Back into the Water at Hanauma Bay
However, my physical ability was weaker than when I started the first time — but no matter. I had Mona and Monique visit last week; they wanted to snorkel at Hanauma Bay, which is a huge, protected bay, and I jumped at the chance to go with them. I had a blast! It was so fun to be back in the sea again and to see such beautiful fish in the water.
I didn't need the boogie board in that location. Snorkeling began basically right off the beach, so I didn't have to swim far and I could just float over the coral if I felt tired.
When nausea struck, I quickly headed back to the beach and chilled on the sand while my friends finished their adventure in the bay.
Snorkeling with Dolphins?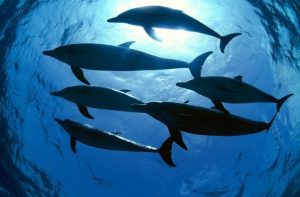 This week, cousins Kelly and Annette came to visit.  When they came last year, I took them and a group of friends to snorkel with dolphins. When we got to the beach, someone didn't have gear, so I loaned mine out since I'd done it lots. I watched from the shore, pointing out the path of the dolphins.
Armed with a fun memory at Hanauma Bay from last week, I eagerly anticipated our dolphin snorkel. We woke up before sunrise and arrived at Mākua Beach a little after sunrise. I didn't see dolphins from the truck, so we took beach chairs and planted ourselves in dolphin spotting mode on the rocks. We waited… and we waited.
Kelly spotted a monk seal in the water. Annette and I decided to head into the sea, but the seal swam on by so we didn't see it from a watery vantage point.
All sorts of fish surrounded us! (Probably because they weren't hiding for their lives from the dolphins.) We snorkeled close to shore for quite a while.
I left the water when nausea hit. I wanted to reduce the nausea and save some strength for when the dolphins came.
The dolphins never came. But we had a glorious morning in one of my favorite spots. We packed up to head back.
Turtle Cleaning Station off of Makaha Beach
As we headed south, we hit Makaha Beach. It's a favorite local surfing spot when the waves are up. The water was so flat with very little wind even. I pulled into a spot because I noticed the tour boats out passed the little surf break.
I explained that the tour boats frequent that spot because it's a turtle cleaning station. Sea turtles frequent that spot for fish to eat buildup off their shells.
I've wanted to swim out to see for myself since I discovered what it was. But the waves were always turbulent or I was rushing back for work or I felt too intimidated by the long swim or the people I was with didn't want to do it.
I'd been saying "someday I'll do that" for three years!
The water was flat. The wind was minimal. I had all the gear I needed. I had a cousin willing to go. The tour boats were anchored to give us a target point of reference.
Deciding to Snorkel
In a flash, Annette and I were out of the truck and almost running across the sand to the water. We hit the sea and put on our masks and fins and just went for it.
When I looked up to gauge my direction, I saw a boat leaving. There were still other boats, so I wasn't worried. But I did realize that the distance to the boats was a lot further than it had appeared from land.
I suddenly realized that I didn't bring my boogie board. I hadn't even thought about it.
I looked behind me to see how far back I'd have to swim. It was far enough that I determined that I'd just go forward without going back. I put my head back into the sea and kept kicking towards the boats.
When I looked up to gauge direction again, we were halfway there, but only one boat remained. I felt a little panic realizing that if that boat left, we had no frame of reference on that expansive horizon. My legs began to complain.
Don't Panic. Keep going. Slow and Steady Wins the Race!
I told myself not to panic. "Keep going. Slow and steady. Don't turn around; keep looking forward. I've wanted to do this for so long. I'm actually doing it. I've done really hard physical things I didn't think I'd ever be able to do." My mind flashed to those moments of victory.
I kept swimming until I had to stop. I righted and floated in the water. The boat looked miles away—maybe 1,000 miles. But Annette seemed totally undeterred. I couldn't sabotage this adventure. We needed to stay together.
I put my head back into the water. "Slow and steady. Try a different kicking angle. Don't panic. Look at all the pretty fish. You can do this."
Another break after another long stretch. We were making such great progress. I turned around. We were so far out. My yellow FJ was just a speck on the horizon. I wondered if I could actually make it back.
Annette was pulling away again. I put my head in the water. My leg muscles ached. I turned onto my back and kicked. That relieved the pressure, but I started feeling nauseous.
I stopped and looked to shore to rebalance. After a minute or so, I replanted my face in the water and started kicking.
Praying for a Turtle
Ugh. The boat seemed so far away. How long had we been swimming? I was on my last leg.
So I prayed. "Heavenly Father, please let us see a turtle so we can turn back. I don't think I can go much further. But if we see a turtle in this place, that will accomplish the goal."
Just as the words left my mind, I suddenly (and uncharacteristically) turned to the right. About 30 feet away and parallel to me swam a large sea turtle!
I shouted to Annette who was that far ahead of me. Amazingly she heard me! "There's a turtle right over there!"
She swam back and we met near the turtle.  As if on cue, the turtle dove down the 20 or so feet to the ocean floor. We followed his carefree path. It was a beautiful moment.
After several minutes, I confessed that I needed to turn back. Annette was so kind.
Snorkeling Back to Land
We turned back towards the tan line that was land.
I felt overwhelmed as I started kicking.
Suddenly, the most beautiful deterrent to any negative self-talk appeared. A larger turtle appeared over a gigantic coral boulder far below me on the ocean floor.  Again, I shouted to Annette.
This turtle was getting its shell cleaned by a flurry of little fish. It slowly moved in the current. We were so giddy! It was such a magical moment.
Renewed by happiness, I resumed kicking. Kicking. Kicking. Kicking. Kicking. I kept falling further and further behind Annette, who turned periodically to see if I was OK. I kept saying, "Yes," and then laughing morosely as my body responded, "Really?!"
Praying for Help
I prayed for help.
Waves of nausea hit. I couldn't restabilize by looking at the horizon. I began to chum the water over and over again. In between wretches, I kicked harder because who wants to be surrounded by their now floating breakfast? Was that the answer to my prayer?
The rocks on the ocean floor turned to sand. I was getting close. I looked up. Annette was on the beach waiting for me.
A welcomed wave came and carried me the rest of the way to shore. I took off my fins and hurried out of the shore break.
Annette's smile was priceless. We did it! I still felt shocked as I turned to look at the boat still sitting that 1,000 miles from shore. I couldn't believe I swam that entire distance.
We headed up the beach back to the truck. I stood outside for a minute because I didn't know if my tummy had finished rumbling.
We'd swam for over an hour.
I Can Do Hard Things
The jubilation hit. I'd done something I'd been so intimidated by! And I did it without my boogie board! I'd prayed and received immediate answers to prayer! I'd been physically impacted to receive the answers to those prayers!  Annette was so kind and supportive! We were thrilled to do it together!
This became another major milestone in recognizing that through faith, prayer, and perseverance, I can accomplish things that are really hard for me! I see this achievement in physical things and nonphysical things. I've conquered so many mental and emotional challenges. With each triumph, I know I'm strong. I survive. I thrive.
And I know I'm not an anomaly. Everyone around me is conquering really hard things. I'm awed by the human spirit and its capacity to perpetually rise from ashes.
And even in the midst of my celebrations, I know the strength I received in those pivotal moments came from above — like they always do. The Lord gives in every moment of trouble and trial. I could not do this life without Him and I do not want to.
I know in whom I have trusted. My God hath been my support; he hath led me through mine afflictions in the wilderness; and he hath preserved me upon the waters of the great deep." (2 Nephi 4:19-20)
About Delisa Hargrove
I am a member of The Church of Jesus Christ of Latter-day Saints. I have moved 64 times and have not tired of experiencing this beautiful earth! I love the people, languages, histories/anthropologies, & especially religious cultures of the world. My life long passion is the study & searching out of religious symbolism, specifically related to ancient & modern temples. My husband Anthony and I love our bulldog Stig, adventures, traveling, movies, motorcycling, and time with friends and family.