The greatest tool we have for a successful life is the power of revelation. We need revelation if we are to progress. Revelation comes from the Holy Ghost. Some have expressed to me over the years that they wished they could receive revelation. I have told them that they can. The problem is that in order to receive personal revelation, you must be willing to listen.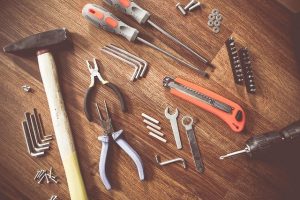 When I was raising my children, I used to tell them things to keep them safe, but they didn't always listen to me. I was a leader of a youth organization for many years. One day, my daughter was watching me pre-cut some popsicle sticks with a utility knife for the kids to use for a craft. I was standing at the bread board doing this, and there was something that I needed on the kitchen table behind me. I set the utility knife on the bread board and said, "Don't touch the knife." The second I turned around to the kitchen table, my daughter grabbed the utility knife and sliced her hand pretty badly. She clearly heard me tell her not to touch the knife, but she did it anyway. She was not willing to listen.
We pay consequences for not listening to the Holy Ghost, just as my daughter paid consequences for not listening to me. My daughter not only dealt with physical pain, but an angry mother. I had ten kids arriving at my home for this youth meeting. I knew my daughter would be fine if we kept her hand elevated. I bandaged her hand and made her raise her arm over her head for the entire meeting. My intention was to take her to the hospital for stitches when the other kids left my home. At the end of the meeting, however, my family was hungry. I thought about holding up dinner until after the trip to the hospital, but I was so mad at her that I decided that the rest of my family should not have to pay consequences for the action of my daughter. So, we had dinner first, while my daughter continued to hold her arm over her head. Once our tummies were full, we took a ride to the hospital, and my daughter received a couple of stitches.
Not listening to the Holy Ghost always results in consequences. The Holy Ghost has a job to do, but He can only do it if we listen to Him. I'm sure He gets just as frustrated with us as I did with my daughter over the utility knife. His job is to protect us, comfort us, guide us, and warn us—but that all requires our listening ears.
My kids had a kindergarten teacher who used to tell her students, "Get your ears out of your pockets." She would then place her hands in her pockets, remove imaginary ears, and place them on both sides of her head. When people tell me that they don't or can't receive personal revelation, I want to tell them to get their ears out of their pockets.
If we want to hear the Holy Ghost, we must live in such a manner that He can abide with us. If we don't listen, He goes away until we humble ourselves and are ready to listen. When we are baptized and confirmed, we are told in the confirmation blessing, "Receive the Holy Ghost." Have you ever wondered why the word receive is used? A gift is given, but it isn't of any worth until we receive it. Until we actively receive the Holy Ghost by using Him, the gift has no worth. We must live our lives in such a way that we can hear His voice, then we must listen and do. Receiving personal revelation requires action on our part.
As I color coded my notes from October 2019 general conference, I noticed a huge amount of time was spent teaching us about the Holy Ghost and personal revelation. I pay attention to stuff like that, as it gives me great insight in how to set goals and where to place my priorities. I've listed below some interesting quotes from that conference on the subject. I hope you will read these quotes with a listening ear, just as I hope we will all use a listening ear with the Holy Ghost so that we can receive personal revelation.
"1. Be Intentional about Creating Time and Space to Hear God's Voice

As you use your agency to carve out time every day to draw close to God's voice, especially in the Book of Mormon, over time His voice will become clearer and more familiar to you. …

2. Act without Delay

When you receive promptings and then act with intention, the Lord can use you. The more you act, the more familiar the voice of the Spirit becomes. …

3. Get Your Errand from the Lord

The prayer Heavenly Father seems eager to answer is our plea to be led to someone who needs our help. … You can pray and ask the Lord for an errand. As you do, He can use your ordinary skills to accomplish His extraordinary work. …

4. Believe and Trust

… There are many ways to build the kingdom of God as covenant-making, covenant-keeping disciples of Jesus Christ. As His faithful disciple, you can receive personal inspiration and revelation, consistent with His commandments, that is tailored to you. You have unique missions and roles to perform in life and will be given unique guidance to fulfill them" (Sister Michelle Craig, "Spiritual Capacity," Oct. 2019 General  Conference).
[Quoting a young woman by the name of Chloe] "Revelation is real! Revelation really works!" … Be sensitive to and act on the promptings of the Holy Ghost" (Sister Bonnie H. Cordon, "Beloved Daughters," Oct. 2019 General Conference).
"In the same way that you prepare to minister, you can and must prepare for your call to be a leader for the Lord when it comes. It will require faith in Jesus Christ, rooted in your deep love of the scriptures, to lead people and to teach His word without fear. Then you will be prepared to have the Holy Ghost as your constant companion. … It takes much the same preparation for the wonderful day when the Lord calls you to an assignment as a mother. … And it will take a capacity to pray for the influence, direction, and comfort of the Holy Ghost beyond what you may have felt was even possible. … You might reasonably ask how a man of any age can know what mothers need. It's a valid question. Men can't know everything, but we can learn some lessons by revelation from God. And we can also learn much by observation, when we take the opportunity to seek the Spirit to help us understand what we observe" (President Henry B. Eyring, "Covenant Women in Partnership with God," Oct. 2019 General Conference).
The Holy Ghost will be your personal tutor as you seek to understand what the Lord would have you know and do. This process is neither quick nor easy, but it is spiritually invigorating. What could possibly be more exciting than to labor with the Spirit to understand God's power—priesthood power? (President Russell M. Nelson, "Spiritual Treasures," Oct. 2019 General Conference.)
"While situations differ, when we do all we can, the best we can, and sincerely ask and seek His help along the way, the Lord will guide us, in His time and manner, by the Holy Ghost" (Elder Gerrit W. Gong, "Covenant Belonging," Oct. 2019 General Conference).
"I learned many lessons that day. One was that the Holy Ghost speaks in a still, small voice. I can hear Him when there is spiritual peace in my heart. He brings a feeling of happiness and assurance that I am becoming more holy. And that always brings the happiness I felt in those first moments in a temple of God" (President Henry B. Eyring, "Holiness and the Plan of Happiness," Oct. 2019 General Conference).
"Brothers and sisters, remember, we can receive spiritual help through the influence of the Holy Ghost that can teach you all things" (citation omitted) (President M. Russell Ballard, "Giving Our Spirits Control over Our Bodies," Oct. 2019 General Conference).
"It is my prayer that we will recognize the confirming influence of the Holy Ghost as we come to fully understand that we are children of God. … I recognized the Savior's declaration that the Holy Ghost would teach me all things and would bring all things to my remembrance" (Elder Peter M. Johnson, "Power to Overcome the Adversary," Oct. 2019 General Conference).
"Unfortunately, if we hold on to these negative feelings and emotions, we may find ourselves living without the influence of the Lord's Spirit in our lives" (Elder Ulisses Soares, "Take Up Our Cross," (Oct. 2019 General Conference).
"[P]lease be assured that revelation continues in the Church and will continue under the Lord's direction until the purposes of God shall be accomplished, and the Great Jehovah shall say the work is done" (citation omitted) (President Russell M. Nelson, "Closing Remarks," Oct. 2019 General Conference).
About Tudie Rose
Tudie Rose is a mother of four and grandmother of ten in Sacramento, California. You can find her on Twitter as @TudieRose. She blogs as Tudie Rose at http://potrackrose.wordpress.com. She has written articles for Familius. You will find a Tudie Rose essay in Lessons from My Parents, Michele Robbins, Familius 2013, at http://www.familius.com/lessons-from-my-parents.
Twitter •