Today I got a new church calling (a volunteer opportunity or "job" assigned to members of the congregation). I am now the ward (congregation) choir director. I'm excited about it! Everyone who gets a calling gets set apart, or given a priesthood blessing that gives you the keys to your calling (the authority to act in God's name while fulfilling that job). It's honestly the best part of getting any church calling. I love the blessings!
New Calling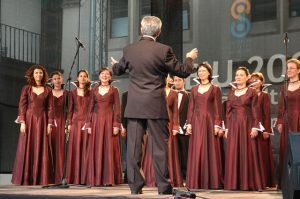 As the bishop and his counselor gave me the blessing, I recorded it. Afterward, my bishop mentioned he didn't see that often. And I realized I needed to share with you why I do it. I have found that recording blessings — any and all — is one of the best tools for growth that I found in my life.
In any priesthood blessing, the Lord will give you gifts and blessings, along with counsel and suggestions to help you grow. In my family growing up, we always recorded blessings. My mom would sit there furiously writing as my dad gave the blessing, and we got to walk away with this heavenly gem of knowledge when it was over.
Blessings Rock!
In our family, I have continued the tradition my parents started. I am not as fast at writing as my Mom, so I record it on an app and type it up afterward. Honestly, I think all blessings should be recorded. It was in a healing blessing (for getting better during an illness) that the Lord told me that I needed to prepare for motherhood because we would get pregnant soon. It was in another blessing that I learned I would meet my husband while I was serving the Lord in one capacity or another. And it was in blessings that I have been given some of the greatest advice and comfort of my life.
Everyone is different. But after any blessing, I always like to think back and remember what was said. We seek God's guidance and comfort in blessings. So why not record it for future reference? I have even started a binder for my son with each of his blessings typed up and saved in there. I have seen him read it and I know he is encouraged by the blessings the Lord pronounced on him.
Write It Down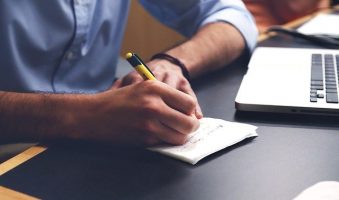 I want to share a story about the power of referring to a blessing after the fact. When my son was given his baby blessing, the Lord told him that he would have many friends and that people would be drawn to him. It was a direct gift from our Heavenly Father to my tiny son. At the time, we didn't know that he had high-functioning autism, and getting that diagnosis was scary and sad. But years later, that blessing has continued to comfort me.
My son has read that blessing and understands the Lord gave him a gift. But in the in-between years when he didn't feel social, I wondered how the Lord would make that blessing happen. Now I see my son growing into that blessing. I see him reaching out to other kids at the park. He always finds a new friend nearly everywhere we go. People ARE drawn to him!
Refer Back to the Blessing Later
There have been adults who stopped and took my son under their wing when they witnessed his enthusiasm. I remember when he was four and LOVED to watch car washes, there was a manager who took the time to walk through the whole car wash when it was off and give my son a tour. It made his day!
Then there was the wonderful computer parts store associate who let my son explore the work room where they repair computers. He loved seeing the exposed computer parts and chatted knowledgeably with the man the whole time. Then there was the time when my son won over the hearts of the mechanics at our oil change place and they let him tour the bays below ground. He loved asking a million questions and they loved answering them. I'm witnessing my son's blessing come true!
Watch It Come True
If I hadn't recorded his blessing, we wouldn't be able to see the miracles in his life nearly as easily. So I encourage you to do the same thing. Begin now and record the blessings the Lord gives you. Even when you are being blessed because you are sick, it's a time that the Lord may have a golden nugget of heavenly insight.
I am so grateful for a Heavenly Father who knows us and pays attention to our lives. I am grateful we have the chance to turn to Him for help and blessings when we need them. And I am grateful for the love He shows us as He answers our prayers and gives us the gifts to keep going that we need.
We live in an amazing time. The heavens are open and I marvel at the modern-day revelation that comes from our prophet every conference. Recording our personal blessings is like recording our own personal version of conference as we gain counsel and direction directly from heaven.
About Abby Christianson
Abby is capable and caring. She is learning more about Autism and parenthood every day. Having completed training to be an RBT (Registered Behavior Technician) for ABA therapy she is beginning to understand her son. And even though she is the first to admit she makes a lot of mistakes, she is so grateful to be on this journey. She comes from a family with many autistic members. She invites us to join her, as she shares her adventures. She wishes to emphasize that Autism is a difference not a defect. If you or a family member have autism, Abby wants you to know that the challenges can be overcome, and there are blessings in autism. You or your loved one are not sick or broken. Together we will teach the world this new language.
Twitter •