Malia Bond shared a tender and profound story of saving and loss that I wanted to share with everyone. Especially at Christmastime when so many suffer loss and grief, her story reminded me of the angels nearby ready to help and save.
Malia Bond's Story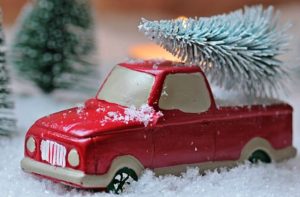 I love December because of December 10th, 2006.
I was driving out to my husband's (Nathan) uncle's house up in Mountain Green, Utah, to drop off some presents for Christmas. The roads were really icy and Nathan's uncle lived on a large hill.
I turned my little Toyota Celica up the icy driveway and wound my way up the driveway until the wheels started to spin. I hit my brakes hoping the car would stay in place.
Thankfully, the little Celica didn't slip backward, but it refused to move further up the driveway. I'd always been awful at driving up this driveway. It wound up 50 feet, and a car could easily slide right off the side of the hill if you hit an icy patch.
I was halfway up the driveway. But as I looked at the house, I realized that I was at the wrong house!
I had turned at the neighbor's driveway, one house too soon. I quickly put the emergency brake on and got out, pulling my seat forward to get one-year-old son Benson out of his car seat in the back.
As soon as I pulled Benson free of the vehicle, my car slipped backward toward the edge of the driveway at lightning speed. Seriously, you'd have thought someone had just hit the car, forcing it backward with great momentum. Panic filled me as I realized my car was going to go off the edge of the cliff and land upside down at the bottom.
But then I heard a loud crack and the car suddenly stopped on the ice. The tires hit a rock that stopped the back tires from going over the edge.
I clumsily made my way over the slippery driveway to the front door of the neighbor's house to beg for help. They quickly got Nathan's uncle and within about 20 minutes, my car was safely at the bottom of the driveway.
I was amazed at how close Benson and I had come to slipping off the cliff. It didn't make sense that my car stopped and held just long enough for us to get free and then it headed for the edge. If we'd still been in it, I would have turned the wheel and missed the rock that stopped my car from going over the side.
I thought about this experience the whole way home and was quite shaken up by how close I'd come to ending that evening on the 10 o'clock news. I got home late. Still shaken up, I took a warm bath, put Benson to bed, and then my phone rang.
"No, Not Shawn!"
It was my Mom. She didn't sound like herself.
Then I heard the words. "Shawn's Dead, Shawn's Dead. He died today. He's…"
I immediately argued, "Stop joking, mom! That's not funny!"
Shawn, my big brother by 16 months, was deployed to Bagdad, Iraq.
"Maila, I'm serious, Shawn's dead."
I didn't hear anything else. It hit me like a wave of darkness and bricks just crushing me all at once. I fell to the ground.
I thought, "No, not Shawn! No, not Shawn! No, not Shawn!"
At some point, I dropped the phone. Then I realized I wasn't thinking that statement. I was screaming it. Heaving tears and the words "No, not Shawn" was all I could do.
Hours and several priesthood blessings later, I prayed as the sun crept in through my window shades. Instantly, the memory came to mind of my car sitting perched atop an icy hill, holding perfectly still until Benson and I were clear of it. All at once, a flood of knowledge came to me.
Shawn's voice filled my head. "I was there, keeping my lil' sis safe," he said.
Shawn told me he had held the car until I had gotten out. He also told me that he had guided me to turn up the neighbor's driveway because it had small rocks lining the edge which would stop my car from careening off the edge. He told me he would always be with me and that I was not alone.
My husband Nathan was also deployed then, so his statement was a great comfort to me at this painful time.
That was 13 years ago.
Since then, I've seen Shawn several times and have received wonderful and deeply personal guidance from him.
Brothers Can Be Angels, Too
I love December because it's the month that I celebrate two of my brothers giving their lives for me.
First, my brother and Savior Jesus Christ saved me by making the ultimate sacrifice for sin and death.
Second, my brother Shawn Murphy made the sacrifice for freedom and love and saved me on that icy hill shortly after he gave his life on the other side of the world.
Because of my Savior's sacrifice, I have my brother for eternity through the ordinances of the temple.
I love both of them and I am grateful for all they've done for me. I will never forget their sacrifices and I will always strive to live my life better because of them.
Personal revelation is real.
Here's to another wonderful Christmas.
About Delisa Hargrove
I am a member of The Church of Jesus Christ of Latter-day Saints. I have moved 64 times and have not tired of experiencing this beautiful earth! I love the people, languages, histories/anthropologies, & especially religious cultures of the world. My life long passion is the study & searching out of religious symbolism, specifically related to ancient & modern temples. My husband Anthony and I love our bulldog Stig, adventures, traveling, movies, motorcycling, and time with friends and family.