Do you have conversations that just won't leave your mind until you figure out why?
In September, the ward piano teacher announced she was moving. My friend Roxanne asked if I would reconsider my previous stance of no longer teaching piano lessons. I said no. I wasn't interested in teaching piano lessons.
I love the kids. I love the piano's creative process. But I often felt trapped by the commitment to so many people at specific times and I didn't feel like I needed that entrapment in my life.
It's a conversation I've had many times over the years. I appreciated the thought but, meh, not for me.
Being Pursued by the Thought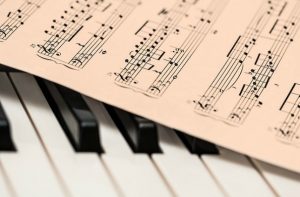 For some reason, as I went to bed, the conversation with Roxanne played over and over in my mind. What was the deal? I've never felt compelled to teach. Why wouldn't this go away?
Finally, I realized maybe I was supposed to pursue the reason why the conversation wouldn't die, so I asked God why it wouldn't leave me alone.
Suddenly images of teaching and how it could work and what I could do for my "trapped feelings" flooded my mind.
"Wait, what? You want me to teach piano lessons?" Startled by the possibility, I recognized the prompting that made it clear that my teaching was more for me than the students. I needed something they had to share.
So I grabbed my phone and shot off a midnight text to my friend saying that if she really was interested, I would do it with the caveat that if I felt trapped and didn't want to come one day, she'd understand and be willing to skip the lesson. She responded affirmatively the next morning. Somehow just having an understanding and an out for "trapped days" relieved me of the stress of it.
Word spread and I got requests to take other students. I decided to do all of the lessons on Wednesdays so I'm only "trapped" one day a week. Several of the kids were meeting on Wednesdays already so that day seemed best.
I have 12 students—several groups of siblings—on Wednesdays for half-hour lessons. Except for two students who come to my home, I go to all of the students' homes. I knew the sunshine and driving would be a welcome break for me between lessons.
Everyone Is Bright and Capable
Each student is so different! Every one is so delightful in his or her way! Each student is motivated differently and has different piano goals. But without exception, all students are bright and totally capable of improving their talent as a pianist.
I remember what kind of piano student I was. My most prominent habit was that I picked the music up fairly quickly, so I discovered I could sightread well enough to get along. I didn't practice the songs that were boring. And I also didn't take the time to really stretch my capability on a regular basis.
Competitions stretched me. I excelled in those pressure moments when actual talent had to compensate for my laziness. But instead of motivating me to do better next time, I figured I didn't really have to work harder and would still meet my teacher's expectations for me (or at least what I understood those expectations to be).
Opportunities to Transform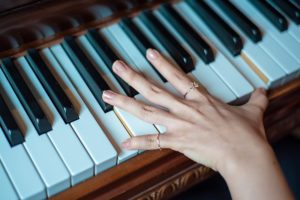 In October, this season of learning began. As I got started that first Wednesday chock-full of students, I experienced crazy anxiety attacks over entrapment issues. I called Anthony on the drive between lessons to be regrounded. Apparently, I really have commitment expectation issues.
I quickly got into a groove and looked forward to seeing the kids and what they knew and accomplished. Within three weeks, I knew which of the kids practiced regularly and which were more like me as a student. Some were paralyzed by fear of failure. Some were paralyzed by a lack of knowledge. Some lacked direction. And some looked at the music as a challenge to be conquered and set about doing just that. Some were really self-motivated. Some weren't, necessarily. I learned that with good questions, kids can tell me exactly what they're feeling. And all of it kept me on my toes.
I love and value each of my students. As I've prayed for them and how to teach based on their uniqueness, the Lord shows me ways that help them individually. They can choose to act on the lessons I share or not. I know that if they'd follow my suggestions, their skill and confidence would transform.
Being their teacher has already taught me so many things.
But the reason for this post is the lesson I'm learning particularly from one student. I already confessed my approach to piano lessons as a kid. That approach also influenced other habits in my life.
When I think about transformative moments that jarred my thinking or habits or perceptions, it's been by seeing another way being modeled. For example, while seeing myself as a victim, I met someone who experienced victimization but who didn't consider herself a victim. I had never met anyone else with her empowered mindset — or maybe I should say that I hadn't ever noticed it before. Meeting her changed my perception and I changed my reality.
I saw an alternative path. And I took it.
30 Minutes of Daily, Focused Practice
One of my students has an insatiable quest for excellence. The first week in her home, to gauge her skill and knowledge, I had her play some of her favorite songs. Her dad taught her the basics and then expanded her piano instruction on the simplified hymns. We selected a couple of other hymns for her to practice. The next week, she played those assigned songs and another one that interested her.
I was seriously blown away. I looked over at her mom and asked what her practice schedule was. She smiled as my student responded instead by asking how long I expected her to practice. I said 30 minutes daily unless her mother expected her to practice longer than that.
I assigned more songs that were completed (with another couple of songs!) the following week. This little girl was keeping me on my toes. I quickly shifted gears into adding technical aspects that would enhance her skill.
One week, I brought some fun crossword-type note challenges for treble and bass clef which she finished before I finished her sibling's lesson. She asks for homework every week now.
I took a book of Christmas songs and we picked one song for her to practice during Christmas break. When I returned in January, she played every single song in that book for me. Every single one! She added commentary about the ones she really liked and the ones that were ho-hum, but she still learned every single song. And learned them well. And played them at top speed. That's another fun thing about her—she loves top speed.
Luckily, that week the Holy Ghost prompted me to take a book that leveled her up. So we picked a more difficult song for her to practice. At this week's lesson, I discovered she'd found one of the hardest pieces in the book and played it for me—at top speed. There are things for her to work on like getting every single note's timing consistent and implementing dynamics she hadn't learned before. When I taught her notations on the music, she immediately said, "Can I try that?" And she practiced implementing the instructions on the spot.
30 minutes of daily, focused practice. Wow. I am a believer.
Do I Put in the Same Consistent Practice?
And so I see an indefatigable pursuit of excellence taught by parents with vision to a little girl, and modeled for me.
What can I accomplish with 30 minutes of daily, focused practice? We often hear about 30 minutes or more of daily exercise and 30 minutes/regular moments of daily scripture study. We also see the results of those commitments.
The Light of Christ shines in all of us as Heavenly Father's children. The opportunity to be and accomplish His will for us requires the persistent, consistent effort that can open the windows of heaven. I see nonchalant prayer versus mighty prayer.  I see just reading scriptures versus understanding the scriptures. I see asking questions and finding the questions.
I see time spent in real relationship with Deity. I see feeling awkward in beginning but then breaking out into a confident run towards the prize—racing to Heavenly parents at top speed. The only limits set on our relationship with Them are self-imposed by our unwillingness (for whatever reason) to put in the effort—30 minutes of daily, focused practice—to reach that goal.
About Delisa Hargrove
I am a member of The Church of Jesus Christ of Latter-day Saints. I have moved 64 times and have not tired of experiencing this beautiful earth! I love the people, languages, histories/anthropologies, & especially religious cultures of the world. My life long passion is the study & searching out of religious symbolism, specifically related to ancient & modern temples. My husband Anthony and I love our bulldog Stig, adventures, traveling, movies, motorcycling, and time with friends and family.