I remember being a new member of the Mormon church (officially called The Church of Jesus Christ of Latter-day Saints). My family had belonged to another denomination, but then after meeting with the Mormon missionaries we desired to be baptized.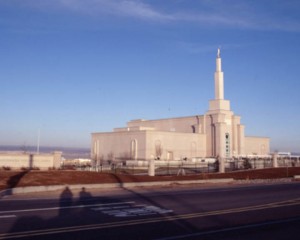 There was much that was new; there was much s might seem perplexing. I don't know. All I do know is the joy that I feel being a Mormon and learning deeply about the Lord Jesus Christ.
It's not that I haven't studied other faiths. I have. But the more one studies the scriptures and ponders on them, the more the truths of the gospel resound in the restored gospel of Jesus Christ found in the Mormon church.
[If you would like to meet with the missionaries simply to discuss the Mormon faith, feel free to click on Mormon.org and follow the links there to set up an informal meeting.]
In retrospect, one of the biggest blessings I've experienced being a Mormon is to know about temples and how they strengthen families.
Temples existed in ancient times. Oftentimes they were called tabernacles back then. But their purpose was, and is, to provide a holy place of worship – removed from the filth of the world.
Isaiah 2:1-3 speaks of a temple and its purpose. Doctrine and Covenants 109 contains a dedicatory prayer for a temple built in Kirtland, Ohio.
As a person prepares to enter the temple, great blessings come to them. Temple worship becomes the center of strength for a person who seeks God in all things. And a family centered on the temple and its rich blessings becomes a family that is strong and deeply bonded in the Lord.
The reason I know is because I have experienced all these things. The sweet spirit of peace that comes, even just talking about these things, testifies that temples are places of God. They bring happiness, peace and eternal joy.
President James E. Faust stated just four months before he passed away – about a modern-day temple that had just been renovated:
"I am grateful this magnificent building has been strengthened and renewed so it can continue to be used to instruct and edify the children of God" (President James E. Faust, "Salt Lake Tabernacle Rededication," Ensign, May 2007).
President Faust knew, as do so many who love the temple, temples strengthen and edify the children of God. And a family that bases their lives upon God's works and temple worship is tremendously strengthened and benefitted thereby.
To learn more about temples, feel free to visit this temple link.