I have found the best cookbook! It focuses on the kind of balance the Word of Wisdom mentions, so I must tell you about it! I know — you are probably like I am, with a dozen or more cookbooks in your life. But I'm totally serious that this one will change the way you see food.
You see, I grew up watching my mom cook out of the Better Homes and Gardens cookbook. It had a red checker tablecloth print on the cover. So, after I moved out, I bought one for myself. It's a great cookbook for making just about anything you want to from scratch. But I needed more guidance about what ingredients were better for me, and how to get my family on board with eating good food.
Then, just when I needed it most, my friend Amy Carter posted on Facebook that she had written a cookbook! Amy is a certified nutrition, fitness, and personal development trainer. I knew that if Amy put it together, it was worth a look.
So, I bought the digital version on Amazon, and I started to experiment. I was so thrilled with the results — both nutritious and delicious foods — that I decided to do a book review and give you all a treat as I introduce Amy's cookbook, Balance Is Sweet, to all of you.
Real and Easy Cookbook
Before I go on, I must stress how real and easy the recipes are in Balance is Sweet. I used to be a Martha Stewart subscriber (before she went to jail). The dishes she made always looked pretty, but making them required access to gourmet ingredients picked on a July full moon. They were difficult to get and impractical for my family. My son is still convinced that macaroni and cheese is the height of gourmet pasta. So I stopped looking to Martha for advice.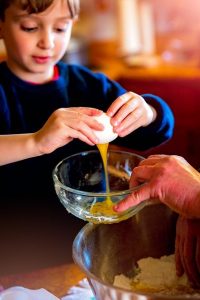 When I opened Balance is Sweet, the first thing that hit me was that this food not only looked good, but it had real ingredients. I could find them in my own cupboards! And my son would recognize this stuff as real food and not lawn clippings or something totally foreign. I was impressed enough that I reached out to Amy for an interview. And I want to share some of her inspiration and insight that helped her create this book.
Amy's Interview
Amy told me:
When my husband was in grad school, I found the Sneaky Chef and started hiding veggies in the food I made for our family. At first I was really excited and thought "Oh! This is cool! I am going to sneak vegetables into their food."
But then my husband made a good point. He said, 'Don't you want them to know they are eating good food so when the when the time comes to eat that food again, they don't assume they hate it?" I realized he had a point. Okay, yes, I want to be honest with my kids, but I DO want them to eat more veggies. 
So I started making them smoothies and added a bit of greens and eventually made them green smoothies. And they realized that things may look different than they taste. Now they enjoy eating these things and know they are going to taste good.
Helping Kids Eat Healthy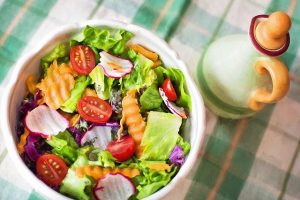 Now it's not always easy to get a kid on board with eating his vegetables, especially children with sensory issues. But I have found ways around that. My son Enzo has Down syndrome. And with him, I like to try new things with something he already likes.
Especially with sensory issues, if you give them a new option in a form that they already like, you are more successful. For Enzo, he loves dip. So I know I can give him carrots and peppers, and if he has his dip, he is comfortable trying it because there is something on his plate that he knows he likes.
I take a familiar dish that has rice in it and make it the next time with couscous. The texture may be a little different, but they recognize the smell and they know they like the meal, so the texture isn't too off-putting. Then I go from putting couscous in the dish to adding quinoa. And because I took small steps to get there, I am not shocking my kids, and the meal is not so foreign to them.
Baby Steps
You can do that with other dishes and ingredients too. You can make tacos, but instead of ground beef, you can use sausage or pulled pork. And you can make spaghetti and meat balls, but instead of ground beef in the meatballs, you can use ground turkey instead and slowly add spinach to the meat balls.
And eventually the kids are like, "Okay, yeah. I like the green meatballs. It's different, but I like meatballs." Our kids need to be able to recreate their good diets once they get out into the world.
For Moms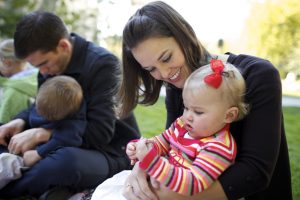 Amy also had some great insight about taking care of yourself as a mom.
We talk about our personal cup being full, and some women feel guilty or selfish putting themselves first. But the first thing we need to focus on when we are taking care of our family should be taking care of ourselves.
It isn't so we can flaunt ourselves. We help ourselves gain more energy because our energy goes into taking care of our families. You as the mom lead the pack. Regardless of who is in charge, you are preparing and buying and making the food, and you have a vital role.
As the mom, we set the mood in the house. We are being watched. If we reach for chips and ice cream, then our kids are going to assume that is what they are supposed to do. And even though they may feel gross when they do it, they are going to think that is how they are supposed to feel and how their life is supposed to be.
Health Journey
When I was in college, I gained 40 pounds. And then when I went on my mission to Germany, I lost it. So, when I got married and I was the one making the meals, I found out that diet is a major influencer in how I feel and in my weight. That was when I started creating my own recipes.
But the biggest clincher that made me realize that I needed to write this cookbook was when I developed a heart condition. It was a year and a half ago, and I had heart problems because I was too focused on diet and exercise. To meet my goals, I decided to eat a Keto diet and train for a half marathon to lose that last 5 pounds.
I was working my body too hard. I wasn't recovering properly and wasn't feeding my body correctly. And since my heart was made to work so much harder, I ended up needing heart surgery. It took me about six months to recover after the procedure, so I had normal energy. And it made me realize that there is more than diet and exercise that is essential to our health.
Honest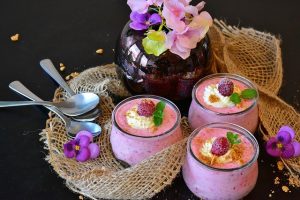 The most important thing is that this cookbook doesn't cut out all sugar. I sweeten things with natural sugars. And we don't have to eat nothing but chicken and broccoli every day and be miserable. You shouldn't limit yourself, because that limitation is not healthy for you.
Enjoy life and enjoy food! You don't have to spend hours in the gym and eat only avocados and oil like the Keto diet. Our strict regimens are driving us insane. We need to find a healthy balance where we can eat chocolate every day. And that is what I try to teach my clients — that we need a balance.
Balance
These trials have taught me so much. I wouldn't change anything because it taught me so much. Being thankful for everything changes your perspective. I want everyone to know that they are capable of doing more than they think they can.
My favorite quote is "You are braver than you believe, stronger than you seem, and smarter than you think." Sleep is the number one key to weight loss. I don't count calories. They don't matter, it's all about hormones and having balance within our body so we can tap into the fat energy burning system.
Different programs help you create your own recipes. I help you create a whole month of meal plans by putting things in different categories and making sure there is a balance.
Free Cookbook!
Amy finished our interview by offering all of you a free copy of her cookbook. Amazon has increased the price to $8. It's a Kindle version. But Amy offers a free digital version that you can print off (like I did) at Balanceissweetbook.com/free. I love this book! And I love how Amy's focus of balance is so in line with the Word of Wisdom.
About Patty Sampson
Patty thrives on all things creative. You'll often find her in the garden pretending she is a suburban farmer. She loves meeting new people, and is devoted to her friends and family. In her heart she is a Midwesterner even though life has moved her all over the country. She believes in "blooming where you're planted" and has found purpose in every place she has been. She has a deep and abiding love for the Savior and the Gospel of Jesus Christ. And she loves editing LDS Blogs because it is a constant spiritual uplift. Not many people can say their job builds their witness of the Savior.
Twitter •