Almost a year ago, I was called as the Young Women's camp director for our ward. I had worked with the young women as the first counselor in the Young Women's presidency several years before and was excited to get the opportunity to work with the young women once again. I had been to camp many times before but hadn't ever had to actually plan camp. And while I had to oversee a group of YCL's (Youth Camp Leaders) who technically planned and carried out camp, I had to ensure that spiritual experiences would take place in addition to fun activities.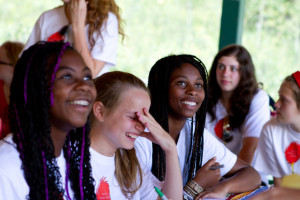 After a lot of thought and consideration for the young women in my ward, I decided that the spiritual experience needed to be a surprise element at camp that the YCL's didn't plan. I felt that even they needed spiritual experiences to help their faith in our Savior grow. I decided to provide this experience by planning and carrying out a "Faith Walk." One YCL had mentioned that she had never done a faith walk in the dark before and that she had always wanted to. I had no idea how to plan a faith walk or even where to begin! But one thing I knew for certain was that a faith walk in the dark was important to this young woman and that it was her last year at camp, so I needed to make it happen.
Over the next several weeks, I spent many sleepless nights trying to figure out what to do and how to make this faith walk spiritual. After a lot of pondering and even more praying, I decided that the faith walk needed to be based on our Savior, Jesus Christ. I also knew that I had to make this faith walk safe, especially considering there had been bear sightings in the area the week before. I couldn't just turn the girls loose on the mountain in the dark! But at the same time, I didn't want the distraction of flashlights. As I thought about how to make this a meaningful spiritual experience, I felt like I was left completely in the dark. But as I pondered and thought about each girl, thoughts slowly began to form. And little by little, the ideas built on each other and became a guide to creating the faith walk.
I decided to have the girls make a lantern out of a jar shortly after they arrived at camp. Once their lantern was complete, I gave each young woman a battery-operated tea light candle to light their lanterns. What they chose to do with their lantern or their light was up to them. After a couple more activities (and while the young women ate dinner), I set up for our faith walk in the dark. 
I had twelve tall posts that I placed in the ground. Some posts were farther apart than others and not all were placed evenly apart or in a straight line. Each post had a different photo depicting the events leading up to the crucifixion of our Savior, Jesus Christ. With each photo was a quote or a small description of what happened in the picture, along with an analogy of how it applies to our lives today. On each post, below each photo and the description, was a lantern with a tea light candle. The lanterns matched the lanterns that the young women had made earlier in the day. The only difference was that the tea lights that were placed in these lanterns burned slightly brighter than the tea lights that I gave to the young women. But there was a purpose for this. Each lantern lit the posts and the photos of Christ, representing how He stands as our beacon in the dark.
After dinner each young woman grabbed her lantern and turned on her candle. Some candles let off a bright light because the young women carefully tucked their lanterns away in their tents, while other girls had used their lanterns and the candles burned a little dimmer. Each young woman lined up in a single file line anticipating her turn to walk on the path in the dark. One by one the girls began their faith walk, their lanterns lighting their way and each post standing like a beacon in the dark guiding the young women to where they needed to go. When one girl began walking to the second post, another girl began the faith walk, walking the trail alone to the first post where the beacon of light awaited her. The following posts weren't as easy to see as the first and second posts as the path wasn't straight and sometimes the posts were further apart making them difficult to see, thus representing the path that we take in this life.
As each of the girls walked the path on the faith walk, a funny thing happened. The young women whose lights were dim because they made foolish choices regarding their light, were unable to see the path. Not because they didn't have light, but because they were too focused on how little of light that their lantern let off. So when they needed their lanterns they noticed how dim their lanterns were and looked to their feet instead of looking up to the beacon that was guiding their path the entire time. But the young women who made wise choices regarding their lanterns didn't notice where they stepped. They knew that there was a brighter light guiding them. They knew their lanterns were there when and if they needed it, but these girls looked up to the light on the posts as their guide or their beacon in the night. And while their lanterns were important to staying on the path, their lanterns became insignificant as it was a greater light that they sought after.
Oftentimes we feel alone on our path in life and we're not sure where to go or where to turn as we face difficulties and challenges. We might feel like our light is dimmed because of our choices, and we might not always see our path clearly as it appears distorted in the dark. We might look down at our feet trying too hard to focus on the steps that we take rather than looking up toward the light, realizing that our path is brighter because there is a beacon in the dark guiding us to where we need to go. Psalm 119:105 reads: 
Thy word is a lamp unto my feet, and a light unto my path.
What would happen if we stopped focusing on our lack of light and where we stand? What if, instead we sought out a different light? A light that always burns bright and stands as a safe harbor like that of a lighthouse?
Our Father in Heaven gave us a Savior who died for us so that we could be forgiven of our sins, and Who by the grace of God will save us so that we can return to live with our Father in Heaven and receive immortality and eternal life someday. But our Heavenly Father didn't just provide us with any Savior. Our Savior Jesus Christ willingly gave Himself unto us! He willingly suffered and died for us so that He can understand the pains that we will face in our mortal life. And He chooses to stand as a beacon in our darkest nights directing us back to safety.
Yet before we can be directed back, we need to quit looking down at our feet and worrying about where we stand, but instead look up! Look to the Lord, for He is our beacon in the night! When we look to our Savior and follow His plan, His words and teachings will be like a lamp to our feet, guiding our steps and thus lighting our path, guiding us safely back to our Father in Heaven. Our own lantern will burn brighter, but will still be insignificant when compared to the bright beacon that our Savior provides, as that is the light that we will rely on. Thomas S. Monson, former prophet and president of The Church of Jesus Christ of Latter-day Saints, taught:
"Anxiously we ask, "Is there a way to safety? Can someone guide us? Is there an escape from threatened destruction?"

The answer is a resounding yes! I counsel you: Look to the lighthouse of the Lord. There is no fog so dense, no night so dark, no gale so strong, no mariner so lost but what its beacon light can rescue. It calls, 'This way to safety; this way to home'" (Thomas S. Monson, "The Lighthouse of the Lord," New Era, February 2001).
The night of the faith walk, some of the young women were slightly scared to walk alone in the dark on the mountain. But once they began the faith walk and learned about the Atonement of Jesus Christ and of His love for us individually, they realized they were never alone. Not on the mountain and not in this lifetime. While we may feel like we're lost on a mountainside from time to time, know this: regardless of the mistakes that we make or the hardships we face because of our choices, there is no fog dense enough to block the light provided by the beacon of our Lord and Savior, Jesus Christ. He didn't die for us so that we can walk this path alone with a dim light, but so that He can stand beside us, side by side and guiding us to safety. Jesus Christ is our Savior, the solid foundation on which we stand. He is our safe harbor, our beacon in the night.
About Marie Yvonne
Marie Yvonne is a motivational and devotional speaker for teens and young adults. In her devotionals, she shares her personal testimony and journey of learning to accept herself as God created her. Her journey can also be found on social media and her personal blog and website, TheConfidenceToShine.com.