During this COVID-19 isolation, sports events of all kinds have been sidelined, so we go into history books and the internet to relive and celebrate contests played in years gone by.
We will get through this. It is not insurmountable.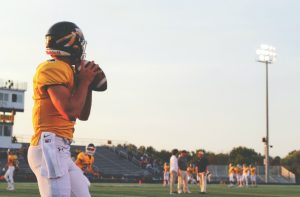 There may be some debate on the greatest comeback ever. Naturally, my allegiance extends to my alma mater, BYU. I have seen some unbelievable performances. Let me lay the groundwork. Then you can decide if I have a case.
I don't know where your loyalties lie. You may be a Cougar fan, or your support may be more with the Utes. It is a legendary rivalry around Utah and is well-known across the nation. Both schools have had great teams and a strong football history of comebacks and remarkable victories when no one thought it possible, but their games are not the greatest comeback ever.
Similarly, there are 130 schools in the Division I Football Bowl Subdivision (FBS) of the National Collegiate Athletic Association (NCAA) in the United States. Two of them met in San Diego stadium at the Holiday Bowl clear back in 1980. It was an intense game, but the SMU Mustangs dominated the BYU Cougars through the first half and well into the fourth quarter. With just minutes left, BYU trailed by 20 points: SMU – 45, BYU – 25 with 1:20 left on the clock (as I remember). Hope was nearly lost and people were leaving their seats at this point. A second onside kick attempt falls BYU's way. A touchdown pass and follow-up play put BYU only 6 points behind, but the team still had to kick off to SMU and put at least 7 points on the board to win. Somehow they got the ball back again. McMahon threw two incomplete passes.
My wife (well before I met her) had lost hope and was standing in the concourse awaiting BYU's final play. With just three seconds left on the clock, it was third down at the SMU 41-yard line with just a hope and a prayer remaining. When the center hiked the ball, Jim McMahon dropped back for the final play of the game. He launched a perfect pass, spiraling into the air on a final Hail Mary pass to tight end Clay Brown who was surrounded by three SMU defenders in the end zone. Somehow Brown caught the ball and Kurt Gunther's extra point gave BYU the win, defeating Southern Methodist University in the final seconds of the 1980 Holiday Bowl 46–45. Brigham Young's comeback from a 20-point deficit in the final minute-and-a-half of the game was legendary. 
"A lot of coaches here have talked to me about the game," said Edwards, who was attending the NCAA Coaches Convention in Miami, Florida. "They have told me it is unreal, and that it is a great tribute to players not giving up. Some call it one of the best comebacks they've ever heard about." 
Many called it one of the greatest collegiate sports return from deficit of all time. That was an incredible year, but even this game was not the greatest comeback ever.
Naturally I Googled the term "greatest comebacks" and found hundreds of posts claiming that their lists of sporting events, epic historical accounts, and other legendary encounters were the ultimate victories of all time. Videos of incredible feats and wonderful stories of overcoming injury and rebounding from tragedy filled my screen and memories. None of these, however, was the greatest comeback ever.
Top conquest?
The Atonement of Jesus Christ is the greatest comeback ever. Because of Him, we can repent, take part in the blessings of the gospel of Jesus Christ, and qualify for exaltation—the life that God lives. In my opinion, this is easily the greatest comeback ever, especially in terms of significance in our lives. How does the greatest comeback measure up?
Billions throughout history saved from eternal suffering.

Millions around the world gratefully following and adoring Jesus Christ join and receive the blessings of His restored Church on earth.

Thousands who are repenting and changing their lives qualify for this gift.

Hundreds of your friends and mine are better off because of Him.

Dozens of our family members saved from hardship, even amid chaos and loss.

You are edified, uplifted, and made complete, molding you as part of the greatest comeback ever.
Surely you agree — at least, that is the way I want my article to end.
With God's help, this not insurmountable.
About Walter Penning
In 1989, Walter Penning formed a consultancy based in Salt Lake City and empowered his clients by streamlining processes and building a loyal, lifetime customer base with great customer service. His true passion is found in his family. He says the best decision he ever made was to marry his sweetheart and have children. The wonderful family she has given him and her constant love, support, and patience amid life's challenges is his panacea.
Twitter •