Over the summer I'm taking a BYU religion course exploring the four Gospels in the New Testament: Matthew, Mark, Luke, and John. This course, as with most BYU religion courses, is taught in a very intellectual way. In order to understand greater spiritual messages and draw closer to Jesus Christ, we are examining the history of Christ's ministry and analyzing what texts we have about the events. This depth of analysis is taxing at times, but certain moments are incredibly rewarding. I'd like to spend some time talking about one of those moments.
In Mark chapter 5, this incident is recorded:
"And a certain woman, which had an issue of blood twelve years,

And had suffered many things of many physicians, and had spent all that she had, and was nothing bettered, but rather grew worse,

When she had heard of Jesus, came in the press behind, and touched his garment.

For she said, If I may touch but his clothes, I shall be whole.

And straightway the fountain of her blood was dried up; and she felt in her body that she was healed of that plague.

And Jesus, immediately knowing in himself that virtue had gone out of him, turned him about in the press, and said, Who touched my clothes?

And his disciples said unto him, Thou seest the multitude thronging thee, and sayest thou, Who touched me?

And he looked round about to see her that had done this thing.

But the woman fearing and trembling, knowing what was done in her, came and fell down before him, and told him all the truth.

And he said unto her, Daughter, thy faith hath made thee whole; go in peace, and be whole of thy plague."
This is, at face value, yet another account of Jesus healing yet another suffering soul. That in itself is wonderful, but when we analyze the account further, we can learn of its deeper significance and gain a greater appreciation for Christ and for the faith of this woman.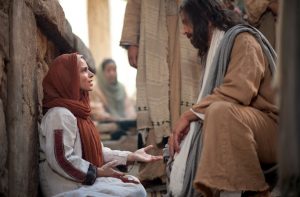 A woman having this "issue of blood" not only suffered a physical ailment but suffered exile. Women with this condition were considered unclean and thus unable to be touched. Imagine spending 12 years unable to be touched. She would be viewed with scorn, a social pariah deemed unworthy of not only touch, but perhaps even love itself. That would be a pain possibly even worse than the issue itself.
Imagine then the coming of Christ being announced abroad. This woman would hear of a man known as a healer. Yet how did He heal? He healed predominantly by touch. But this woman was unclean! She could not be touched! Perhaps she, in that moment of realization, had her last hope dashed — no one would touch an unclean thing like her. 
What faith it would have taken to pursue Christ anyways! Perhaps the Spirit beckoned her onwards, giving her just enough hope to justify her leap of faith. She pushed through the crowd and touched Him. An unclean being as herself just pushed through an entire crowd, risking chagrin, simply to touch a man's clothing. And then, this man turns around asking who touched him! If this healer found out it was her, he could easily have her punished for her rash action. Perhaps fear rippled through this woman, fear developed after being a social pariah for the last 12 years.
But then the comforting words of Christ wash over her, not only providing physical healing but peace, a peace I believe to have washed away the emotional and spiritual pain of exile and social uncleanliness. One socially impossible touch healed this woman who, for the last 12 years, had been forbidden to touch anyone.
We can all see ourselves in the story of this brave woman. We have all at times had physical ailments or been socially outcast. And I am sure all of us have been healed at some time by the touch of the Savior. His touch can be found in tender mercies, in loved ones, in silent prayer, in humble scripture study, in nature, and in a myriad of other, perhaps unlikely ways. The one thing that all of these "touches" have in common is that a bit of faith and a positive perspective (hope) are required. Those two ingredients can reverse any affliction or pain, even the physical and emotional pain of an "issue of blood" for 12 years. Note how one action on one day changed the entire life of this woman.
The peace from that touch can penetrate even the darkest days of our past and begin to reverse all negative emotion. The touch is not only a band-aid on the surface — it's an antibiotic that cleans the wound and heals everything, however deep that wound may be.
His touch can influence a marriage, save a family, help in our career, motivate us to accomplish our goals, conquer despair, give the strength to get up in the morning, provide direction, quell anxiety, encourage goodness, increase love, and enlighten the mind. Quite literally, His touch can do anything and everything in our lives, so long as we ask for it, act faithfully with belief in Christ and His power, and trust that God's will comes in His own way and His own timing. 
We all can use His touch after what we have been through the last few months. Truthfully, this world needs His touch. It's easy to look around and give up hope. But it's essential that we never forget that "He doeth not anything save it be for the benefit of the world; for he loveth the world, even that he layeth down his own life that he may draw all men unto him" (2 Nephi 26:24).
Nothing can save us but Christ. Nothing can save this world but Christ. Let us all seek for His touch as we live through our own trials and help the world through its own. 
And let us never forget that no matter how bad, no matter how long, no matter how deep, suffering can always be healed by the Savior's touch. 
I am grateful for the woman with an issue of blood who taught me that lesson.
About Adam Simpson
Adam Simpson is a man of many unique talents, from dancing to ultimate frisbee, from drumming to writing. He was born and raised in Layton, Utah, the middle child surrounded by two sisters. He served a mission in Sydney, Australia, and now attends school at BYU. His love for writing comes from a love of philosophy and a love for God.
Twitter •