I would like to begin by acknowledging that in the last couple of months, I have finally felt like my life is falling into place.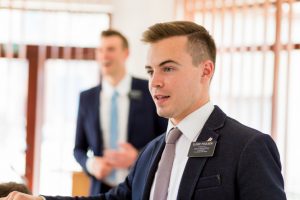 That sounds rather dramatic. I don't mean to say that my life was ever truly "out of sorts," but rather that I never felt like I "fit in" with life since coming home from my mission. My older sister described it best when she said that arriving home from your mission feels like jumping off a cliff into a river. You crash into the water and start to float down. You always feel your faith in God keeping you afloat, but you don't really know where you're going. It takes quite a while to get your bearings and figure things out. Now, I can finally say I'm getting past that floating stage and moving in a direction that I want to be going.
This has happened for a variety of reasons. The main reason is that I've found the girl I'm going to marry. Dating her has felt like coming home in many ways, and our relationship has given me the direction that I need to be going in. Secondary to that, I feel like I'm getting the hang of finances, understanding how college works, figuring out career opportunities (I even made a LinkedIn account!), and I'm now understanding how the gospel works in the real world. If I'm being honest, high school isn't the real world, and even a mission is not completely real world. It's been amazing to see how all of my past experiences have prepared me for what I'm doing at 21 years old, and I know that what I do now will prepare me for when I'm 22, and so on.
A variety of lessons have stood out to me throughout this process of getting on my feet, and I'll share one quickly. I feel strongly that the Lord is patient with us. Indeed, He is all-knowing and all-loving, so why not all-patient? He knows when we are facing something new and has patience with us as we try to figure it out. I faced a myriad of new things when I came home from my mission, and now, as I look into marriage, I'm bombarded with even more new things. This has caused me stress and I feel like I'm not as able to serve others because I'm dealing with so much on my own.
There's a balance to this: yes, we must serve others despite how busy we are, BUT we cannot run ourselves dry. I am confident that there are times in our lives when we must focus more on ourselves, and then there are times when we have a greater capacity to reach out. Jesus Himself even took time for Himself, such as when He heard John the Baptist had died and sought alone time for prayer and recovery. We too need time for recovery, and there is no sin in seeking that time for ourselves.
In perhaps my favorite BYU devotional of all time, "Personal Ministry: Sacred and Precious," Bonnie D. Parkin discusses the idea of having a personal ministry. For example, Elder Neal Maxwell served as an apostle, but he constantly remarked that his personal ministry was in ministering to fellow cancer patients. Even Jesus, whose mission saved all of humanity, served a personal ministry throughout Jerusalem and its surrounding villages. We too have a personal ministry, and much of it lies in one-on-one actions as we go from daily task to daily task. So long as we live in the moment and seek to serve while we get things done for ourselves, we will be fulfilling our personal ministry AND taking care of ourselves at the same time. It doesn't have to be too much; all it takes is a willing heart and a love for people.
Another lesson Sister Parkin teaches is that we must be willing not only to serve but to BE served. I recently had my 21st birthday. Anyone that knows me knows that I typically dislike birthdays. I just hate being the center of attention sometimes! However, my mission taught me that allowing others to serve you not only gives you relief but gives others joy in service. Thus, I am trying to do better at letting others serve me, especially when I find myself weak and tired, for in their service everyone is benefitted.
What I'm trying to say is that both service and being served are required. We go through a variety of phases in our lives. Some phases will be dedicated to service, such as my mission, while other phases are dedicated to getting our own lives in order, like the 9 months since coming home from my mission. Whichever phase we are in, we can be patient with ourselves because we know God is patient with us. And then, when the time comes that we figure things out – and we will – we can enter a phase of service and truly advance our personal ministries. I know that planning my wedding and beginning marriage will be a phase of figuring things out, and it will be hard and I may feel selfish at times, but I know that that phase will soon be over and my wife and I can truly do some good in this world.
The Lord is patient while we figure stuff out. We don't have to do everything to please Him. All we have to do is rely on and trust Him. And then, when things are figured out, we will be in the ideal place for our service to truly begin.
About Adam Simpson
Adam Simpson is a man of many unique talents, from dancing to ultimate frisbee, from drumming to writing. He was born and raised in Layton, Utah, the middle child surrounded by two sisters. He served a mission in Sydney, Australia, and now attends school at BYU. His love for writing comes from a love of philosophy and a love for God.
Twitter •