At some point in my childhood, my mother decided to use her good silver every day. She loved her silverware and wanted to enjoy it instead of saving it for special occasions. She knew this was risky business with four children, a dishwasher to tarnish, and a garbage disposal to eat spoons, but decided to accept the risk and take joy in her pretty silver.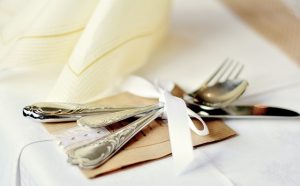 As expected, over the years there were several spoons in the back of the drawer that had gone through the garbage disposal, and the blades of several knives had separated from the handles from being washed in the dishwasher. When I was 17, I went to work in a furniture store that sold china, crystal, and silver. I found out that Mom's silver pattern had a lifetime guarantee, and her pattern was still in print. I was able to get the knives replaced for free and I purchased the spoons on sale and with my employee discount as a Christmas present for her.
Mom's decision not to save the silver for special occasions taught me unexpected lessons. Life is to be enjoyed—even during a worldwide pandemic. There are risks involved in our decisions, and consequences to be paid. Sometimes the consequences are worth the risk; sometimes they are not. The intentions of our actions are important. We need to make decisions for the right reasons.
The silver gave my mother great pleasure. My parents didn't have much, but Mom could look at that silver every single day and smile. The consequences of her actions were worth it to her to boost her spirits in hard times. Every day became a "special occasion" for her. Mom had a great imagination, and she probably saw herself at a fancy party every night at the dinner table. This was a pleasure she deserved and she wasn't hurting anyone else in the process.
It is important to understand that Mom's decision about silverware and special occasions was a mortal decision to boost her morale, not a decision with eternal consequences.
We make decisions every single day that have much weightier consequences than a separated knife or mangled spoon. For instance, the decision to save going to church only for special occasions like Easter and Christmas has grave eternal consequences. Placing our scriptures on an end table in the living room and dusting them once a week for guests to see, but only opening them to read the Christmas story on Christmas Eve has eternal consequences. Saving the kitchen or dining room table for guests on Thanksgiving or Christmas while allowing our families to take their everyday family meals to various rooms to eat in front of an electronic screen has eternal consequences. Making drugs and alcohol a part of our "recreation" has eternal consequences.
The Holy Ghost can help us make choices that boost our morale without having to suffer eternal consequences. Our prophet, President Russell M. Nelson, has repeatedly told us to learn how to receive personal revelation.
We also hear Him more clearly as we refine our ability to recognize the whisperings of the Holy Ghost. It has never been more imperative to know how the Spirit speaks to you than right now. In the Godhead, the Holy Ghost is the messenger. He will bring thoughts to your mind which the Father and Son want you to receive. He is the Comforter. He will bring a feeling of peace to your heart. He testifies of truth and will confirm what is true as you hear and read the word of the Lord.

I renew my plea for you to do whatever it takes to increase your spiritual capacity to receive personal revelation.

Doing so will help you know how to move ahead with your life, what to do during times of crisis, and how to discern and avoid the temptations and the deceptions of the adversary (President Russell M. Nelson, "Hear Him," Apr. 2020 General Conference).
As we learn to "Hear Him" through the Holy Ghost, we will know how to boost our morale in these hard times without suffering eternal consequences. We will know what to save for special occasions, and what to use every single day. We may even learn that every day is a special occasion—a special gift from our Heavenly Father.
During these difficult, distressing, and stressful times, personal revelation through the Holy Ghost can help us celebrate every day as a special occasion. We can boost our morale without eternal consequences. We can be happy. Personal revelation will show us a way to live without fear. The Holy Ghost will show us which course to take so that the eternal consequences of life are only good ones.
About Tudie Rose
Tudie Rose is a mother of four and grandmother of ten in Sacramento, California. You can find her on Twitter as @TudieRose. She blogs as Tudie Rose at http://potrackrose.wordpress.com. She has written articles for Familius. You will find a Tudie Rose essay in Lessons from My Parents, Michele Robbins, Familius 2013, at http://www.familius.com/lessons-from-my-parents.
Twitter •