All winter I contemplated the tree in my new backyard. The realtor had said it was a fruit tree, but didn't specify what kind and I hadn't thought to ask. In the spring, small white blossoms grew on bare branches. Then a late frost killed all the flowers and with them, my hopes for any fruit that summer. I was left to wonder what type of tree inhabited my backyard for another year.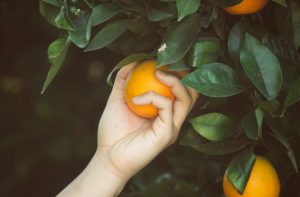 While I wondered, the Savior's words from the Sermon on the Mount passed through my mind: "Ye shall know them by their fruits" (Matthew 7:16).
The next spring, I watched with cautious anticipation. Would my tree bear fruit this year? Flowers blossomed. Then came leaves, and finally the tiny green beads that would become fruit. As the summer went on, the beads swelled in size and turned a reddish purple color.
Plums. 
I knew the tree by its fruit. 
But when Jesus made this statement, He wasn't talking about trees. He was speaking of people. 
I wondered, what do the fruits I'm producing reveal about me?
According to the apostle Paul, ". . .the fruit of the Spirit is love, joy, peace, longsuffering, gentleness, goodness, faith, [m]eekness, temperance. . ." (Galations 5:22-23).
As followers of Jesus Christ, are we producing these fruits? 
Do the words we share on social media reflect love, joy, and peace?
Are we gentle and longsuffering with our families? With the people we encounter in the grocery store? With the person who cuts us off in traffic? 
Have our works been acts of goodness today? 
Chances are we will fall short in some of these areas. Thankfully, we can improve our ability to produce good fruit.
Fruit grows from seeds. 
Specific seeds.  
You can't plant a peach seed and harvest apricots. 
If we want to create fruit of the Spirit, we have to plant seeds of the Spirit. What we plant is what will sprout. If we fill our minds with things that promote anger, intolerance, and injustice, that is what will grow. On the other hand, if we surround ourselves with things that foster love, self-control, and kindness, that is what we will develop. 
It isn't always easy to plant spiritual seeds in a world filled with conflicting opinions and divisive voices, but it is possible. 
The first step is to spend time every day with Jesus Christ — the one whose fruits we wish to emulate. 
Spend time in prayer. 
Every day. 
Spend time reading His words. 
Every day. 
Spend time learning of Him. 
Every day. 
Spend a little time. Spend a lot of time. Just spend time.  
We also need to eliminate things from our lives that aren't producing the kind of fruits we want. We need to do some pruning. 
I do not like the pruning. I prefer to let the tree grow how it will, thick and full and shady, but there are definite benefits to proper pruning. Somehow this act of snipping away at the tree makes it stronger and able to produce more fruit. Cutting away old branches encourages new growth. It shapes the tree to let in more light. 
Pruning can be painful, as most of the time we prefer to avoid hacking away at our comfortable lives. But there are benefits to doing so. As we cut away the parts that distance us from Christ, we make room for new growth. We become stronger spiritually. We begin to let in more of the Savior's light. We produce better fruit and in greater abundance.  
What needs to be pruned from your life? 
Get out the snippers. Be relentless. 
Cultivating the fruit of the Spirit requires effort.
President Russell M. Nelson said, "The Lord loves effort, because effort brings rewards that can't come without it" (Joy D. Jones, "An Especially Noble Calling," Apr. 2020 General Conference). He mentioned piano lessons, saying that if you don't practice, you don't make progress. 
In the same way, we become better and better at producing good fruit as we practice, as we do the work.   
That first spring when its blossoms froze, my tree didn't grow any plums. It held the promise of fruit, but it didn't deliver. 
Similarly, good intentions aren't fruit. They hold potential, but unless we follow through with works, there will be no actual yield. 
As we do the work that will bring us closer to Christ, the fruit of the Spirit naturally becomes part of who we are. It is literally the fruit of our efforts to become like Him. 
If we want to bear the fruit that our Savior brought forth, if we want to be known as His disciples, we have to do the work.
Plant the seeds.
Prune the branches. 
Put in the effort. 
What will your fruit reveal about you?
About Cami Klingonsmith
Cami lives in Idaho with her husband, various family members who come and go, and an energetic Siberian husky. She volunteers as a costume director/seamstress for the drama department at her local high school where she gets to make elaborate clothing most people don't wear in real life—which is what makes it so fun. She enjoys reading, bird watching, gardening, and Zumba, but her greatest joy comes from being with her family.
Twitter •